If you like this site and want to help us keep it running please consider donating, Your donations go directly to paying the server and bandwidth fees. Donate Link
9:38pm Kalia/Porsche Kitchen
kalia says she never felt like her opinion counted in the house when she was hanging with JJ. Porsche agrees she felt the same way with BR. pOrsche thinks that she can have alliances with people and not be their friends. Kalia poitns out that JJBR can't play that way that's why they made such a big deal with people hanging out with the other side having fun.
kalia mentions that she's tried to talk to Jeff today but he always seems to have something to do.. Porsche brings up that Dani tried earlier but they never answered the door in the HOH. Kalia hopes they are not trying to avoid them because she thinks that would be rude. (Kalia constant talking is rude to my brain)
Prosche says she got a chance to talk to him yesterday he asked her who she is targeting and she said Rachel..
10:04pm Kalia and Jordan hot tub Jordan is commenting how Porsche is really handling being on slop and on the block well. Kalia agrees reminds Jordan that this is Porsche's first time on slop, "Porsche has really got into making the slop chips" Jordan: "That girl really likes to cook"
(Porsche has gravy reserves.. she gained the extra weight for when she was one slop and wasn't eating)
JOrdan says after Dani's birthday party everyone was sleeping but her and Rachel walked the backyard for 2 hours.. (Kalia is doing her thing were she talks about anything and everything it's driving me crazy)
10:17pm Kitchen Dani and Porsche Briefly talk about how every time they go to talk to JEff Rachel is right there. Dani: "Shocker". They start talking about making slop cookies. Porsche gives her some suggestions..
10:34 Backyard
Rachel sugests they play POker
Everyone wants to play except for Jordan she says she doesn't like card games.
Jeff is excited about playing, "POKE-HER I barely knew her"
10:35HOH Kalia and Jeff
Jeff: "Whats up"
Kalia: "Obviously you won the Veto Congratz… "
Kalia says she doesn't know who Jeff's target is she knows its one of the 3 girls.. She really doesn't want to leave this week. She explains that she didn't want him to get evicted when she put him on the block. Kalia brings up that she doesn't want to leave the house when there's people in the house that have floated on week to week. Kalia says there is players like Porsche, Adam and Shelly that are safe every week.
Kalia says she knows that DKP are known as "The other Side" but they have been clear what their goal is and who they want out of the house. Kalia says she is not against the idea
Jeff understands what she is saying… he also knows that everyone in her position would do the same but he's cool with it. He doesn't want to expose too much of his plan. Jeff knows what he's going to do and he knows how to do it. He reminds her that the deal she had with Jordan does not mean it's transferred to him. Jeff: "it was my decision to put you and Porsche up, not Jordan's"
Kalia wants Jeff to know that she is not coming after JJ. Kalia warns Jeff that Rachel lies a lot. She wants to repair things with JJ and she's been trying for awhile now.
Feeds cut for a minute
Jeff says he appreciates the talk, Says if he's still in the house then she should still be in the house . (they head downstairs to play poker)
11:28pm Still poker and DJ in the bathroom Dani telling Kalia how much her stomach hurts… Kalia says she talked to Jeff briefly. They decided to discus it all later tonight in the Hammock.
11:36pm Backyard couch Jordan and Shelly Jordan mentions that Rachel is pretty sure that Jordan and Shelly are close but she had a good talk with Rachel and she's sure everything is good between them.
Jordan saying that she feels bad for Rachel. Shelly says you never know what type of baggage people have with them. Shelly admits to being hard on Rachel in the "Box" (DR). Jordan says that POrsche is handling the BLock and Slop well. Shelly
Shelly says that DKP want Shelly to join them but she won't do it ever.
Shelly: "Jordan if we take out Dani we have a extraordinary chance at Final 3"
Jordan doesn't want to get too confident but she's feeling good about it.
Shelly: "I don't think Prosche, Adam and Kalia are going to be a big threat.. I think ADam has a crush on Dani though.."
Jordan is worried he might flip.. Shelly: "Who is he going to flip to kalia and Porsche". Shelly feels like Adam isn't as good on questions as they all think she points out that Adam knows his dates but it takes him to long to remember them.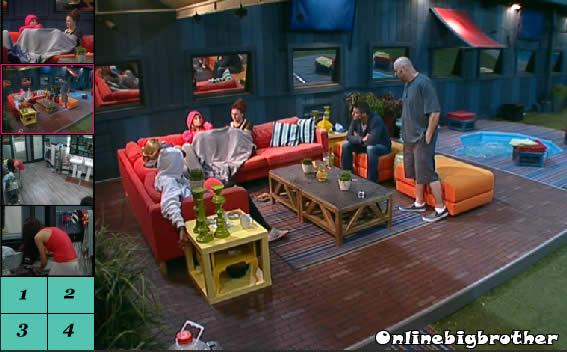 11:53pm Backyard JJRSA super alliance
Jeff saying he went to the casino and started playing blackjack and was betting hundreds and lost 3 grand…
(Rachel is cuddling close to Jordan)
Check out the Big Brother 13 Polls
Share it YO!!
Tweet