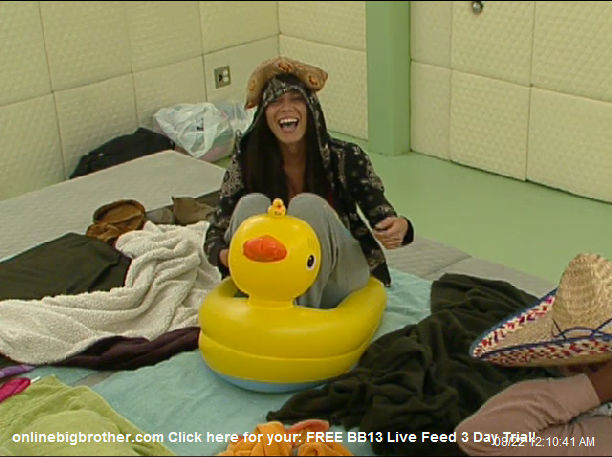 Watch the Big Brother 13 live feeds on your Android and iOS devices. Sign-up for the 3 Day Free Trial
12:10am In the HaveNot room Dani and Kalia are talking. Dani say what makes no sense or logic" that Jordan doesn't know what Jeff is going to do. Kalia says that she still hopes he leaves it the same. Dani says we need it to stay the same, if I go up i'm leaving. Kalia says she may leave because she is a bigger threat than Porsche. Kalia says Dani will never become Jeff & Jordan and Rachel. Kalia says that she wonders what can she offer to keep herself. Kalia says that she doesn't know if we can trust Shelly. Dani says that we can't trust her period. Dani says that Porsche isn't on our side either. Dani says Adam will do whatever he wants. Kalia says he has to convince Adam to keep her. Dani says that she needs to talk to Jeff and says that he wouldn't say anything if he's trying to backdoor me. Kalia starts talking about how she told Jeff she can trust him she's never lied and that she said that she came here to play while others are here to do nothing. Kalia says that Jeff agreed. Dani says that she is focusing on him keeping it the same and her staying. Dani says that she just wants to make sure their understanding is good. Dani says that she held up her part of the deal twice. Kalia asks if she can get Adam. Dani says he will do what he wants. Kalia says she needs Rachel. Dani says that Jeff needs to be nice because of Jury votes and that Porsche doesn't seem to understand that. Kalia says that she may want to call Rachel on her debt for keeping her. Dani says lets go outside so we can trap Jeff.
See What They Can't Show You On TV! SUPERPASS – 3 DAY Trial!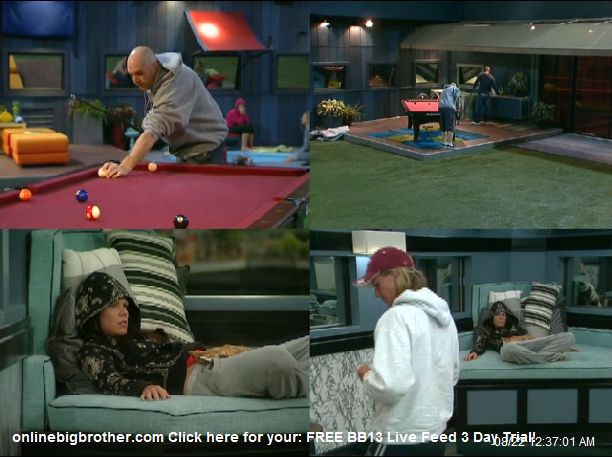 12:30am Out in the backyard, Jeff and Adam are playing pool. Kalia and Dani come out into the backyard and says that they think they found a clue the front door is open but no one seems interested take a look. Dani and Kalia make their way to the bathroom. Adam comes in asking about the clue. Adam is told to stop playing with door. Kalia starts begging Shelly for her vote. Shelly tells Kalia she has her vote. Shelly asks Kalia if she has any idea if the nominations will stay the same. Shelly says she has no clue. Shelly and Dani make their way back outside and sit on the couches. Porsche joins them and wonders when the POV ceremony will be tomorrow. Dani says around 10am. Porsche starts complaining about the cold showers. Rachel joins them on the couch. Dani leaves finds Jeff as they talk in the purple room.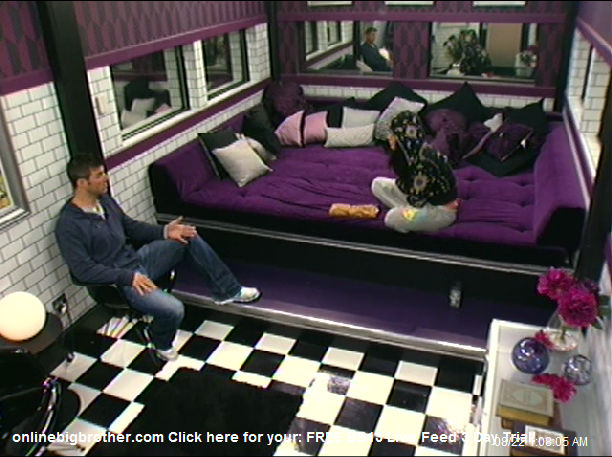 1am In the purple room, Jeff and Dani talk. Jeff says that he is nervous. Dani tells Jeff that Rachel threw Jeff and Jordan under the bus three weeks in a row and she has been honest with the exception of week three. Dani says that its coming down to it and its hard for Jeff and Jordan to stay together without help. Dani says that it would suck to be back doored. Dani says that she plays hard. Dani says a small number who would vote for… Jeff asks how far it would go? Dani says that she is open and willing to talk about it. Dani says that she wants to get rid of Porsche make a final three or final four deal. Dani says that she thinks this Thursday will be fast forward and next week double eviction, that's the hardest bump to get over. Jeff says that they didn't have it their season because of Chima self evicting. Jeff says that he is keeping it quiet for people to be surprised or not surprised. Dani says that it would really suck to be back doored and that she has gone out of his way to prove it. Jeff says that it has showed him. Dani starts bashing Rachel saying she's a pathological liar. Jeff asks what deal she has with Kalia. Dani says that basically they just have each other's back. Dani says that it would super suck if she got back doored. Dani swears that Jeff has her word. Dani says that he is one of them to vote for till the end and that it has to be somebody that deserves to win. Jeff says that he will take what she says in consideration, till the ceremony. Jeff asks if the fortune tells is ever going to talk? Dani and Jeff and their conversation.
WATCH all DRAMA unfold LIVE on SuperPass! FREE 3 Day TRIAL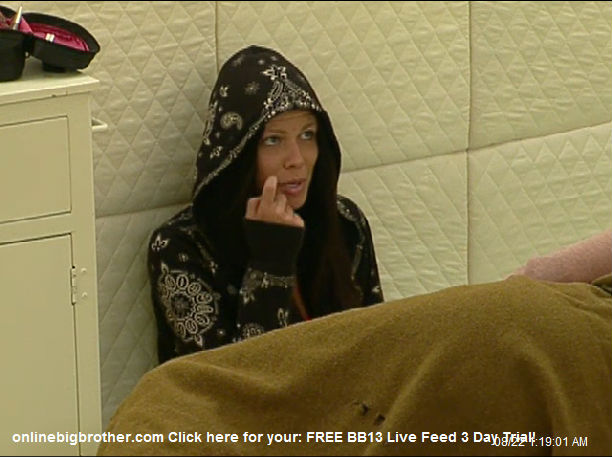 1:15am – 1:30am Dani goes to tell Kalia in the HaveNot room all about her conversation with Jeff. Dani tells Kalia that if she goes up she is gone and if she doesn't then Kalia will go. Dani says that either way he'll be sorry. Dani says that Jeff acts like he knows everything… Dani says that she couldn't get any other info and tells Kalia what she told Jeff. Dani says that she doesn't like the way he talk to her like he is above her. Dani says that he better not put me up… it will be hell for everyone tomorrow if he does.. Dani says that she is pissed right now because he is going to put me up. Dani says that Jeff didn't put her up not to piss her off and fight really hard to win veto and he's "not stupid, he's not smart but he's not that stupid. Dani says that she thinks Rachel is really pressuring to backdoor me Dani says that she wants to punch her in the face. Kalia says that we'll just have to wait and see. Dani says that she has Shelly's vote but Adams may be harder to get because he and Porsche are close. Dani says that she isn't going to be able to sleep tonight. Dani says that she would be shocked if she didn't go up. Kalia asks really? Dani says yes. Kalia says that if he back doors Dani …he is gone next week. Dani says that it will be you against me. Kalia says that sucks. Dani heads out to the backyard.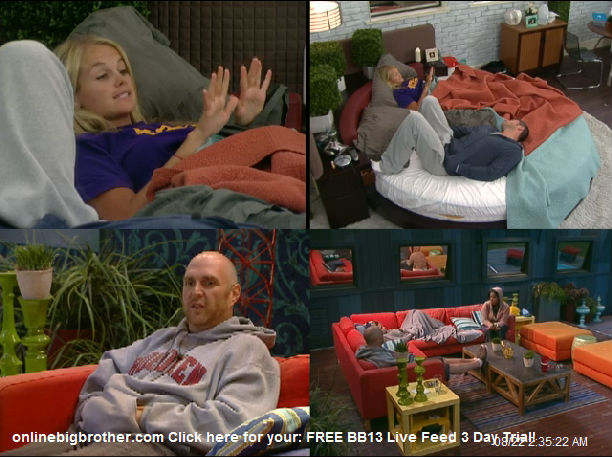 In the backyard, Jeff, Porsche, Rachel, Dani and Adam are now talking in the backyard. They talk about random stuff. They talk about people quitting and leaving the big brother house. They talk about past seasons, houseguests and twitter. Dani leaves to get ready for bed. Jeff heads up to the HOH where Jordan is, and tells her that he and Dani talked. Jeff says that Dani asked if they were still good. Jeff laughs. Jordan tells Jeff that Shelly told her that it's the best move for Jeff to put up Dani. Jeff tells Jordan the conversation he had with Dani. Jeff says that Dani just said whatever he wanted to hear. Jordan says that Dani doesn't have anything on us. Jeff says that during his speech he is going to tell them that people know his word is good in the house until you cross him and then all bets are off! Jeff says that he is also going to tell Dani that she didn't save him and if her plan had gone off without a hitch then Jeff would have been sent home. Jeff says that he has done all the hard dirty work in this game this far and he wants a chance to just float for awhile. Jeff says that he hopes the floaters start to take each other out. Jeff and Jordan think that Adam has been acting fishy. Jordan says that in a perfect world it would be you, me, Rachel, Shelly and Porsche. Jordan says that in the event of a double eviction that she would go after Adam. Jeff agrees. Jeff says that his mind is made up ..Dani has to go. Jeff says that he doesn't want Adam to benefit from his dirty work this week and then flip and come after Jeff next week. Jordan says that after the POV ceremony she might hide in the HOH room just to avoid all of the awkwardness. Jeff thinks that he is going to be a target during the double eviction. Jordan and Jeff start studying the events of the house.
Sign-up NOW and watch the houseguests live!
Click here for your: SUPERPASS – 3 DAY Trial!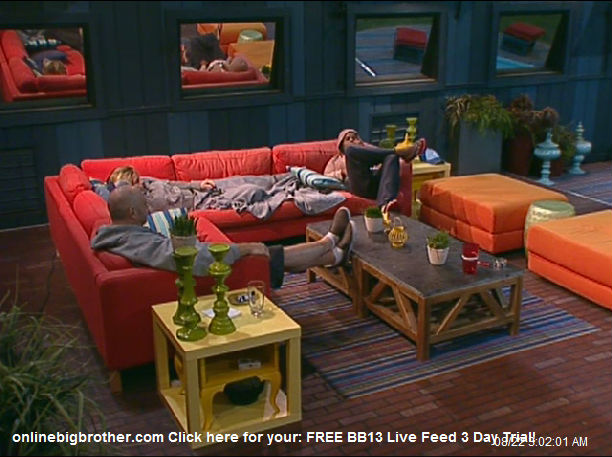 3am In the backyard, Porsche, Adam and Kalia are talking about random stuff. Porsche complains about always coming in second place. Adam tells her that second place is $50 grand. They talk about movies and travelling. Jeff joins them. They talk about how different it would be if Dick was still in the game. Porsche and Kalia head inside. Jeff asks Adam if Porsche and Kalia feel safe. Adam says no. Jeff heads inside and finds Porsche in the kitchen. Jeff asks her what is she willing to offer him? Porsche says that she would make a one week deal with him. Jeff mentions again that Porsche never talks game with him. Porsche says that her, Rachel, Brendon, and Jeff all shook hands back in the beginning. Jeff doesn't remember shaking hands with her. Jeff says he doesn't know, you'll see what happens tomorrow and you can come talk to me. Porsche tells Jeff that she is intimidated by him. Jeff laughs and asks her how do you know somebody if you never talk to them… Jeff then heads up to the HOH room.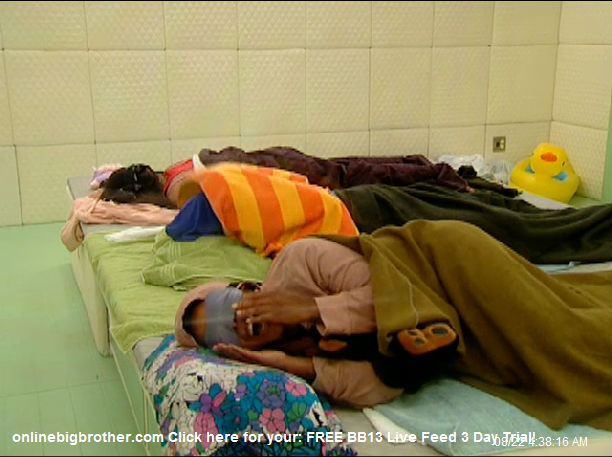 3:45am – 4:50am Porsche, Kalia and Dani talk in the HaveNot room. They ask Dani if she asked for a deal with Jeff. Dani says no ..that she already did her part by saving him and Jordan twice. Porsche talks about her conversation with Jeff and says that she is the worst game talker. Dani asks if Jeff does evict her will Porsche go after Jeff. Porsche says yeah of course. Porsche wonders if it would be better to put him up or back door him. Dani leaves. Kalia tells Porsche that if Dani leavse Porsche is the only person she can trust. Kalia says that Dani doesn't deserve to be back doored. Porsche says that it was Dani's idea to back door Jeff in the beginning. Kalia says that Dani kept Jeff safe while they had the HOH's. Dani comes back and they talk about random stuff and then decide to go to sleep..
6:40am All the houseguests are still sleeping..
WATCH the houseguests LIVE on SuperPass!
Click here for your: FREE 3 Day TRIAL!
If you like this site and want to help us keep it running please consider donating, Your donations go directly to paying the server and bandwidth fees. Donate Link

Big Brother 13 Live Feed Image Gallery
Follow: @BigBspoilers and @Dawgsbigbrother on Twitter for recent crazed out spoilers. Theres also our Facebook page.
Big Brother 13 Spoilers POLL CAST your VOTE!


Share it YO!!
Tweet