If you like this site and want to help us keep it running please consider donating, Your donations go directly to paying the server and bandwidth fees. Donate Link
4:48pm DKP Havenots
Porsche starts joking about telling Rachel that one of the girls on the block are going to try and screw Brendon in the Jury Room (It's really funny stuff.. 4:48 Cam 3-4) Porsche: "Umm how do you vote Rachel the sex expert or the girl you both asked to do a threesmeone with.. hmmm"
Prosche says she's going to start dropping hints like, "I bet they have a lot of Alcohol in the Jury house… you know what can happen with Alcohol and 2 drinkers"
Dani: "that hurts my vagina just hearing you say that"
POrsche wonders why everyone thinks they can bully and intimidate her.. She mentions Jeff, Brendon and Rachel and how they have treated her.
Porsche: "I always thought he was intimidating but I see the girl he's dating so he can't be that intimidating on the outside"
Dani says Jeff is all show. Porsche mentions that Even Shelly has told her that she's different now then week one.
Porsche brings up her speech "everyone always wants to know where I stand well right now I'm standing on the block"
5:09pm rachel and Jrodan Cameras flip to JR conversation. rachel is saying that she thinks the newbies will form together. How rachel sees it the Vets are still down numbers.. rachel: "OK big brother I said my bit" They go back to working out.
(Earlier Rachel was on the elliptical talking to Jordan basically saying Adam, Shelly, POrsche and Kalia are going to join up and start taking out the vets. Jordan isn't interested in the conversation tells Rachel they need to talk later about it where no one can hear them)
5:20pm Backyard Couch Adam and Jeff
Jeff tells Adam he's welcome to switch teams he has Kalia and POrsche. Adam says no thanks. (This super alliance has me laughing.. JJRSA )
Adam thinks that the reason why Dani tried to Backdoor Jeff was because she didn't want to sit back and have a free ride with the golden key. Jeff: "I would of taken the free ride" Adam thinks that it was the right move at the wrong time. He adds that if it was JJ up in the HOH she would of came to them to backdoor Brendon. Jeff isn't sure about that .. Adam is sure. Adam says she's made 2 Big mistakes the first was the backdoor plan too early the second was counting Adams vote when Kalia was HOH and not even talking to Adam about it. Adam doesn't think Dani will be able to get votes. Jeff thinks she'll bad mouth JJR but not Kalia. Jeff adds that Dani had some big moves that were good ideas but they never followed through. Adam says that Dani controlled Kalia's HOH, Jeff agrees. (Actually Shelly controlled Kalia's HOH)
Adam tells Jeff his HOH was good he understands why he took Porsche off the block. Adam doesn't understand why Jeff didn't put Dani up in the first place. Jeff says he wanted to Backdoor Dani. (Dani had the veto ticket so couldn't be backdoored, perhaps Jeff didn't understand what the veto ticket did)
Straight Shooter walks out asks Adam where the 3 girls are. Adam says in the havenots sleeping. Shelly: "Good they won't be yelling at us then"
They just chit chat for a bit.. Adam leaves shelly doesn't stay for long gets up to get smokes.
5:49pm Shelly: "I love smoking now and then it's fun"
5:51pm rachel and Jrodan
rachel: "Umm Jordan… I'm really worried about Adam"
Jordan: "WHY? he's been hanging around Jeff
Rachel is worried about once Dani starts campaigning he could flip. Jordan doesn't think he will flip that would be the stupidest move in the game. Jordan adds that Dani is going to start things up. Rachel says dani has nothing on Rachel so it won't matter what she says. (JJRA have a line they say "She has nothing on me" at one point rachel and
5:55pm Backyard Couch Shelly saying she wants to keep Dani because there is no way for any of them will beat JJR in the finals. Shelly: "we can flip the entire house on them… Rachel doesn't deserve to be in the final 2"
Shelly, Jeff and Jordan they looked me in the eye and we came to an agreement they would not put me up or backdoor me.. they swore up and down that they would not put me up.
Shelly has talked to Adam and run all the scenarios out and why now is the time to make a move.
Shelly is worried about the fast forward she thinks they will take her out. Shelly says to Dani that Kalia offered her a final 4 deal, Kalia really isn't worried about going home.
Dani: "Next HOH it's the entire house against rachel"
Shelly says that for her to get to final 2 and win she needs that couple broken up.
Dani goes on explaining that JJ swore up and down that they would not put her up this week and then look what happened. Shelly is shocked that they did that. Dani adds that Jeff goes around telling everyone how trustworthy he is when he's not.
dani points out that rachel went around talking shit about everyone in the house and now she's best friend to JJ. Shelly mentions that Rachel is still talking about other people but now it's to JJ instead of Dani. Shelly brings up her talk with Adam and how he's far from being convinced. Adam told her that he cannot trust Dani, Shelly doesn't believe that she feels like she can trust dani now and has trusted her the past 2 weeks.
Dani: "If this can happen it'll be the biggest game move.. it'll be huge"
Shelly and Dani start talking about Kalia walking around like she's staying this week. Dani poitns out that Kalia is getting a bit rude she asks Dani who she should go campiagn to. Dani: "Like what am i suppose to say.. she was planning out her plan if she won HOH in front of me"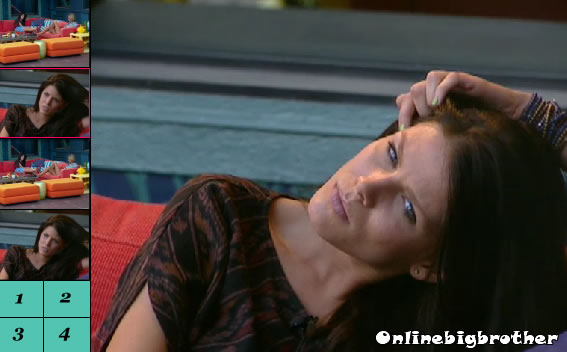 Shelly again mentions the long talk with Adam and how he's really stuck on not flipping yet. Shelly: "he doesn't realize that JJR will get rid of him before questions.. They will it's true"
Shelly doesn't understand why JJ are so close to rachel. Dani: "they are trying to keep a bigger target than Jeff in front of them"..
Dani brings up that Jordan is always walking around saying how if they don't stick together they're side is going to get picked off. Dani laughs you all realize that JJBR have lost one player. Shelly Keeps saying that now is the time to change the house up. Shelly is convinced that if Dani goes this week Shelly will be gone next week.
(LOL is shelly shooting straight? this is too crazy to be true.. I'm almost leaning on she is shooting straight.. but I dunno straight shooter is crafty some of the shit she says is fishy.. )
Check out the Big Brother 13 Polls
Share it YO!!
Tweet