3:42pm Living Room Jordan and rachel Rachel asks Jordan if Jeff would be cool if they played a practical joke on them. Jordan says it would be hilarious but right now Jeff would FLIP. (The picture above says it all). Rachel brings up the saran wrap on the toilet and Jrodan says it'll be funny but Jeff might get mad, she suggests Dom does it when Jeff is on the elliptical.
3:44pm Backyard couch Porsche and Cassi Porsche loves charity and helping people out she's allways wantted to do somehting with clean water.. Maybe a missoanry trip, "I'm not really part of any church but want to help people out"
Cassi talks about her friend in texas that does that… feeds cut..
3:50pm Bedroom Dom and Dani Dani asks him when he went to bed, Dom says 6am. dani is surprised he stayed up so late. He said he was chilling with Cassi, He explains that he was friends with her from the beginning and he still likes her as a friend. Dom brings up that Rachel really wants Cassi out. Dani says she doesn't want Cassi gone as much as everyone thinks. dom doesn't agree but says it doesn't matter she's going home either way. dani is "Bummed" the next couple days are going to be really boring for them (Flirty talk between these 2… whose playing who?) Racehl walks in the room tells him that she's talked to Jordan and the saran wrap should be done later tonight.
4:00pm Jordan and Kalia Jordan is saying that the reason she wanted to keep Cassi was that Cassi and Rachel would go to war and take the heat of JJ.. But rachel doesn't think that Getting rid of Lawon right now would benefit them and she's sure that Cassi and Dom would be a dangerous couple to keep in the game. Kalia says she doesn't trust Shelly and she doesn't trust Rachel at all. Jordan is saying that her and Jeff are worried that Rachel will flip on them sooner than they planned (We can only hope ;) ). Kalia says Rachel is going to flip maybe not next week but she will soon possibly before the twist is over. Jordan hopes Rachel sticks to the plan but they are getting worried. Kalia: "She's playing a really sloppy game… Lawon is driving me CRAZY"
Jordan: "Do you think it's bad my decision?"
Kalia: "No there was no other choice"
Jordan: "I think Rachel is starting to flip" Kalia agrees and says rachel is already starting to act like she did last year and other people int he house are noticing.
Kalia: "I Don't think there is any more public enemy number one than rachel and Brendon"
Kalia says tells here that Jordan basically put cassi up for rachel and the alliance.
Jordan: "I know Cassi would of been with us 100%" (WTF THEN WHY DID YOU DO IT)
Kalia warns Jordan that ever since Dom won that POV him and Rachel are now Big buddies. Jordan is having second thoughts about putting up Cassi/Shelly she thinks that maybe they should of gotten rid of lawon. Jordan asks her if she thinks that it's too early to flip next week. Kalia isn't sure she points out that next week is the last gold key week. Jordan says that if Rachel and Brendon flip next week Jeff is going to go Ballistic! Jordan thinks that maybe she's getting a little paranoid because they have nothing to do in the house all day. Kalia thinks that is most likely the case (is it me or is everyone playing JJ Shelly, Kalia, dani, Dom, and a bit rachel)
They start chit chating about boy, friends relationships.. etc etc.. Jordan says her and JEff want to get married but they both need to get their careers in line.
4:25pm Backyard couch POrsche, cassi and lawon talking about Fashion, spray on tans, hats, shoes, tanning beds, nails exciting stuff..
4:40pm A bunch of houseguests are setting up a prank for Adam. Adam thinks everything is "game" so they are messing around with the keys in the house. They plan on turning the lights out so that production yells at them which will wake Adam up he'll see the keys have all been moved and will start to freak out that some twist is happening.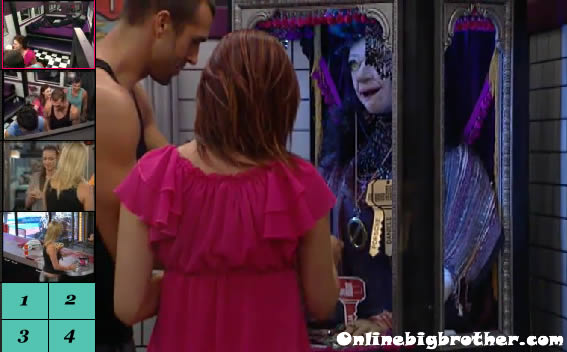 Share it YO!!
Tweet