Big Brother 13 Live Feeds Can be watched on your iPhone and Android Mobile devices sign up -> Watch Big Brother 13 on Your iPhone or Android Phone
8:00pm Storage Room JR
Rachel says KP is going to tell them they threw the comp to them, "Let them think that" . Jordan doesn't think they did. Rachel agrees, She says that now she's the houses number one target they need to win HOH.
Rachel: "lets tell them that it's final 4 but after we win the HOH we can do whatever we want". Rachel: "It's us against Adam and Kalia.. cmon we can do this.. We need to win HOH then POV"
Rachel says Adam will put them up if he wins HOH but she's pretty sure he will only try if he feels he's in trouble. She thinks they need to make him feel safe. Rachel: "A player like
Jordan we need to split Porsche and Kalia they're a team they are good.. Rachel knows they need to split up KP she adds they need to win POV and HOH next week otherwise their done for.
Rachel starts doing a dance yelling team Rachel and Jordan.. Jordan is worried that people will say that Rachel carried Jordan along, Jordan wants to do something she doesn't want to be dragged to the finals.
they head to the Bedroom
Jordan says she wants to put up adam and Kalia, rachel thinks it should be POrsche and Kalia then if POV is won Adam goes up and Kalia goes home. Jordan wishes she could open a Pandora's box and get 5 grand. She thinks the next Pandora's box will be a bad thing for the person and a good thing for the house.
8:25pm Jordan brings up how that comp was perfect for rachel.. Rachel is very ecstatic saying she has won 4 comps now. (there spirits have lifted no talk about quitting )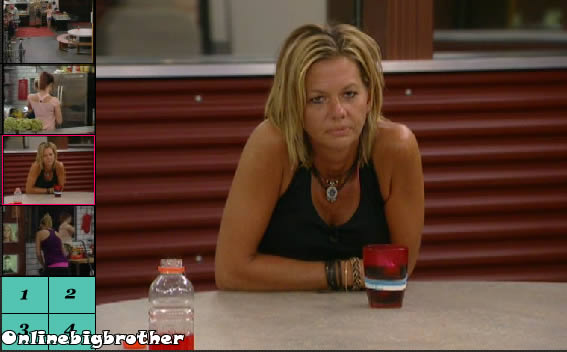 Sign-up NOW and watch the houseguests live! Uncensored Live Feeds 3 Day Free Trial
8:13pm Kitchen KPSA Shelly is in a lot of pain from the comp (Her back is all messed up with metal rods) Kalia says she sorry about her being so hurt. Shelly tells her not to be she did the best she could she knew 10 minutes in her back would not be able to take it.
POrsche says she feels bad for Shelly
Shelly tells them not to mop around she knew coming into this game there will be comps that she sucks in..
Shelly: "Don't be moping around at all .. get your next steps ready"
Porsche: "you don't be moping around either"
Shelly: "I'm not… truly I'm fine I can handle this no problem"
Shelly says that Rachel has been saying side remarks..
Prosche: "I know" Shelly: "If she thinks that is going to get to me she's got another thing coming"
8:22pm Kitchen SA Shelly tells him he needs to work his ass off cause he's the second after her. Adam knows but if he can't win a comp he deserves to go home. Shelly: "Don't be so hard on yourself your doing fine" Adam that comp was not meant for a person with legs like he has..
Sign-up NOW and watch the houseguests live! Uncensored Live Feeds 3 Day Free Trial
8:30pm Shelly and Kalia trying to get into the purple room. Shelly jokes: "That's my last hope.. well at least no on else can get in" (they can't get in.. Shelly's back is buggered and I think she's on pills)
Shelly says you guys (KP) need to rock it i'm gone this week. Kalia tells her to stop talking like that.
Shelly: "really it's OK it's just a game I'll go home… Seriously lets have fun lets enjoy.. I'm not going to stoop to Rachel's level"
Kalia is upset they had it made on Thursday and now look. Shelly: "Well she shouldn't of opened the box" KAlia: "I know"
Shelly says JR are not smart enough to think through things they have made the game personal. Shelly thinks that Jeff and Jordan will probably vote for Rachel but nobody else will. She wants Adam, Porsche and Kalia to play smart and think about themselves.
Shelly: "I've had a great time.. except for this week It's been a great run.. when Jordan goes back and watches the show she will know"
Shelly says they should take Rachel to the final 2 because otherwise JJBR will control who wins the game and they will vote based on emotion.
Shelly says Brendon is a Great guy nothing like rachel, "He's got his issues I got mine but inside he's a decent guy.. He should rethink the partner situation" Adam joins them and they start recapping the POV.. Shelly says she beat Jordan but had no chance (it was a endurance comp but is was very hard)
Share it YO!!
Tweet