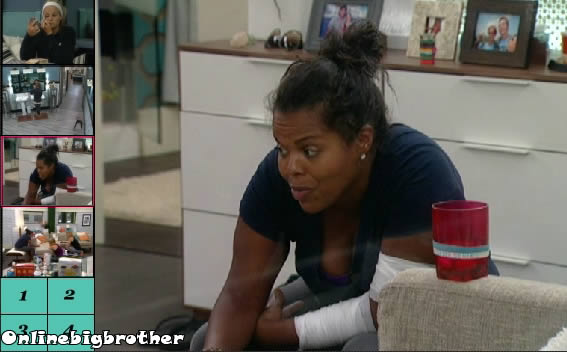 Big Brother 13 Live Feeds Can be watched on your iPhone and Android Mobile devices sign up -> Watch Big Brother 13 on Your iPhone or Android Phone
9:16pm HOH SKP
Shelly telling Kalia she is taking that Jordan thing a little but too far. (KP's week one agreement that they would not put each other up) Kalia starts getting a bit irate, she says that it proves that her word is worth something, "the proof is in the pudding.. I've won 2 HOH's and she's won one .. I never put her up.. it shows I am trustworthy" Shelly: "Alright calm down.. I was in their group i'm telling you just don't take it too seriously"
KP are doing their strategy talks using the buttons and jelly beans.
Shelly: "If you guys are thinking of getting rid of Jordan before Rachel you're making a mistake."
They cover every single permutation that could happen with whose left in the game.. Shelly jokes "I'll leave all my class at the door and kick her right in the shins..". Shelly reminds them they need to think about the Jury votes when they are planning things out.
Shelly leaves tells them she'll be back later.
Porsche says adam and Jordan are still tight.. Kalia isn't worried about Adam and Jordan they don't have a deal but they still talk.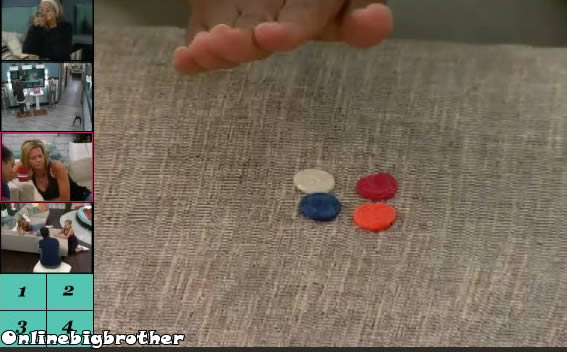 Sign-up NOW and watch the houseguests live! Uncensored Live Feeds 3 Day Free Trial

Porsche: "I think opening Pandora's box gave me second place"
Kalia tries to tell her everyone else has said they would of done the same thing. They are running through more scenarios Kalia is thinking they need to take JR to the final 4 they need to take Jordan to the final 3. Kalia proving she the worst player in big brother history says they need to throw the next HOH to Rachel so she will put up Porsche and Adam. Kalia Plans to win the POV and take Porsche down and Jordan goes up. Kalia: "the way I see it it's our only way to get her (rachel) out the following week" (If rachel wins HOH on Thursday she can't compete in the following HOH which would mean KP competes with J in it. If Kalia wins Thursday's HOH then it's JR Vs P in the following HOH… KAlia is completely retarded with this strategy what will happen when Rachel win HOH? KP will be up on the block and Kalia will be going home. If Kalia wins HOH then she can put JR up Rachel wins the Veto Adam goes up Jordan goes home then the following week it's R Vs PA)
Kalia is saying they really need to talk JR to not vote Shelly out they need to get Adam out it makes there long term game more appealing. Kalia will use the argument that Shelly is very bad at comps, Adam is good with quizzes, lets have a all girls final 5.. Kalia adds that Jordan isn't trying too hard in the game she's acting like she really doesn't want to be here.. she's been that way since the beginning. Kalia: "although Jordan is still a recepsitst at a hair salon I think she wants the money"
Kalia tells Porsche about the Fortune teller moving. She explains all the that happened wit the fortune teller.
(one thing to note Kalia and Porsche talked about a lot of scenarios,, the only thing I know for certain is KP want Rachel gone)
Sign-up NOW and watch the houseguests live! Uncensored Live Feeds 3 Day Free Trial
10:06pm adam and Prosche HOH
Adam tells her when she was up in the HOH opening pandora's box he was at the door knocking and he heard them tell her the amount of money she won.
Porsche talking about the comp and how it was perfect for rachel she thinks it's ironic how the comps are set up for people when they need it the most.
adam agress.. Feeds cut
Adam says that if he wins HOH he'll put Rachel and Jordan up but if Rachel wins POV he'll need to put either Kalia or Jordan up.
Adam: "Ok worst HOH of the season, Dani's first one, Kalia's second one or yours"
Porsche thinks it was Dani's first HOH where Brendon came back. Adam brings up Kalia's being pretty bad. Porsche: "Hmm yeah hers was pretty BLANK "
Porsche telling him they need to get Rachel out next week. Adam agrees.. adds that Jordan must go after that.
Adam brings up how Jeff acted when he was up on the block and trying to get Adam's vote, "He was all like.. Cmon man I need your BLANK vote man.. give me the BLANK vote"
10:40pm Adam says that the only way they can get rachel out is if they win HOH and POV next week. Adam says everyone will understand when they see the POV that it was made for Rachel. Porsche: "She locked her legs around it like it was Brendon" Adam: "She did pretty good for a pregnant women.. we don't know for sure.." (feeds Cut)
11:09pm Kitchen Adam, Jordan and Shelly. Adam brings up that the POV comp really had nothing to do with "couple" they were holding onto their old pairs but other than that it had nothing to do with the Pandora's box twist. Jordan tells them that production builds all those comps before time and they plan out their order early . Adam agrees, however he wonders if the Pandora Couples was added in at the last minute because it had nothing to do with the COMP. Jordan agrees she thinks the Pandora's boxes are added into the house when they want them to be.
11:15pm HOH Bathroom KP Porsche telling Kalia she thinks she better win HOH next week otherwise she may not be safe. Porsche: "The only way we can guarantee a Power doesn't take us out is if we win HOH" ..
Kalia is convinced it's too late in the game for them to have given a power out.. but she does think it's weird that the thing finally turned on. Porsche thinks the next HOH will have something to do with the FT.. Feeds cut.
11:45pm quad Shelly in pain. JRA talking about the season and what the houseguests actually did for a living.. The only one they don't know for sure is Lawon.
Follow @BigBspoilers and @Dawgsbigbrother on Twitter for recent crazed out spoilers. There is also a Facebook page.
Share it YO!!
Tweet