2:16pm HOH Cassi, Jordan and Shelly Jordan doesn't know what to say.. she tries to explain that before they were on opposite side and her and Jeff made arrangements with Rachel,Brendon and Dani she adds that her original alliance wants Cassi gone. Cassi wants to know why, Jordan thinks it's personal. "You haven't done anything… you've done nothing wrong". Jordan: "Everyone see you as a threat.. your smart and quiet you're playing this game cool… Jordan says that they are worried becuase she's so close to Dom and thats the other alliances leader. Cassi says her and Dom are personally close but not in the game the only person she talks to know is Cassi. Jordan says that her and Jeff planned that the 4 of them were going to make a run for the finals but now that is all been messed up. Jordan Tells her that if they take out Lawon or Kalia their entire alliance will be after her and Jeff.."it'll be a everyone against you me jeff and Shelly and I can't play in the HOH… "if I flip this early in the game it's strategically a bad move..Brendon and rachel are warriors and I'm worried..Beleive me when I saw this is really upsetting"
Shelly : "Is that why Kalai is sticking to you like glue?"
Jordan says everyone thinks that Kalia and Lawon are no good so they want to keep them around becuase once the key twist is over they are easy to take out. She adds that nobody is trusting Lawon anymore.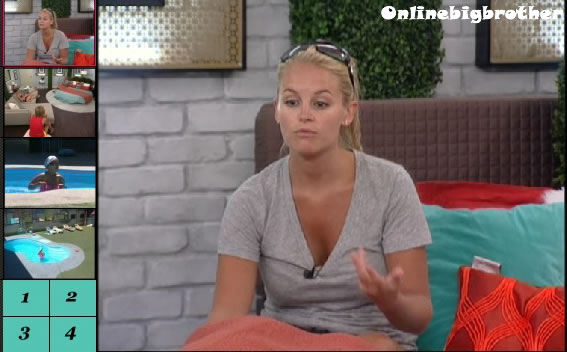 Cassi: "think about the long haul and think about whose going to turn on you later.. Shelly and I will not"
Jordan: "knows but everyone feels that Lawon and KAlia are easy targets so they are pushing to keep them around till later".
Cassi: "they may not be the strongest competitors but they are the biggest liars the biggest snakes.. For Kalia to BLANK and moan the entire week and then magically become a ray of sunshine with you.. and if you have to send me home then i guess thats what happens"
Cassi: "This sucks that i'm going home and theres nothing I can do I'm not going to campiagn against Shelly so i'm going home and I couldn't even play POV "
Jordan tells her she likes both Cassi and Shelly because Cassi is normal and she is someone outside the house she would be friends with, "I don't want people to think that because Jeff and I are teamed up that we're alike we're not.. We're completely opposite type people".
Shelly: "I guess we should of come talked to you early in the game"
Jordan: "If I flipped this early it'll be us 4 against them"
Shelly says the girls are playing like it's high school cassi agrees says things never change. Jordan thinks Rachel and Porche are insecure not very mature. Jordan is really worried taht Rachel and Brendon will compete in the next HOH and win becuase they are so psycho in the comps, "I really want to make this work and I'm trying to figure out what we can do". Jordan adds that Her and Jeff don't trust adam or Dom so they are really running out of options. Cassi says that Dom is a straight shooter and he's the one person that they can trust if they talk to him. Jordan says if she puts up Lawon and Kalia everyone will be like "Seriously" she knows that right now Rachel is getting on her nerves and she knows that right now Rachel and brendon are on their side. She aware that they are going to have to flip but right now it's too early and it makes her and Jeff to big of a target. CAssi tells jordan she's played a honest game but she's also played..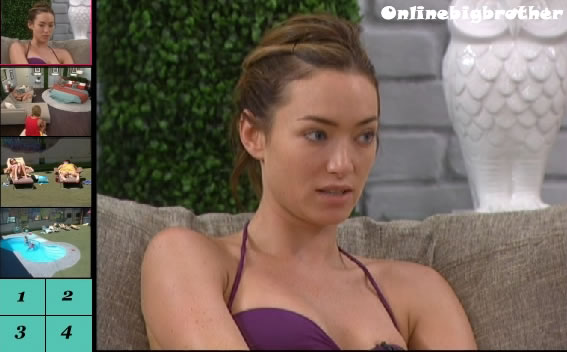 Shelly: "everyone's gotta make decisions"
Jordan: "I know.. and I told Jeff that I wish I wasn't HOH this week"
Cassi asks if dani feels the same way as Rachel, Jordan: "I dont' really talk much to dani"
Cassi: "it's mostly rachel then"
Shelly: "I appreciate you talking to us" (they get up to leave)
Jordan tells them that her and Jeff really want her to stay.. "someone is going to get mad at me no matter what"
Cassi ask: "what do you think Brendon and rachel would do if the tables were turned and they were in your place with 2 different couples to choose from".
GOOD STUFF
Jordan :"I don't know they would do what they want to do they woulnd't listen to anyone else".
CAssi: "if i were to win HOH they would be up in a heartbeat"
Jordan asks cassi to not tell anyone what they just talked ..
Cassi: "Have you considered backdooring Brendon and Rachel this week"
Jordan: "No… I dunno"
Jordan it's too early in the game to flip it and i'm not putting you up on the block because you're pretty
The girls leave the HOH Cassi and Shelly head to the hot tub to smoke and debrief.. think of working the angle that now is the time to take out Rachel
3:00pm HOH Jordan and JEff Jordan rehashes her conversation with Dani, Jeff give her praise for doing it all by herself. Jordan mentions that Cassi brought up Backdooring brendon and Rachel.. Jeff: "yeah yeah" Jordan also adds that Cassi thinks that Dom will be able to sway on their side.
Jordan and Jeff agree that Rachel is a snake.. Jeff thinks it's crazy if they take out Lawon they would lose their alliance and the Newb crew would be back. Jeff: "I'm so BLANK sick of Rachel and that little lap dog and we have to take Cassi out.. It's BLANK ok that we have to get rid of Cassi and they get to keep Porsche BLANK that" Jeff: "If she wasn't so close to Dom then i would keep her" Jordan says that they have Porsche and we have Dom. Jeff doesn't think so he thinks that Dani has Dom they have nothing. Jordan brings up the idea that if they have Cassi then they would use her to take out Brendon and Rachel. Jeff: "If brendon and rachel flip next week I will BLANK flip I would Murder them I would make her cry every single day nobody will sleep" Jeff says that brendon and Rachel will use POrsche to take out JJ so first chance they get "She Gone" Jordan agrees says they have Shelly and Kalia. Jeff thinks it's good, He's getting pissed that "they" (B/r/Dani/por) are pretty much putting Cassi up. the start runnign threw options about what they can do, Jeff: "No we're doing the right thing it's sad but Cassi has to go" JJ are convince that B/R will not flip on them yet so it's too early fort them to "pull the trigger" on them.
Jordan is worried that there will be a big fight tonight between Cassi and rachel…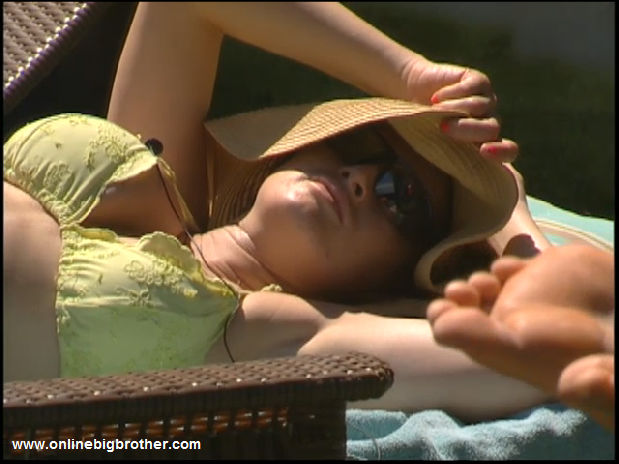 2:30pm – 3pm Rachel, Dani and Dominic are laying out on the loungers. Rachel asks Dani truth or truth? Who is cuter other than Jeff and Brendon in the house? Dani says thats not fair! Dominic says thats kind of insulting… you're comparing me to a old rocker. Dani says she's not answering. Dani says if you had to stay in this house would you clip Brendons toe nails with your teeth to get to third place. Dominic says that he would. Rachel asks would you swallow. Dominic says he would. Both Rachel and Dani say wow! Dominic then asks Dani when was the last time you got some? Dani asks what do you mean by some? Rachel tells Dani that it means the last time she had an orgasm with a guy. Dani says a week before she came into the house.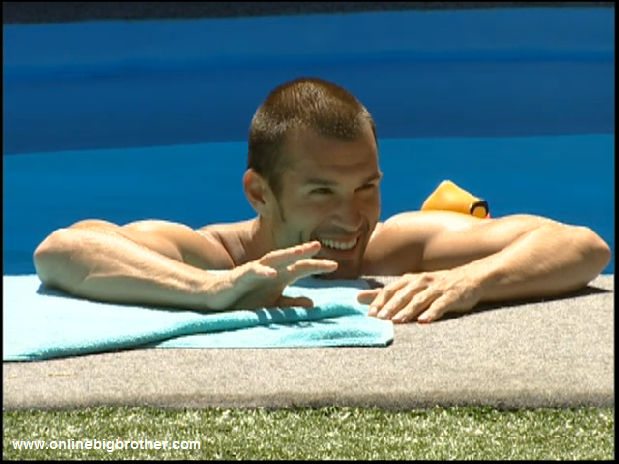 Dominic then asks Rachel ..how many times have you had got some in the house. Dani says thats going to be hard to count. Rachel says I don't know thats a good question. Dominic says give an over under amount then. Rachel says more and 20 times under 30 times that she and Brendon have had sex in the Big Brother house. Dominic asks Rachel who do you love more Rachel or Brendon. Rachel says Brendon. Dani says thats a lie. Rachel asks Dominic if he would lick Dani from her toes to her back for a $1000. Dominic says yes. Dominic asks would you for $5000 and a free trip to where ever you want for your honey moon lick Adam from his toes to his back. Rachel says that she might do it. Dani and Dominic start yelling prove it, prove it! Rachel asks Dani if she would go on a date after the show or would she during the show? Dani asks do I have to be alive? Dominic says wow! Dani asks does he have a girlfriend? Rachel says no. Dani says no because I don't date liars. Rachel says you realize Dominic that every time she says no she means yes. Dani asks Rachel what the kinkiest sexual act she has ever done. Rachel says that one time she was in a car and she tried to jump up on it and she missed it. Dani says thats not kinky! Rachel says that she though she said geeky. Rachel calls to ask Brendon and then says that one thing is unspoken… Dominic asks what is that thing? Rachel says that one time Brendon came home from class and she was dressed up in maids outfit in heals. Brendon says that then he cleaned some pipes. They all laugh. They ask Brendon and Rachel if they would ever bring someone else into their relationship .. Brendon says that they have talked about it but that they would never do it unless they were willing to risk their relationship .. so no they wouldn't do it. Kalia says good answer. Rachel asks Dani if she would ever maek out with Dani to get a vote. Dani says sure. Dani asks Kalia if she would give a guy a BJ in the house to get to the final three would she do it? Kalia says no!! They tell her its not on the feeds. Kalia says that its unfair.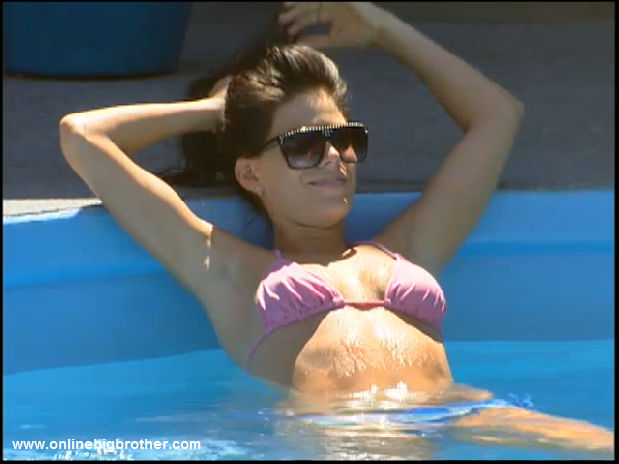 2:50pm Meanwhile, Cassi and Shelly are talking by the hot tub. Cassi says that it really sucks being back doored. She says that if they would have been put up first they could have won the Power of Veto and then Dominic and Adam would be staying up on the block. Cassi says that they two biggest snakes in the house and she will not be friends with him after this… Shelly asks who Lawon? Cassi says yes! Cassi says yes and that it sucks she came in here and now has no chance.
3:20pm HOh rachel, Jeff, Jordan Jordan tells her that she's talked to Cassi. Rachel: 'Ohh that sucks.. cassi is nice and it sucks that people that are nice go home" rachel brings up that DOm wants to deal with them..
Rachel leaves. Jeff is mega pissed about what rachel said she told them that they need to think about Dom as a threat because he can beat them in comps. Jeff: "WTF are they talking about Jordan won the game and they (B/R) won nothing. jeff about Rachel "How about you go home this week and Beat off"
Share it YO!!
Tweet