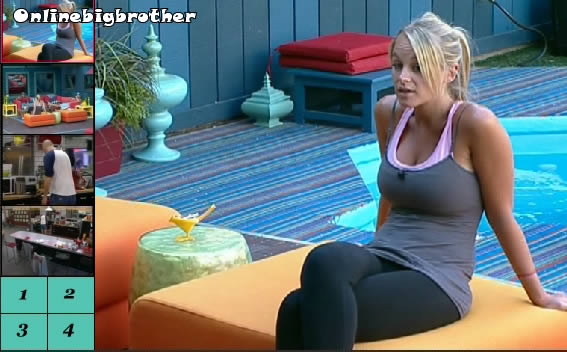 4:40pm Shelly, JJ backyard Couch
Shelly is saying had a good chat with Rachel this morning.. Shelly pushing the fact that everybody can beat rachel in the Final 2 and Rachel knows it. Shelly feels like she's in good standing with Rachel now. JJ really act indifferent to Shelly alot of agreeing not sayign anything. Shelly leaves… Jeff lets out a giant SIGH tells Jordan he can't wait for this week to be over.
5:15pm Jeff and Shelly Talk about Jeff's jobs after Big Brother 11. He says he was blown away from how much of "Him" was on the internet after the show he never though Big BRother was as popular as it was. HE goes one to explain his acting job and some of his success and Failures. When Jeff left the Big BRother house during season 11 he swore never to do any more reality TV. Now he's come to the conclusion that He'll never get on Television so he's open to reality show. Says he has a bunch of "Dot Com" type shows planned after BB13.
5:30pm Rachel and Jordan
Jrodan is sayign that Shelly and Adam need to go sooner than they thought. She thinks they need to keep Kalia this week then win HOH next week and put up Kalia and POrsche.
Rachel: "If it's porsche and Kalia we need to get rid of POrsche" rachel is convinced that if Kalia wins HOH they can convince her to put up Porsche and maybe Adam. Rachel: "It's obvious that Kalia is not taht smart she put up Lawon"
Jordan says she's worried that Adam will make a deal tiwht Kalia, "Atcutllay I don't really see him talking to Kalia either"
Jordan: "We have to get one of those 2 before the double eviction .. Thats what I am worried about"
Rachel: "We have no options we have to win this week".
5:41pm Havenots POrsche and DAni Dani is saying she doesn't want to push Adam too hard.. Porsche Agrees she thinks they need to take it easy then hit him hard on Thursday. Dani wonders if they should maybe say that the fans will absolutely got crazy if he votes to keep her.. Feeds cut..
Dani reminds Porsche that they need Adam to know if he's going to flip the house they must keep it a secret until the eviction. He has to be aware if JJR find out that Dani is staying they will be so confused and surprised it'll throw them off the HOH comp.
6:06pm POrsche is chomping on a pickle, "YEAH PICKLE". Dani asks if Shelly has mentioned about both of them talking to Adam. Porsche thinks she'll start tomorrow. Dani sometimes thinks time is on her side but every day that goes by is another day Jeff is talking in his ear. Dani: "He's so in love with Jeff…"
Porsche wonders if Shelly will vote to Keep Dani even if Adam doesn't. Dani doesn't think theres a chance of that happening. Porsche: "She's on my hit list to then.. ." (LOL Team Porsche yo.. seriously grab the feeds she's hilarious) Dani laughs tells her you can only get one person out a week.
6:00pm Jeff and Adam working out Adam is giving a heavily edited version of Dani's campaigning. Brings up some the weaker points of Dani's pitch. Jeff says that he knew all along they needed to get Dani. Adam thinks that Dick and Dani still talk… he doesn't buy their line that they don't talk to each other. Jeff agrees says as soon as he saw Dick and Dani in the game he knew that was a pair that needed to be split up. Adam says that not much of what Dani says adds up he recaps the time him and Dom were on the block and Dani said he was the target but she was going to try and flip the house.. after that failed she told him he better win POV or he's gone. Jeff warns him that Dani will tell him lies.
Adam says between Jeff and me he has made up my mind but to her i'm saying I Haven't made up my mind.. "I just agree with them telling them they are making good points".
Jeff: "Good keep the peace"
Adam says he's thinking that about telling Dani that he'll flip but in the end he won't.. Jeff just thinks Adam should keep the peace at all costs.
Adam : "You gotta let them speak their piece it's the honorable thing to do".. Adam continues that he won't tell Dani anything because int he end it might cost him a Jury vote.
Adam: "As long as Rachel and Jordan aren't flipping she gone" Jeff says he isn't worried about Shelly flipping. Adam asks him when do they get rid of Rachel. Jeff says once we can get rid of Kalia and Porsche.. "Those 2 don't deserve to be here". (LOL and Adam does"
Jeff says he's going to take out the big player this week he thinks they least they can do is take out Kalia and POrsche then they worry about Rachel.
Jeff says he is sickened by the thought of Kalia and Porsche in the final 2. Jeff's goal right now is to wipe out the other side then they can all battle it out. Adam agrees..
Adam calls Rachel a Floater.. "She's become what she used to hate.. it scares me because it shows me she can play this game".. Jeff: "DUDE DON"T worry Rachel is out target just not now"
Jeff says he wants final 2 with Adam after Jrodan get out. Adam is all excited say he knows that and he offers the same thing to Jeff.. Adam adds that if he's buying what Dani is selling he's at the bottom of their list but with Jeff he's near the top.
Jeff asks about Shelly..
Adam, "I'm looking for signs right now but I haven't seen anything yet.. there's a bit of a doubt"
Jeff: "Shelly gets confused right now because she's talkign to both side"
(Adam isn't flipping at this moment.. I'm starting to doubt he will, this guy is with Jeff will the end)
Check out the Big Brother 13 Polls
Share it YO!!
Tweet