10:23pm Bed room Adam, Jeff and Dani Jeff has his lips attached to dani making small talk about a pizzeria in Chicago Jeff leaves.
Adam has attached his lips to the HOH.. Pleading to Dani that he voted for Lawon to leave because he Knew Lawon Couldn't be trusted.
Dani: "When has Rachel ever been Straight"
Adam stumbles says to her he hope the can remain friends outside the house. She tells him that it was just game she understands. Adam goes on and on chit chatting sounding very nervous. Dani is polite but stick up for Adam being a douche.
10:34pm Porsche and Dani Dani: "Welcome to the dark side" they both giggle
Dani is saying that she was telling Kalia before the comp that they need to be more optimistic she's been here before. Porsche says she ready to win one she's been second 2 times now. Dani smiles says she can do it next week stay positive.
Dani tells her that JJBRSA were all talking crap about BRP after the eviction, Dani and Kalia heard it in when they were in the purple room.
Dani tells Porsche there is a few things they will do different, "Number one we're running off of GUT INSTINCTS… We made a mistake last week.. but thats ok we'll get there"
Dani stresses the from now on "SHELLY IS CUT OUT" (Hurrah it finally happens)
Dani: "I Have a thing about turning a house against me.. but it works "
Dani wants Prosche and Kalia to start exercising more becuase the next week might be endurance and it's going to be a battle. Porsche is ready very excited says she's going to do stretches in the HOH. Dani also says they need to make sure they are not on slop becuase they need their strength.
Dani: "You know production is dieing right now this is what they wanted"
Dani: "we start over now this time lets do it right.. tomorrow is a knew day"
10:45pm Jeff and Adam talking about if they are going up . Jeff isn't worried if he goes up because he has the votes to stay.
10:55pm BR Purple Room rachel saying that she has a deal with Dani she thinks it's still vaild. brendon goes on and on about school and how much he can't stand being away from rachel.
(The 2 people that are taking it the hardest are Adam and Shelly BRJJ are being good sports about this)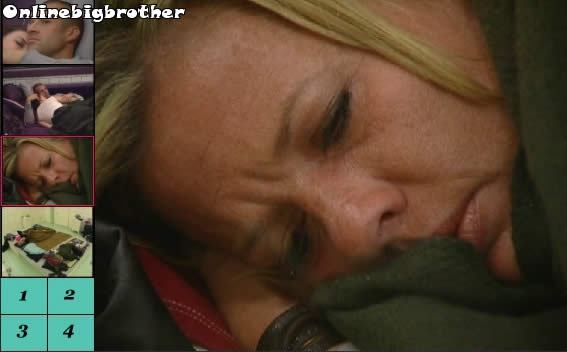 11:11pm Shelly is crying in the havenots saying she misses jose and wishes she won HOH. Jordan says that Shelly will go far in the game because she's friends with everyone and has a great social game (Apparently Jordan doesn't know the Jig is up for Shelly)
Shelly is very sad feeling down on herself. jordan is upbeat.
Share it YO!!
Tweet