If you like this site and want to help us keep it running please consider donating, Your donations go directly to paying the server and bandwidth fees. Donate Link
11:10pm Purple Room BR Rachel tells him that she really thinks Dani wants to be their friends. Brendon says they will wait and see how the night pans out. Rachel says that Dani has had HOH for 3 weeks in a row, She brings that it was like she never one any because Brendon Came back and Lawon left. brendon says he approached Dani said he's looking at this as a clean start wants to have a honest conversation with her. Brendon is certain one of them is going up this week. He's just glad to be back with Rachel. Brendon laughs at kalia nominating Lawon. Rachel tries to explain, Brendon is surprised it worked out.
11:35pm Kitchen JJ Jordan telling him that Shelly is crying in the have nots room.
Jeff: "For What!". Jordan explains that Shelly is sad for losing and rachel not thanking her for voting her to stay. Shelly is also pissed because "People don't listen to the rules and come in my space" (Not sure what this means)
Big Brother 13 Live Feeds Can be watched on your iPhone and Android Mobile devices sign up -> Watch Big Brother 13 on Your iPhone or Andriod Phone
11:56pm Kalia and Dani
Dani saying that they can trust Porsche 100% she's stuck with them, Dani also points out that Porsche has no one so unless she wants to go home she needs them as much as they need her. Dani wants final 3 with porsche and Kalia She believes they are the only ones they can all trust. (DKP offically has formed) Dani and Kalia both agree they do not trust Shelly with anything anymore. Dani brings up that Porsche was telling her all the lies Shelly has been spreading since before Dom left (Porsche doesn't know 1/3 of it)
There talking about when they walked out to see the comp they thought Porsche was totally going to do BLANK at it. Dani: "She did REALLY well i'm so proud of her" Both of them were really surprised, Dani thinks they can expect wins from Porsche. Kalia says that right before the comp Porsche was asking Kalia if her hair looked good. Kalia thought "OHH MY GOD.. get your head in the game" But now Kalia just thinks that is the way Porsche is.
Kalia brings up that during the comp Brendon sat behind her and after he lost he was saying to Rachel "Ohh baby i'm sorry i'm really sorry so sorry" (Same thing he did in bb11 on the paint can comp?) Kalia laugh "There's something wrong there"
Dani is confident that they can do it, says now they know who to trust and who is after them.
Dani: "SHELLY IS DONE DONE DONE"
Dani: "We can do this you know this right?"
Kalia: "ya"
Dani: "We have one solid person Porsche.. "
Dani tells her that the nominations she puts up will will be the targets they have to do whatever it takes to win the POV.
Kalia asks what about Adam.
Dani: "Well I wasn't nice but I accepted his apology and I told him I don't play personally and I won't , I told him he made a really stupid game move and I told him he's not going to win this game he won't get one vote" Dani goes on that Adam was trying to explain to her why he voted the way he did , Basically the truth of it is Adam is closer to JJ then them. She knows that and Adam knows it.
Dani: "I'm going to make every person even Shelly Crap their pants this week .. i'm not telling anybody anything.."
Kalia Apologizes for her BLANK up. Dani: "It"s OK" Dani asks her why she listened so much to Shelly when Kalia didn't trust her. Kalia thought if she brought Shelly closer then she would solidify her potion with them. Dani: "It's OK.. Hey.. we all make decisions.. some times they are bad and we pick up and move on"
dani: "I went Congratulations marcellis Lawon is now the stupidest player in the game"
Kalia doesn't understand how her HOH went all wrong
Dani: "they had more votes.. Shelly and Adam lied"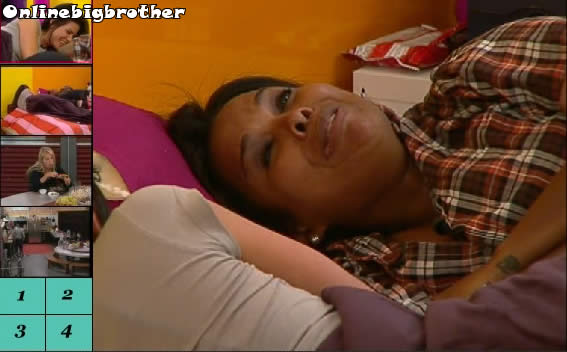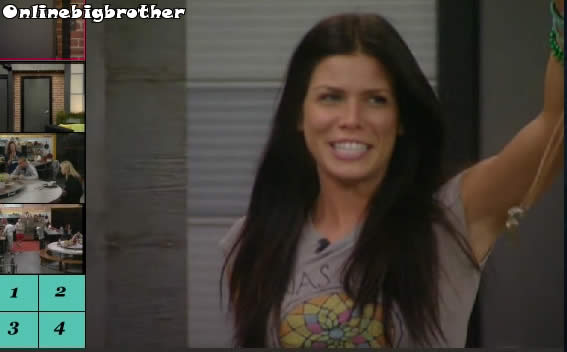 12:15am Dani gets her HOH room
Big Brother 13 Live Feed Image Gallery
Follow: @BigBspoilers and @Dawgsbigbrother on Twitter for recent crazed out spoilers. Theres also our Facebook page.
Share it YO!!
Tweet