Get the BB13 live feeds on your Android and iOS devices. Sign-up for the 3 Day Free Trial
Big Brother 13 Spoilers POLL CAST your VOTE!
1:45pm Cassi asks Dominic if he is going to take a nap? Dominic says yeah. Cassi says that she will after she gets called into the diary room. Lawon asks what is up with all you guys taking naps and shit …PARTY POOPERS!! Dominic heads into the havenot room and finds Shelly crying. Dominic asks Shelly if she thinks Cassi will regret not campaigning. Shelly says oh yeah she will. Dominic says that Cassi knows that it won't make a difference if she campaigns or not. Shelly says that she is going to regret crying and looking like a baby. Dominic says the game has become personal for us. Dominic says that its not campaigning to stay its campaigning to fight so that she doesn't get to the hotel room and wish she had. Shelly says that she is sitting here crying like a three year old. Lawon comes in and they continue to talk about how the game is personal now. They all head out of the havenot room, Lawon goes to take a shower, Shelly and Dominic heads out into the backyard talking about how she is going to look like the biggest baby in the world.
TRY the Live Feeds for FREE!
Click here for your: SUPERPASS – 3 DAY Trial!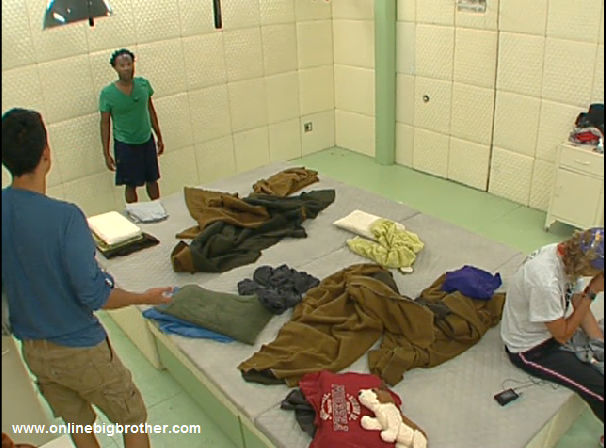 1:50pm – 2pm Cassi, Shelly, Adam, and Dominic are out on the backyard couches talking. Shelly asks Cassi if she is going to campaign now. Cassi says no. Shelly says what she thinks is amazing is that they are all hiding ..why aren't they out here living their lives. Adam says that Jeff and Jordan are sleeping and Brendon was out here earlier. Cassi and Dominic talk about doing a dual diary room session. Cassi laughing and says You know I'm going home right?! They all laugh. They talk about how Jordan said there was only 2 couples she could put up. Dominic and Adam say no there are actually 3 couples ..but Brendon and Rachel are exempt from you guys. Rachel then comes out into the backyard and says HEY.. HEY ..HEY ..HEY! How you guys doing? They say great! Rachel gets called into the diary room. Dominic says great hanging out with you. Rachel leaves. Adam asks she didn't come out here and say anything to you did she? Shelly says no .. she didn't have a chance. Cassi is joking around saying that Dominic should go into the diary room and say ..Knock ..Knock .. Whos there? I'm going home!

2pm – 2:15pm Shelly and Dani talk in the kitchen. Dani tells her that she is staying that there is no way she is going home …trust me! Shelly says that she is just upset that Cassi is going home and there is nothing she can do about it! Shelly says that she's embarrassed that she is going to look like a baby because she is crying. Dani says that won't make you look bad ..that will make you look like the good hearted person that you are. Dani says I don't want you to stress at all ..trust me you are staying. Shelly starts crying. Dani explains that its hard, the game gets so personal and that you want to hide but you can't. Shelly is worried about her daughter seeing her cry and hopes that her husband Tony explains to her why she is crying. Kalia, Rachel and Dani are comforting Shelly. Rachel tells Shelly that her husband and daughter will be so proud of her for just being in here and that they will understand just how hard it is in here because of how much of a rock you are. Shelly says that she hates that Cassi has had a hard life and just wants the best for her. Shelly says that if she was rich she take everyone out of the house and just give everyone in the house money so that they could live their dreams. Rachel says that Cassi is so beautiful and she will be fine when she goes home. Shelly says that those people back there (production) are so good because they grab you and you can't even get straight… Right then Big Brother cuts the live feeds.. When they come back ..Rachel says we love you and we are here to support you..
24/7 UNCENSORED Big Brother 13 Live Feeds!
Click here for your: FREE 3 Day TRIAL!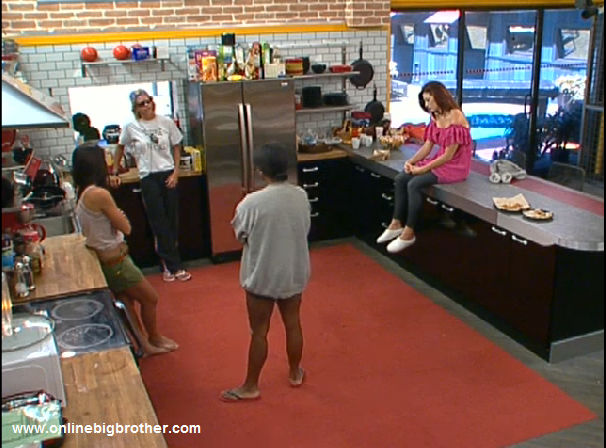 2:20pm Rachel tells Dani that she feels bad for Shelly that Cassi has to go. Dani says someone has to go. Dani says that she is going to go lay outside. Adam, Shelly, Dominic, Lawon, Dani and Cassi are all outside on the backyard couch talking about random things. They talk about how the beef jerky makes you feel all backed up. They ask Adam if he's been dreaming about missing bacon…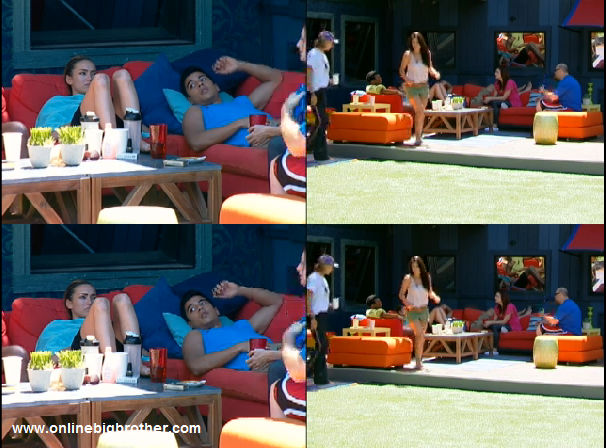 BB13 Live Feed Screen Captures , These are being updated every 10 minutes all 4 Cams 24/7
Follow: @BigBspoilers and @Dawgsbigbrother on Twitter for recent crazed out spoilers. Theres also our Facebook page.
If you like this site and want to help us keep it running please consider donating, Your donations go directly to paying the server and bandwidth fees. Donate Link
3:26pm Bedroom Dom, BRendon and Rachel They are plotting to play a prank on Jeff today. Dom wants to put some of Rachels red hair dye in Jeff's shampoo. Rachel and BRendon think it's a great idea but worry that they may get in trouble. Brendon suggests they cover the toilet with saran wrap. Dom wants to do it but really wants to tell Jordan first. Rachel doesn't think they need to JJ are good sports.
Share it YO!!
Tweet