Get the BB13 on your Android and iOS devices. Sign-up for the 3 Day Free Trial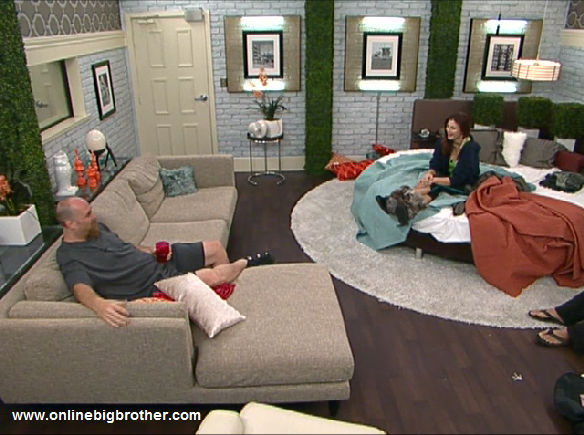 24/7 UNCENSORED Big Brother 13 !
FREE 3 Day TRIAL!
9:50am Shelly and Cassi leave the HOH room and Adam comes in to talk. Brendon says that he is the person that they trust the most here in this game. Brendon says that Dick talked highly of Adam and because they respect Dick so much they trust Adam. Rachel says I miss Dick! Adam says that Dick was his idol and that he was the reason he knew he could get on the show. Brendon says that they trust him (Adam) and the Rachel/Brendon, Jeff/Jordan and Dani all have his back and they hope he has theirs. Brendon says that his biggest concern is his partner Dominic because he has a lot of doubts and is a smart player. Brendon says that we have your back, just like the old school mafia. They talk about how they still need an alliance name. Rachel says she still wants it to be the Evel Empire, but that Dani didn't like that. Adam asks who came up with that? Brendon and Rachel tell him that Dick did. Adams say Uhh..Nice I should have guessed. Adam asks so what happens next week if I win HOH ..if I don't put up the vets side …that then puts a target on me. Brendon says no it doesn't, what's your relationship with Kalia? Adam say Ummm. Brendon says exactly it wouldn't be hard. Adam says well maybe it's better to just throw next week's competition. Adam asks so even if you don't use the POV who do you want gone, cuz I will do whatever you want. Adam explains that you need to have an immediate plan but also a long term plan and what you do now affects you later. Brendon and Rachel tell him that they love him. Adam leaves and Brendon tells him to send up Porsche. After he leaves, Rachel tells Brendon that she is really uncomfortable telling everyone the same thing that we have their back.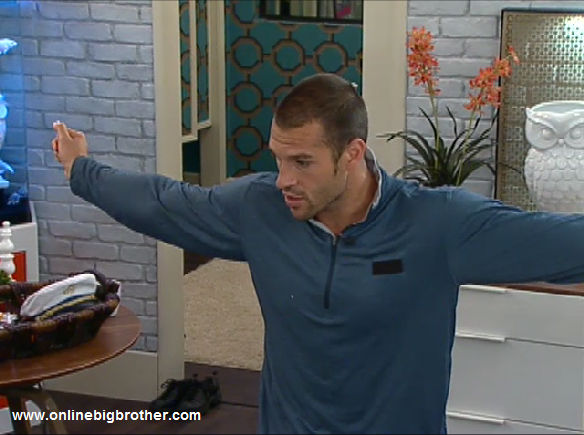 Porsche comes up and Brendon tell her that she has nothing to worry about and that she is safe. Porsche says that this has been like hell week. Brendon tells her that if she is still sitting in that seat, that she doesn't need to worry because you are 100% safe ..we have your back. They tell her to keep it quiet and to continue to campaign. Brendon says you are safe, just keep doing what you're doing ..pretend to be scared and keep going to them acting like their friend. Brendon and Rachel tell her to not sweat it, that they have to votes to keep her and if by chance its a tie, Rachel would be the tie breaker. Porsche thanks them and leaves. Brendon tells Rachel that he doesn't trust Dominic or Cassi. Brendon says that production will call her in soon. Rachel says they will call both of us in. Brendon says oh ..okay..right!
Get the BB13 live feeds on your Android and iOS devices. Sign-up for the 3 Day Free Trial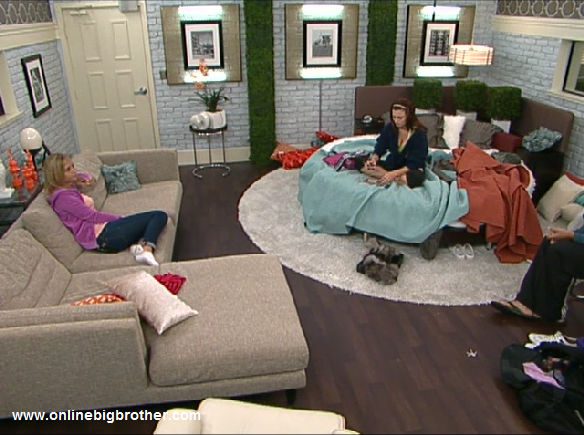 10:30am Jeff comes up to the HOH room. Rachel tells Jeff that they dont trust Cassi and think that she will do whatever it takes to keep Dominic here. Brendon says that we can only trust Cassi as far as we can throw her… and that both Dominic and Cassi said almost verbatim the same thing… so you know they are talking A LOT! Brendon and Rachel say that they can't trust Cassi or Dominic at all! And that if Cassi wins next week Dominic will be in her ear. Jeff says so basically Cassi and Dominic are coming after us. Jeff says if Dominic wins, I am not trusting Cassi worth shit! Rachel says that we just need to be careful. Jeff says that if Cassi didnt jump and take the bait then ..I dont care. Brendon tells Jeff that Adam already said that he will throw the HOH competition if they want him to. Jeff asks really!?! Brendon says yeah ..he's honoured to be with us. Brendon says so we can trust Shelly and Adam. We can't trust Dominic or Cassi. They talk about how they might plant a seed and say that they're going after Lawon or something… and see if it comes back to them and then they know they can't trust Dominic or Cassi. Jeff says that he knows Dominic is coming after him and that he is getting on his nerves with all his comments. They talk about how Dominic is a little kid and how it was his first time doing laundry yesterday. Jeff says he would be in the corner crying if we knocked out Cassi. Brendon and Rachel start asking Jeff questions about competition from his . They talk about how they can trust Kalia. They start bashing Porsche and about how they cant trust anything she says that and how she's acting like the rule police. The conversation then moves to wondering if Lawon is gay or not …they dont care either way.. they just want to know. Jeff says that Lawon even throws out comments calling Jeff gay.. and Jeff is like What?! Jeff says that he wants Lawon out next week. Jeff says that Lawon likes Brendon better because he wears those tights.. they all laugh.
SEE what they CAN'T show you on TV! 3 Day FREE Trial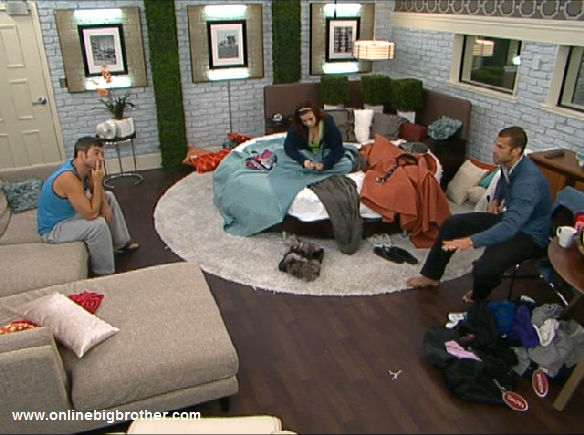 11am Jeff leaves the HOH room.. and runs into Cassi in the kitchen and she tells him there's a line to blow up in the bathroom. The havenots have having a lot of bathroom issues. Jeff laughs and says hes going back up to the HOH to go to the bathroom. Jeff tells her that if she goes in there …her and Dominic get just a little bit closer. Cassi yells to ask if Dominic is done in the bathroom …he says ya…. Cassi says that doesn't sound too confident?! Dominic says that he feels like he just gave birth to a small child in there.. Cassi sits on the bathroom couch and says that she is trying to give the bathroom a minute before she goes in …shes holding it against its will. Dominic says that it smells like a chocolate dinosaur in there… then laughs.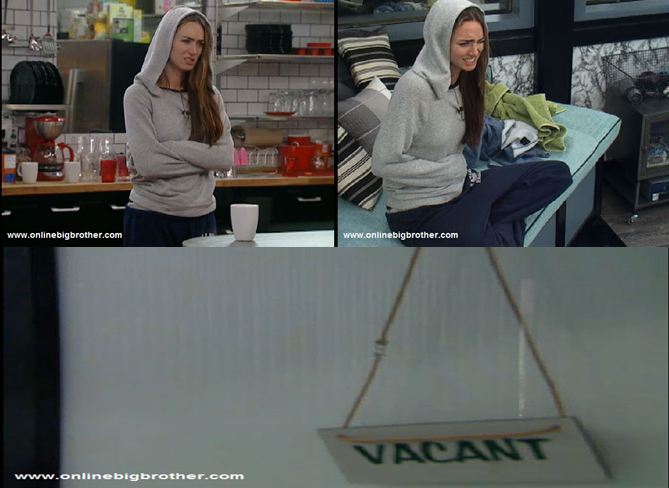 @BigBspoilers and @Dawgsbigbrother on Twitter for recent crazed out spoilers. Theres also a Facebook page here .
BB13 Live Feed Screen Captures , These are being updated every 10 minutes all 4 Cams 24/7
Share it YO!!
Tweet