Get the BB13 live feeds on your Android and iOS devices. Sign-up for the 3 Day Free Trial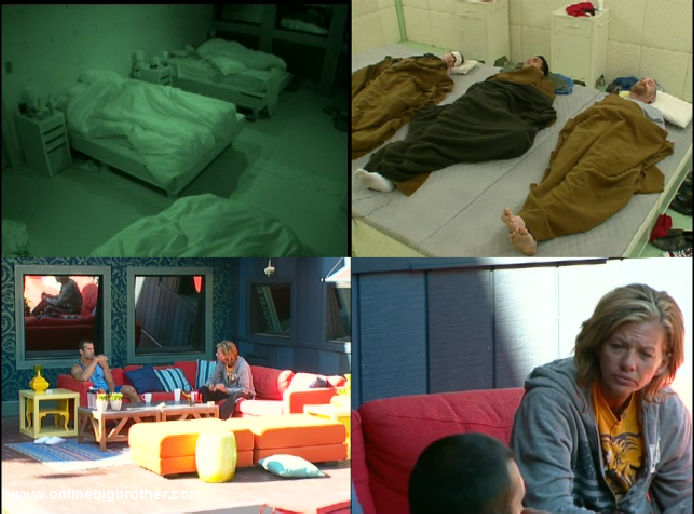 8:30am Brendon and Shelly are out in the backyard sitting on the couch talking about who is good at what in the competitions and the game. Shelly tells Brendon that she has already been studying things in the house. They talk about how Lawon will know a lot of the personal questions about other hosueguests. Shelly says that Dominic is going around saying that once the couples are done ..he has got this game. Brendon asks so is he going around saying that? Shelly says yeah ..he really thinks he will go to the end once couples break up. They talk about how Dominic really wants to work with Dani. Shelly says that he really likes Cassi and was upset when he realized she was leaving. Brendon couldn't believe how upset Dominic got. Shelly says that Cassi just thinks of him like a brother / sister relationship. Shelly and Brendon go inside for more coffee and then come back outside. Brendon laughs about how he made somthing to eat the other night and purposely added hot sause because he knew Kalia would ask for some. Brendon says that she asks and I was like awe yeah I did add hot sauce sorry. They both laugh. They talk about how she asks for some of everyones food when they are cooking and then complains when she doesn't like it. Shelly and Brendon talk about how lazy Kalia is, she won't cook or clean.
TRY the Live Feeds for FREE!
Click here for your: SUPERPASS – 3 DAY Trial!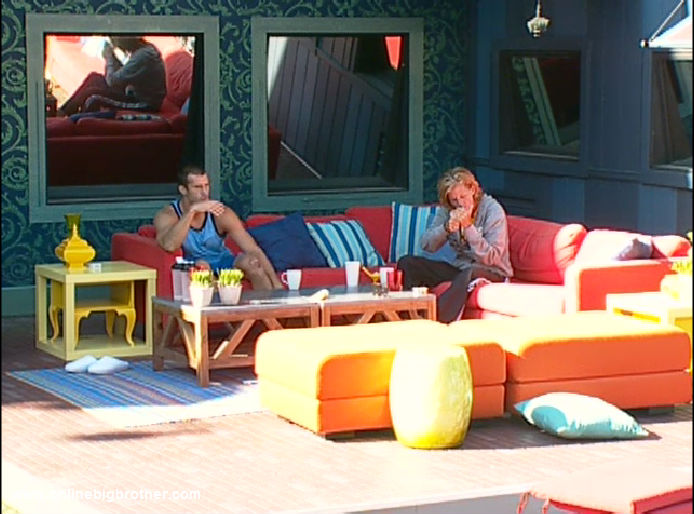 8:40am – 9:15am Shelly and Brendon start talk about his schooling. Brendon talks about how he did research using the Xbox Kinect and hacking it to recognize patients and map their bodies. They continue talking about computer programming. Brendon says that anyone interested in science needs to know programming. Shelly tells Brendon that his is going to do really well and make a lot of money once he is finished his PhD. Brendon says that its not even about the money.. Shelly says yeah its about making a difference.. Brendon says that it took a long time to figure out what he wanted to do but that he his happy he finally figured it out. The conversation changes to talking about cancers.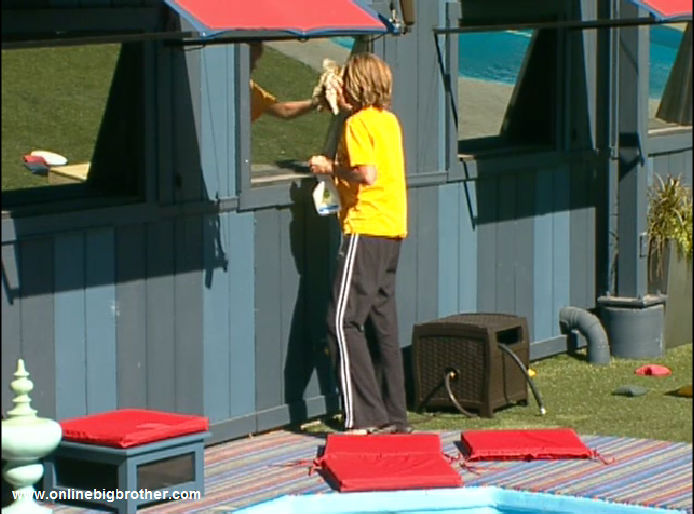 9:20am – 10am Brendon and Shellys conversation ends, she heads inside grabs cleaning supplies and goes back into the backyard. She then starts cleaning the backyard windows and says that the smoke puts a film on them. Shelly continues to clean the Big Brother house inside and out. Brendon is in the kitchen making breakfast. All the other houseguests are still sleeping.. Shelly heads into the kitchen and Brendon and Shelly complain about how no one else cleans. They talk about how the garbage's will overflow and still no one will touch then.
10:05am – 10:35am Big Brother wakes up the houseguests. When the live feeds come back, Rachel is in the bathroom getting ready, Dominic heads to the storage room to change his batteries and then goes back to bed. Shelly and Brendon are in the kitchen talking about his niece. Brendon and Shelly talk about how the live feed people are probably sick of watching them clean and the others sleep. Brendon says that the live feeders probably enjoy our conversations ..we have some interesting conversations. They then talk about trivial pursuit and rubik's cubes. Porsche joins them in the kitchen. They talk about how some houseguests stay up till early in the morning. Porsche says that if she had a reason to stay up she would, but there's no alcohol and nothing to talk about.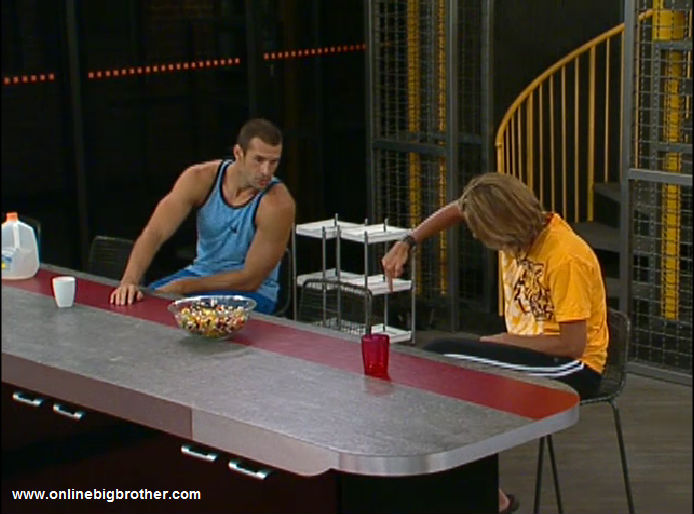 Big Brother 13 Spoilers POLL CAST your VOTE!
BB13 Live Feed Screen Captures , These are being updated every 10 minutes all 4 Cams 24/7
Follow: @BigBspoilers and @Dawgsbigbrother on Twitter for recent crazed out spoilers. Theres also our Facebook page.
If you like this site and want to help us keep it running please consider donating, Your donations go directly to paying the server and bandwidth fees. Donate Link
Share it YO!!
Tweet