We have a new Image Gallery here's how it works, Every minute we take a screen capture from all 4 cameras inside the Big Brother house then we dump them into a Daily Screen capture post. Voila a ton of Live feed Screen captures all time and Cam Stamped Live Feed Image Gallery
3:20pm HOH Rachel, Jeff, Dani, Jordan and Brendon Brendon tells Rachel that she's been listening to everyones sob stories and she needs to keep a clear head. Jeff adds that everyone will give the HOH their Sob story, You're going to hear 11 sobs stories and you'll hear mine if i'm up on the block next. Jeff is convinced that keeping porsche until it's just the 5 of them is a good idea because then they can get her out easy it'll be like a free week for them.
Brendon tells them that Keith is the real leader of the other side right now but he's kept quiet because he's on the block, Brendon: "If you would of put Cassi you would see that KEith would be the one running things". Jeff: "Damn something in here gives me gas"
Rachel says they are the 2 strongest couples in the house, Dani: "what do you mean… hahah" Rachel: "me brendon Jeff and Jordan are the strongest" (Camera zooms to Dani… doesn't appear happy with this and rightfully so) Dani… "Ohh".
They start talking about Dom and Adam, Brendon thinks that Adam is going to try and float through and not try any of the physical stuff whereas Dom is going to try and win the physical comps. Dani tells them that most of the game is mental comps there really isn't that many physical comps, she thinks he will dominate the quizzes. Jeff tells them that Adam is saying he's going to throw the HOH comp. Brendon: "Oh yeah for sure this week but we're talking about next week" Jeff: "Umm i'm worried about this week" Jordan: "So am I" Rachel: "I'm worried about getting backdoored"
Rachel: "do you think they are smart enough to put up there own then back door us"
Dani: "How many times is she going to ask that question?"
Brendon: "ugh I dunno maybe 10 more times until she gets it…. I dunno I think Cassi and Dom are working together"
(Seriously rachel and Dani are going to cut each other you just wait)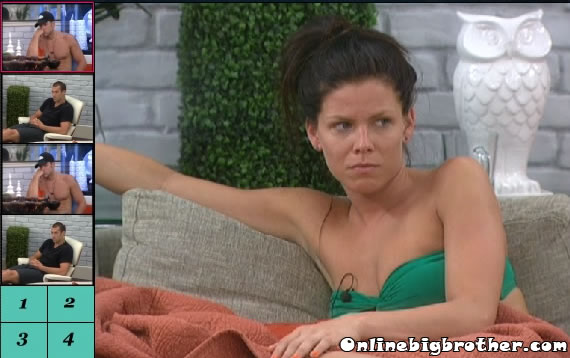 They find some "turtle" juice in the HOH drawer and decide to plastic bag it as evidence for the trial tonight.
3:40pm HOH POrsche and Brendon POrsche is asking for advice about what she should say to the other. Brendon tells her that Cassi is trying to get the house against Porsche. Brendon says they are not going to campaign for you we're just going to vote for you"
Brendon tells her to go to all the people on the fence and tell them that Kieth is a stronger player and would be more dangerous in the long term, he also adds that Keith has blown up already so people may not want him around. He also suggests that she should talk to every person before Thursday because if you wait until Thursday you won't have time with this many people in the house. He explains to her how hectic Thursdays are before the live Show.
Brendon: "My biggest concern is Cassi is trying to cause a bit of animosity"
Brendon: "I was sure Shelly would be voting to keep you (Porsche) but Cassi is trying to flip that, that's why you need to start to campaign".
Porsche explains what she'll say to them: "do you want to see Keith getting stronger and to learn.. right now it's easy to get him out"
Porsche asks what he thinks about lawon, Brendon doesn't have a clue where lawons head is at ,"he's all over the place".
Brendon warns her to stop looking so confident becuase she knows she has the repeats votes the other side might pick it up as being smug.
Brendon thinks it's a no brainer to vote Keith out and if POrsche just sticks to the facts she'll have no problem getting the votes. He again warns her not to tell anyone she has the repeat votes, not to talk about the golden key and to start talking to every person and logically tell them the cons of Keeping Dani.
4:05pm Fortune Room Porsche and Jordan Porsche is filling Jordan in on what she's going to pitch to the other houseguests to lock down a couple votes. Jordan doesn't think Porsche has to worry about anything.. Porsche pretty much repeats her conversation she had with brendon. Jordan tries to convince her not to worry. Porsche tells her that the Newbbs will take out B/R not J/J.
4:10pm HOh Brendon getting mad and Rachel for doubting Dani (this is worth watching if you have the feeds July 12th, 2011 Cam 1-4 4:10pm Brendon is the biggest douche in BB history I feel sorry for Rachel to be in a relationship with him. Lets hope CBS gives rachel a box of Wine so we can have a battle tonight)
Uncensored Live Feeds Free Trial

Brendon: "you're playing this game too emotional.. You're doing it again"
Rachel is doubting Dani's loyalty she's worried that Dani will flip because nobody wants to be number 5 with JJ and BR. She is really liking POrsche and thinks they can be good friends outside the house.
Brendon: "you're just as bad as those people down there you're thinking too far in the future.. Focus at the game at hand and Don't ever doubt that girl (Dani)"
Rachel: "I wasn't doubting her I am just worried about final 5"
Brendon: "she's (dani) the only person other than me I would want you to trust, I completely trust her and so should you"
Rachel: "You think they are really going to get Jeff over Jordan?"
Bendon: "are you kidding me… seriously are you kidding me their going after Jeff, they would be idiots not to keep Jordan… Dani is going to have a huge target on her back so I need you to be close… and stop doubting her"
Rachel: "I'm not doubting"
Brendon: "I need you to be clear about her because god forbid if I get evicted she's all you have".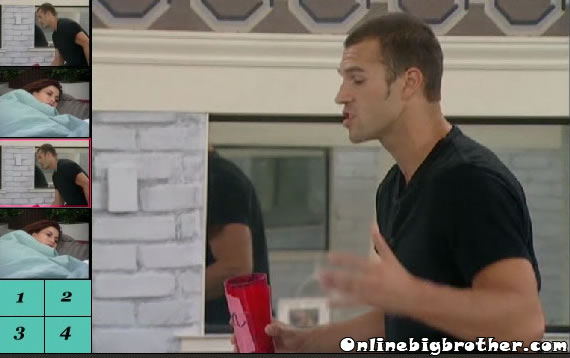 Brendon: "I like POrsche she's a nice girl but she's a stupid girl when it comes to this game and social encounters… her game play is very bad"
Rachel: "I like POrsche.. I like really like her i'm going to be friend with her on the outside I don't want her to go home week 5"
Brendon: "so you like her more than dani?"
Rachel: "no "
Brendon: "good because dani has a better social game and she's very good at the physical comps"
Brendon: "you're playing a horrible social game and it's clouding your judgment.. doing the same thing you did last year"
Brendon: "I like everyone in the house but they are all horrible at playing this game; Porsche, Keith, CAssi, LAwon they are all stupid… I'm having fun with them but their all dumb at this game"…"Just think of this that your fiance is risking his Phd for you so think of that when you make these stupid decisions and comment"
Brendon: "All you are doing is throwing away 1/2 mil for a friendship that means nothing.. I'm your best friend you don't need another best friend in this house"
Brendon: "I'm playing a great social game here and I need you to pick it up Your social game…it isn't great because of the struggle you have to differentiate game play with personal feelings."
Brendon finish's off by reminding her that she never watched big brother 12 she doesn't know the full extent that Brit and "the rest of them" talked about her. He says you are friends with no one from BB12 and the same will happen with BB13 because people do not want to be friends after this experience. Rachel meekly replies that she's friends with Ragan, Brendon isn't sure he's tells her that they never really see Ragan much.
Brendon leaves to go down stairs rachel goes to sleep..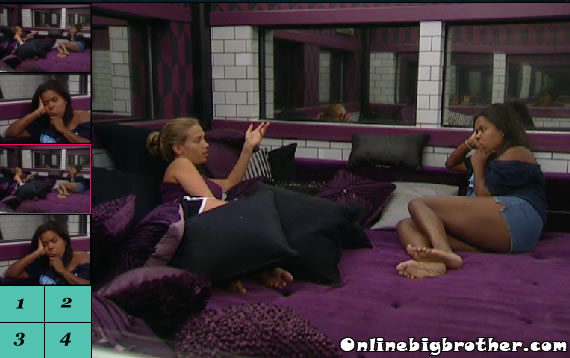 4:41pm Fortune room Porsche and Kalia Porsche is starting to work on Kalia using the lines discussed with her conversation with Brendon. (My headphones don't play Kalia's voice so who knows what she says. ;) )
Share it YO!!
Tweet