Get the BB13 live feeds on your Android and iOS devices. Sign-up for the 3 Day Free Trial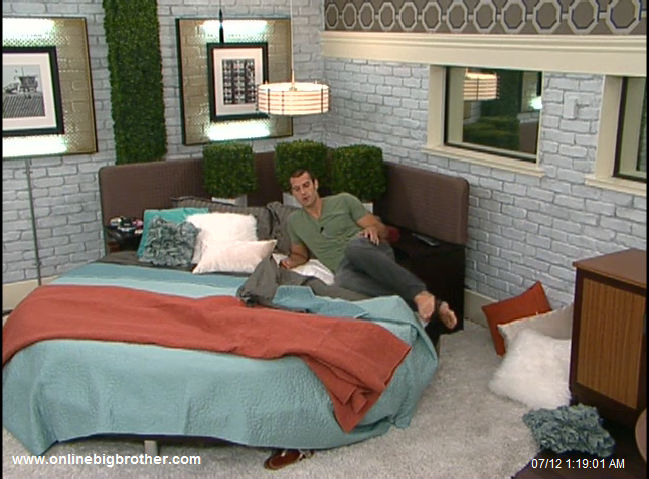 Big Brother 13 Spoilers POLL CAST your VOTE!
1:15am Up in HOH Brendon tells Rachel in HoH that he is upset with Rachel's drinking tonight and that her and Porsche were obnoxious tonight. Brendon says that he didn't want to control Rachel's life. He says that he wanted her to have fun and that he was going to bed. Brendon says that he didn't want to talk about it because Rachel didn't care. Rachel says that she didn't done anything wrong. Brendon says that he was starting to think it was a mistake for him to come back into the house. Brendon says that he wanted to be taken seriously and he didn't want to be associated with Rachel's drinking and playing the most insane, asinine games in the hammock. Brendon says that Rachel had drank half the wine and hid beers in the fridge. Rachel says that Porsche was the one that hid the beers, not for me, and that I didn't ask her to. Rachel says that she's going to go downstairs. Rachel then moves her things to the couch. Brendon tells Rachel that she should suck up her pride.
ReWatch all drama on FLASHBACK! FREE 3 Days TRIAL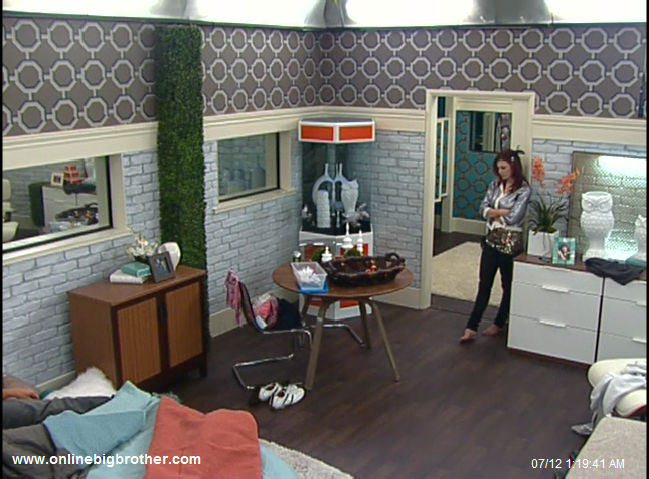 1:30am Brendon and Rachel are still fighting up in the HOH room. Brendon tells her that she was being inconsiderate, just the way she is behaving. Brendon tells her that the just had a talk a couple days ago about not embarrassing him and emasculating him in front of other people. Brendon says that her yelling endearing terms to him across the yard made their relationship seem like a joke. Brendon tells her that he guarantees the people in the hammock thought their relationship was a joke. Rachel asked if he was talking about Daniele? Brendon says Keith, Dominic, and Porsche. Brendon says that he told her how this made him feel, and yet you still insisted on not even being considerate enough not to do it, after we just had this conversation. Brendon says that he came here for her and that he wants to win half a million dollars. Brendon says that he didn't want her to be here by herself, and this entire past year for them was a struggle. Brendon says that he didn't think coming back in the house was a good idea, but she wanted to, because she needed money. Brendon says that he likes having fun, he likes having a glass of wine together, but he doesn't like to see her getting drunk and going around with an obnoxious girl like Porsche. Brendon says that people will be judging her again from the show like they did last year, and she didn't handle it well when she saw what people were saying. Brendon says that when he is married to Rachel, he's not going to be getting wasted at a bar. He says that they can get drunk together at home, but this is a show, this isn't their house. Brendon asks if Rachel understands why it hurts him. Rachel doesn't say much of anything. Brendon says that he loves her with all of his heart. Brendon says that this is why it hurts me …yelling names across the yard when I asked you not to. Everyone might be laughing, but I'm not laughing.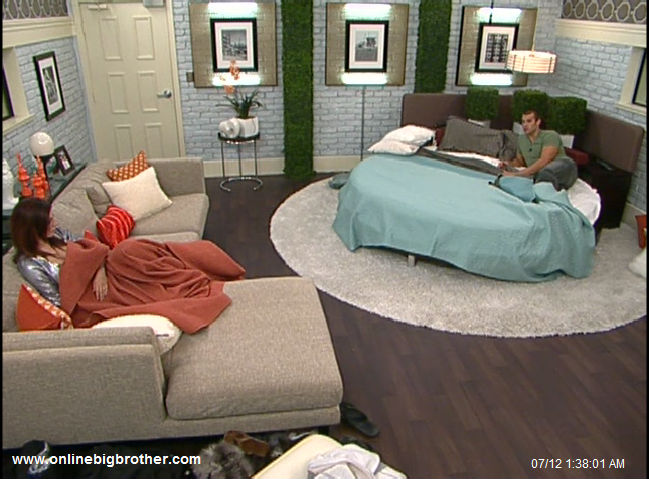 1:40am Rachel asks Brendon if he is giving her an ultimatum. Brendon says no… but that he won't put up with this when he's married ..his wife acting out of control. Rachel says that she wasn't out of control. Brendon says she was a little out of control and that she was being a obnoxious. Brendon says that its not right when he has to ask other people how she's doing when he's not around. Rachel asks who he asked. Brendon tells her that he is done arguing if Rachel wants to sleep on the couch, she'll sleep on the couch, and that he is going to sleep. Brendon tells her that he is not going to continue to argue with her, and that he is not pissed… I'm not.. Brendon says that she hurt his feelings, the fact she is not willing to consider that maybe you had too much to drink tonight, …and you were a bitch tonight …and inconsiderate. Brendon turns out the lights. and tells her that if she can't admit it then she can just sit over there and pout. Brendon says that he doesn't know what else to do. Brendon says that he is explaining how she hurt his feelings and disrespected him. Brendon says that he knows she was having fun and for the most part its not too bad. The live feed cameras switch to the backyard.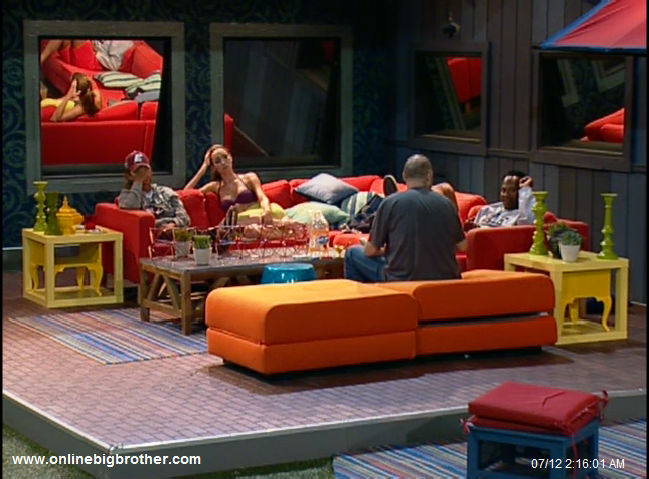 24/7 UNCENSORED Big Brother 13 Live Feeds! FREE 3 Day TRIAL!
2:10am Shelly, Cassi, Adam and Lawon are out in the backyard. Cassi and Shelly are talking about the incident with Porsche. They talk about how Porsche came up to Shelly to talk about an incident with Cassi. Cassi says that she walked away from somewhere and Porsche was whispering something to Rachel and Cassi asked if everything was okay? She says that Porsche said no everything was fine, and pulled Cassi aside and told Cassi the whispering was about it being bad that they were pressuring Jeff to propose to Jordan during Big Booty after Jeff messed up in the game because Jeff and Jordan looked uncomfortable. Shelly tells her that says it makes them look immature, wait until it comes out of their stipends. Cassi says she wouldn't get wasted like Rachel or Porsche even if she could. Lawon says he usually drinks more outside the house, but it's not worth it. Shelly says not many people get a second chance to change how they're portrayed on TV, but if Rachel doesn't change her behavior, she will be portrayed the same way. Shelly says that the difference is people are nice to her this year. Cassi agrees, and says Rachel is a nice girl. Shelly says Rachel is a nice girl. Lawon says Brendon knows what they are talking about. Shelly says she doesn't even know why she cares, redemption is Brendon and Rachel's thing. Cassi says Shelly cares because she is a nice person. Shelly leaves. Cassi and Lawon say they like Shelly and would want to see her go far. Lawon says like at least final five. Cassi says that she would like to help her as long as she can. Cassi says that she sees Shelly as an older version of herself. Lawon says at first, he thought Cassi and Shelly were the twist and Shelly and Cassi were mother and daughter, because they were so close and the first day, Cassi already called her Mom. Cassi says she uses Momma with any female, even her best girl friends and Daniele. Shelly comes back, and Cassi tells her that Lawon thought the twist was that she was her mom. Shelly laughs.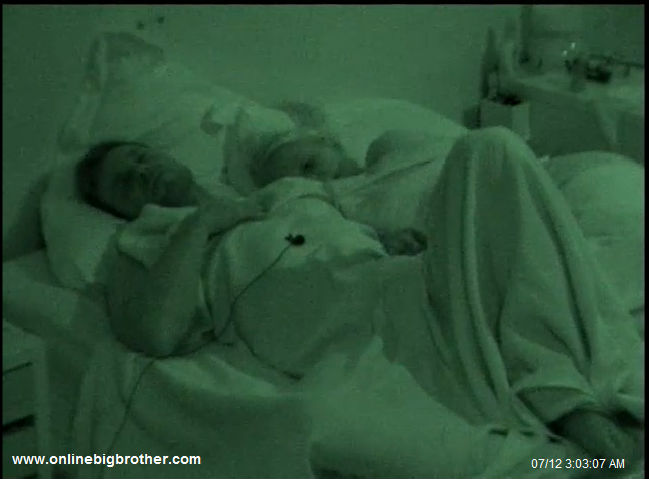 3am Porsche goes to Jeff and Jordan and tells them that Cassi came up to her in the bathroom after Shelly just talked to Cassi, and Cassi said she didn't appreciate that Porsche was telling her partner that Cassi was talking bad about her. Porsche says that she doesn't understand. Porsche says that she thought Cassi asked her after the Big Booty game if she was okay with what Shelly had said to Keith. Porsche went to Shelly after and said what Shelly had said to Keith was really funny and Cassi had come up to her about it. Jeff asks what did Shelly say, is everything cool? Porsche says yeah. Porsche says that she doesn't know how the confusion happened. Jeff says uh oh, catfight. Porsche says that she is expecting something and it sounds so dumb. Jeff says it sounds pretty silly to me. Jordan tells her to go talk to Cassi and say she didn't mean it, and Porsche says she already did. Porsche feels like she has to go around covering her tracks and doesn't understand why. Jordan says that if Porsche talked to both of them already, then she needs to just drop it.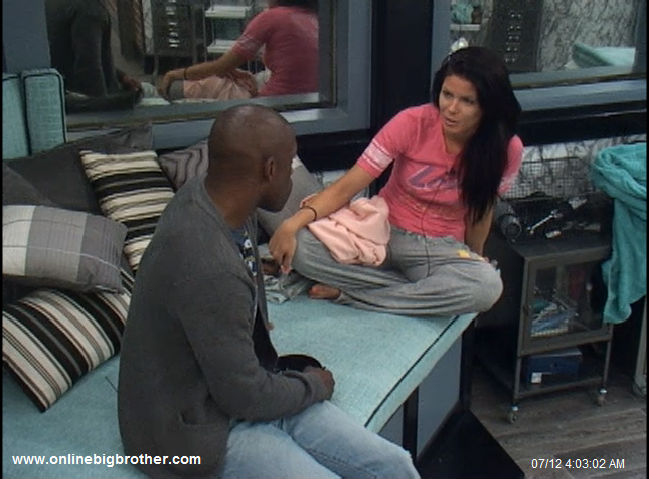 4am Keith and Dani are talking in the bathroom. Keith had followed Dani into the bathroom to talk. Keith tells her that if there was anyone in the house that he would do anything for it would be her. Dani asks him why he hasn't told that to her before. Keith tells her that if they keep him he will do whatever they want. Keith asks Dani how Porsche would benefit her? Keith is talking really loud and Dani asks him why he's yelling at her? Keith tells her that he isn't and then lowers his voice. Keith tells Dani that she is the last person in the house that he would play. Dani tells him that nobody likes Porsche. Keith says Dani could be gaming him right now by saying no one likes her. Dani tells him thats not the case and that she is honest with people and has no reason to be sitting here lying to him. Dani says that she wouldn't be giving you a pump up speech for nothing. Dani complains that Porsche has been up Rachel's butt. Keith asks her if Rachel likes that and Dani says probably so, it's Rachel. Dani tells Keith if he stays in the house she wants to work with him. Dani tells Keith that she thinks he should campaign to vets the vets tomorrow. Dani says the worst thing they can say is no but that he shouldn't go out without trying to fight to stay. Dani tells him that he needs to play for himself and you need to fight to stay. Keith asks if Porsche is campaigning? Dani says that she hasn't said anything to her yet. Dani tells Keith that Brendon hates Porsche, she says he was pissed that her and Rachel were all drunk and hanging out.
TRY the Live Feeds for FREESUPERPASS – 3 DAY Trial!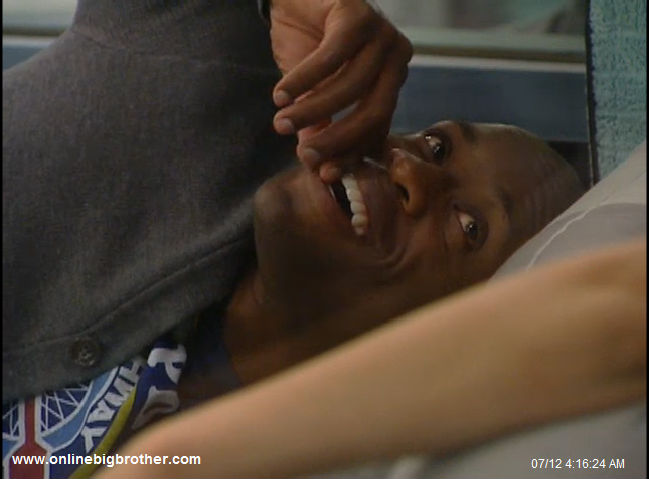 Keith agrees that he'll talk to them tomorrow. Dani tells him that he shouldn't tell them that Dani told him to come to them. Keith says that he will be honest and lay it out for the vets that he didn't come up there before to campaign because Porsche told him that she already has the golden key and he thought it was a done deal already, but he wants to stay and that he will vote with them. Keith tells Dani that he doesn't trust Dominic or Cassia, and that he thinks they will stab him in the back. Keith says that he can't count on their votes and that they will vote how Rachel wants them to and thats why it is so important for him to get up there and talk to Rachel. Keith tells Dani that he isn't a matchmaker, he is actually a human resource manager, he hires and fires people, he knows how to read people. Keith says that he didn't want want people to know that he was a smart guy. Keith thinks that Dominic has struck a deal with Brendon and Rachel. Keith says that he thinks the votes he has for sure are Lawon's, Shelly's and Adam's. Keith asks Dani not to tell anyone that he is really a human resource manager, and says that he thinks that will put a huge target on his back. Keith says that he is all about people and that he knows how to read people. Keith tells Dani that he knows about a deal between the vets and Dominic. Dani denies it. Keith tells her that she knows about some deal or knows more than she is letting on to him about the vote. He tells her that he can read her. Dani says oh Please! Dani tells him that she doesn't know about all these deals he thinks she knows about..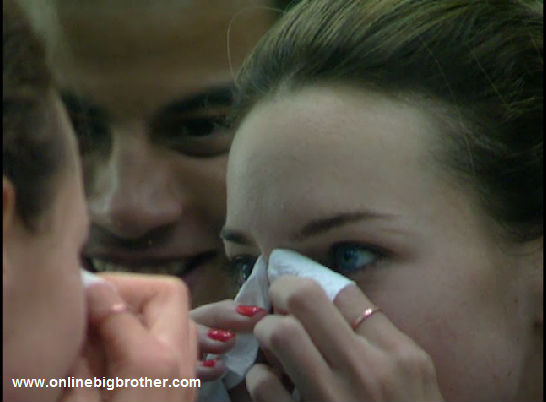 5:20am In the bathroom, Dominic, Lawon and Cassi are getting ready for bed. Cassi is popping a big zip on her face and Dominic is helping and encouraging her to pop it more. Porsche wakes up and goes to the bathroom. Porsche comes up to Cassi to talk about their confrontation earlier. Cassie tells her what she told her earlier. Cassie says that she respects Shelly, more than just a partner. Porsche tells Cassi that her, Cassi and Shelly should get together tomorrow and clear the air. Cassie tells Porsche that the bottom line is she thinks Porsche doesn't like her but when it came to Shelly she had to say something. They argue back and forth. Porsche tells Cassie that she doesn't not like her, that they haven't talked much but that she isn't mad at her or anything. Cassi tells Porsche that to be honest she just can't gauge her, she can't really tell what her intentions are so that's why she is stand-offish with her. They talk about everything that happened during their argument. Dominic and LaWon leave to go to bed. Cassi tells Porsche she thinks she alienated herself from the group by always hanging out up there with Rachel. Porsche apologizes to Cassi and tells her that she is sorry if she offended her. Cassi telling her it doesn't matter, and that they are just different people, they don't have to like each other and hang out. Porsche tells Cassie that people have been telling her that Cassi wants her gone and even though she has heard that that doesn't mean she doesn't want to get to know her still. Cassi tells her that she doesn't know her and that she doesn't care one way or the other about Porsche. Porsche tries to defend going up to the HOH with Rachel, she thinks that's what you are expected to do. They argue back and forth. Cassi says that she doesn't think they've bridged the gap, and I don't know if we have to, its a temporary living situation. Cassi says that she can't pretend and act a certain way with someone if it's not genuine.
FLASHBACK – Don't miss all the drama!
Superpass – 3 Day FREE Trial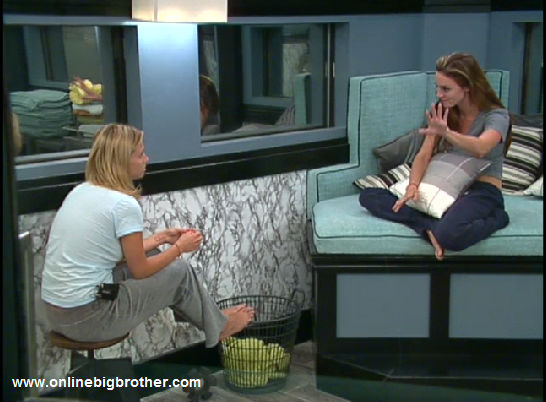 6am Cassi and Porsche end their conversation and head to bed. Cassi goes to the havenot room and whispers to Lawon telling him all about the conversation she just had with Porsche. Cassi goes over everything and tells him that its so stupid and dumb ..that she hasn't had a conversation like that since highschool. Soon after they climb back into bad and go to sleep.
6:30am All the houseguests are asleep…
7:15am Still sleeping..
BB13 Live Feed Screen Captures , These are being updated every 10 minutes all 4 Cams 24/7
@BigBspoilers and @Dawgsbigbrother on Twitter for recent crazed out spoilers. Theres also a Facebook page here .
If you like this site and want to help us keep it running please consider donating, Your donations go directly to paying the server and bandwidth fees. Donate Link
Share it YO!!
Tweet