Big Brother 13 Live Feeds Can be watched on your iPhone and Android Mobile devices sign up -> Watch Big Brother 13 on Your iPhone or Android Phone
5:43pm KP Backyard Kalia is saying that Shelly has lied to ever single person in the house and has tried to get everyone against each other. Kalia says it's really 50/50 who leaves but.. "At least when I talked to Adam I know he's not lying to my face" Kalia starts in on explaining all of Shelly's lies. Kalia brings up Shelly was saying to Jordan that she over heard KP talking about the fortune teller but Kalia and Porsche never knew about the fortune teller moving. Jordan: "I bet all the fights in the house are caused by her". They go back and forth a bit recapping all of Shelly's lies. Rachel joins them and they all share stories about Shelly's lies.
Rachel: "Why did you guys move the duck just to BLANK us up?" Kalia: "Yes" they all giggle.
Adam joins them and they all start talking about Shelly's game and all the BLANK she started this season. Shelly's entire game has been exposed it took to final 6 but they have figured it all out.
Jordan: "I got played by Shelly FOR SURE GOT PLAYED"
Rachel: "Two be honest I was onto Shelly Week 2"
Jordan: "I know you were"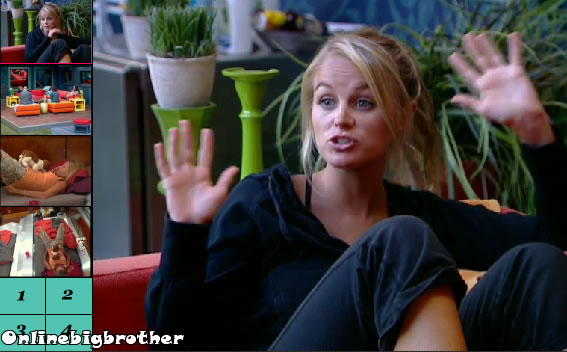 Everyone throws in their bits about the BLANK Shelly caused…
Jordan points out that Shelly played everyone in the house and the only one that wasn't was rachel and that is why she was the target for so long. Adam butts in and says he never trusted Shelly.
Kalia brings up the Jury house and how Shelly is going to manipulate
Jordan: "She tried to play like dick" rachel scoffs: "Umm NO nothing close" They all start talking about Shelly being a superfan. rachel says that Shelly was a super fan and a master manipulator she knew what to say to every single person in the house. Rachel: "She watches the feeds at work" (so do I.. shhhh don't tell anyone) Jordan brings up how Shelly told her she started watching at season 11. Adam says no she is the biggest fan of the cast she just hid it.. Adam mentions he's a big fan to but he doesn't get the feeds.
(watching Shelly play was a wild ride she flipped the house more than anyone else and never won a single comp she played both sides and did it for a long time. She BLANK over DK so many times and they kept coming back for more it was awesome. Shelly will always be remembered for her last flip going against JJ)
6:06pm Shelly her game is done
7:08pm Rachel and Jeff
Rachel: "I want to play devils advocate right now"
Rachel: "Why don't we put up Shelly she is so hated by everyone she'll move the target off us"
Jordan: "Well you've been right about everything"
Jordan points out that Shelly is against them.. Rachel says it doesn't matter as long as they win HOH this week. Jordan doesn't think it's a good idea she thinks is dangerous that they keep Shelly in the house because she's after Rachel.. Jordan brings up that shelly was telling Jordan that the person Jordan is now teamed up with talked BLANK and lied to her all season.
Jordan uses the argument that they cannot beat Shelly in the final 2 because everyone will say that she was a master manipulator that played the game. Jordan mentions that maybe Rachel can beat Shelly but Jordan doesn't feel that she can.
Jordan and Rachel both Agree that KP will put up JR if they win HOH. Rachel: "100% guaranteed they will put us up"
Sign-up NOW and watch the houseguests live! Uncensored Live Feeds 3 Day Free Trial
7:40pm KP working out, rachel cooking, Adam lifting weights and Jordan showering.
7:45pm Here's your final 3 all they need to do is get through Rachel and Production and this is their game.
9:04pm quad Random chit chat.. everyone cooking
Share it YO!!
Tweet