Big Brother 13 Live Feeds Can be watched on your iPhone and Android Mobile devices sign up -> Watch Big Brother 13 on Your iPhone or Android Phone
9:12pm Adam and Jordan Adam recaps his conversation with Shelly telling her Shelly was fishing for information to use as ammo. Adam goes on about how Shelly was asking him what his biggest move was, If he's taking Porsche to the final 2 and what his biggest regret was. Adam tells her not to worry he was trying to be very vague with Shelly. Adam a big move was getting Lawon out and Keeping Rachel but his biggest move is yet to come , He told her he didn't know who his final 2 will be and he dodged the biggest regret question. Jordan says that this time they are going to win it's 3 on 1 on the HOH. Adam says they will win he's sure of it. Adam adds that he's 100% with Jordan they can count on him.
9:30pm Jordan studying on a mission to win the HOH comp
9:50pm Kalia studying on a mission to win the HOH comp
10:05pm Cards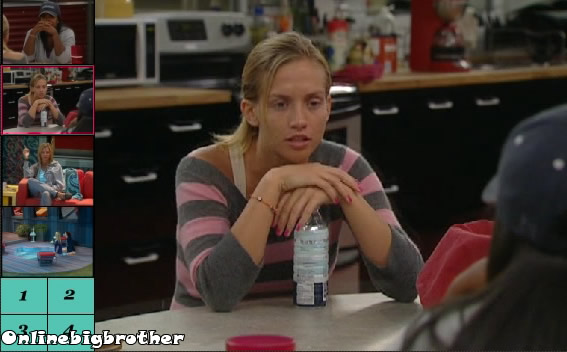 10:25pm Porsche and Kalia Porsche bringing up that Shelly is flat out ignoring her. Porsche says it was really weird, Kalia brings up that Shelly isn't ignoring her. Porsche brings up earlier in the day when Porsche and Shelly where in the kitchen and Porsche was thanking Shelly for doing the dishes.. Porsche: "Shelly straight up ignored me.. then rachel walks in and Shelly is talking to her then Shelly leaves again straight up ignores me" Kalia isn't sure what is going on with Shelly. she adds that their not in lockdown it must be questions she just hopes the questions are the ones she knows.
Porsche: "Shelly has moved from hating Rachel to hating me.. it's weird don't you think" Kalia agrees. Kalia thinks that JR are still very undecided.
Sign-up NOW and watch the houseguests live! Uncensored Live Feeds 3 Day Free Trial
10:41pm Bedroom Rachel and Jordan Jordan is recapping her conversation with Adam. She says that Adam had a conversation with Shelly and Shelly asked him what his best game move was. Adam told her one of his best moves was voting out Lawon and Keeping Rachel. Shelly reaction to Adam sayign that was shock. Jordan then had asked Adam if Kalia won HOH if we would run over to the other side and adam said no he's with JR, "We also handshake on it like that" (she holds out her hand) Jordan: "You got to have some trust some times" Rachel wonders why he would say that his biggest move was keeping rachel.. she does agree with Jordan that they need to trust someone right now and they don't trust shelly at all. Rachel thinks they should start studying she doesn't want to do it in the candy room though. Jordan doesn't want to do it in the Have nots because it looks suspicious. Rachel Isn't worried about it looking suspicious everyone knows they are together.
10:52pm JR studying like mad for the a quiz comp. Kalia joins them and they start dancing around who they are going to put up. Kalia wonders why nobody is campaigning to her. Jordan thinks Kalia should ask Shelly and Adam why they haven't campaigned. Rachel asks Kalia why she didn't campaign to her. Kalia explains that she knew that Jeff wanted Dani out and she knew it was JJR and Shelly already told her that she was voting to keep Dani so Kalia didn't see the need. Kalia mentions that she never knew that Shelly was campaigning so strongly to keep Dani though, and now she's found out from multiple sources. Rachel says that dani told her that Kalia was crying in the DR about Dani leaving. Kalia says no that is not what happened. She starts to explain that she knew how Dani felt about the game and Dani was a close friend. Kalia didn't want to lose her but now that she's gone Kalia feels like this is her game. Jordan and Rachel start telling her how bad dani was and how she went around string up problems and manipulating people. Kalia has heard a lot of things that she needs to talk to Dani about. Jordan says they won't know the full extend until they go back and watch the show.
11:26pm Rachel and Adam were trying to study but KP started talking to them about random shit. Jordan leaves and meets up with Adam whose packing his stuff outside the Have nots. She tells him that Kalia was telling her that she is on the fence about who to vote out. Adam: "Oh great so that the person I have a final 2 deal with" Jordan: "See and you trusted her"..
11:43pm Backyard SHelly and Jordan friends again talking about church.