5:40pm JR Havenots They are going to keep Adam instead of Shelly based solely on the reason that Adam can be trusted more than Shelly. Rachel points out that Adam may win the veto and if they ask him not to use it he won't but if Shelly wins the veto then they are not sure what will happen. Jordan agrees. Rachel: "I think we stick to the original plan" Jordan thinks so to they decide to keep working on Adam to make him feel more safe with them.
Sign-up NOW and watch the houseguests live! Uncensored Live Feeds 3 Day Free Trial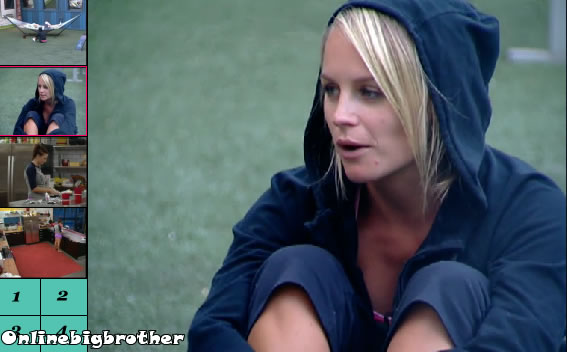 5:46pm Hammock Jordan and Adam Jordan tells him that if it's JRA in the final 3 then it's a free for all. Jordan: "I am worried about you and Porsche.. there's something between you 2 besides you guys just talking"
Adam: "I'll stop you right there between POrsche and Kalia I would rather have Porsche but Between you and POrsche I will take you" adam explains that he only talks to porsche on a friend level. Jordan starts sayign that POrsche goes around and tells stories that is why she doesn't talk to Porsche. Jrodan says jeff told her not to talk to POrsche and she never did. Jordan: "I don't trust her"
Adam: "I've never made a deal with her.. she even asked me a but ago if I would ever turn on them and I never answered"
Adam tells Jordan he's with them she doesn't have to worry. Jordan says good, she reiterates how much of a big liar Porsche is and how they can't trust her. Adam explains that he got close to Porsche early on because nobody liked her and treated her like a leper. Adam: "I have no problem keeping you and Rachel.. I promise.. if that ends up screwing me whatever.. out of the people left playing Jordan and Rachel are the ones that deserve to win".
Jordan can't stand it right now because she feels like she's been put in tough spots all year and she's had to make tough decision every single week.
rachel joins them.. and Adam gives her his word that he's with them. Rachel says good then they have nothing to worry about. JR leave.. Adam says to Kalia and Prosche who are walking laps around the backyard that his head hurts,
JR head into the kitchen. they start talking about how nervous they are that it's not lock down yet.. They are starting to think it may be questions.
(adam will go down in history as the greatest floater in Big Brother. just wait if Kalia happens to win HOH he'll be so far up her ass she won't shit for a week.
6:02pm Purple Room JR
Jordan give Rachel a recap about her conversation with Adam. She says that Porsche is just using Adam to come after us. Rachel Agrees (WOW so what are JR using Adam for?) They start talking about Kalia and Porsche working out. Rachel hates it when they always say they are't but then they do, "Kalia is all like ohh i'm only going to do 20 laps.. Why bother" They start trying to guess what the comp will be they walk out of the room trying to decide if it's questions what kind of questions it will be. As they walk out the camera zooms in on the Fortune teller.. (Hmmm)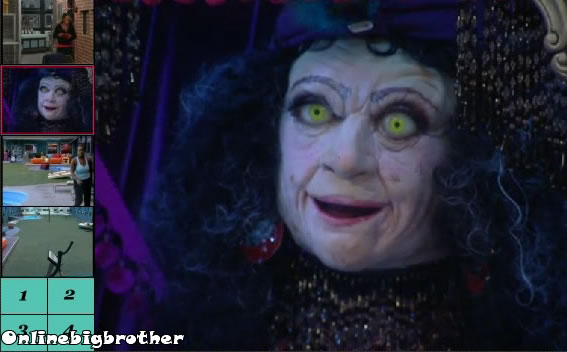 6:20pm Babysitters club power walking
7:00pm backyard Shelly and Rachel Shelly is telling Rachel there is no more trickery to be had Shelly just wants tomorrow to be over with. she's finished with all this, Shelly keeps reiterating SHE DONE SHE WANT TOMORROW TO BE DONE.. (Shelly is in a worse mood than me 😉 )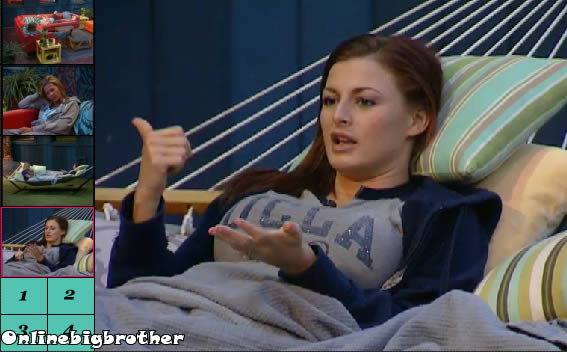 7:30pm Hammock Jordan and Rachel They are studying their BB13 timelines of events. (Jordan really knows her POV/HOH comp timelines.. rachel does both can't get close to Adam's knowledge though)
Jordan comments that she feels like they are always losing but this time it's 3 against 2. Rachel says it's really 2 against 2. Jordan agrees. (Even JR know that Adam is just a floating log in this game whose going to get paid 50grand for wasting my time all summer)
7:35pm Shelly and Adam on the couch Adam is telling her that if he makes it to final 2 then he doesn't deserve to win he doesn't feel like he's done much. Adam keeps saying there still a lot of game and a little bit of time a lot can happen. Shelly asks him if he wants to take Porsche to final 2. Adam says he hasn't decided what to do. Adam brings up that it sucks to be Dom, Keith and Cassi because they left so early they got a taste for the game but never were able to play it out. He says that at least if you go to Jury you have a say of who wins big brother 13. Adam: "Like Jeff Probst always says the power shifts to the jury" Adam goes inside.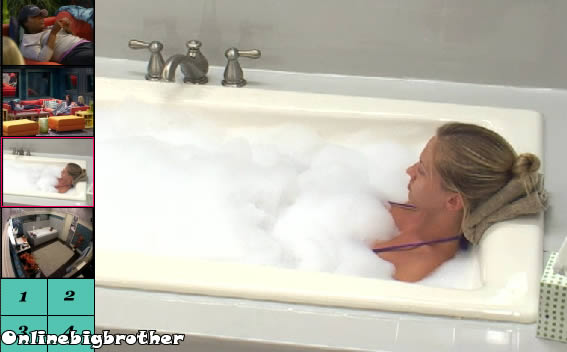 8:21pm bubble bath
8:30pm Bubble bath Porsche in the tub in silence. Kalia is on cams1-2 talking to JR, it's pain listening to her.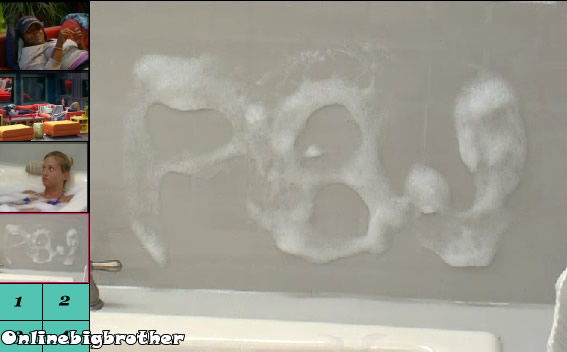 8:35pm Porsche final 3 plan PAJ