4:20pm havenots
Porsche brings up how Kalia is already up in the HOH kissing everyone's ass. Dani isn't worried she says that is how Kalia plays when she's in trouble. POrsche: "it sucks.. I would rather make a deal than butt kiss".. Dani agrees says they need to just relax right now and now freak out.
Porsche wonders if it'll be Dani and Porsche up on the block. Dani thinks it might be.. She's sure if it's Dani and Porsche up on the block than Dani is going home. Dani doesn't see why they would keep her but she hasn't talked to them yet.
Porsche counts the vote… Dani interrupts her says that Shelly will vote whatever way JJ tell her to. Dani: "Jordan, Shelly and Rachel will vote me out for sure" Dani explains that JJ have the votes and the power to remove anyone they want in this game there no use stressing.
Dani mentions that she had the chance to put Jeff up twice and she never did so hopefully that accounts for something.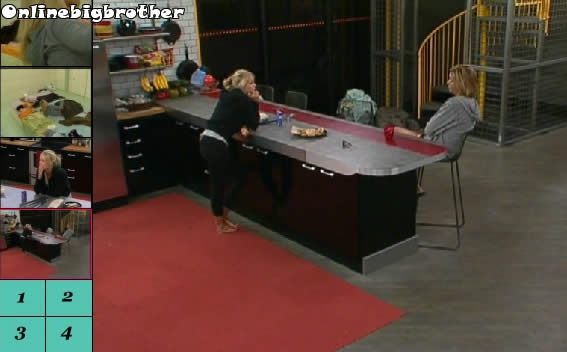 4:27pm Kitchen Shelly and Jordan
Shelly explaining how she never talks to Rachel about game, the only person she talks to is JJ. Jordan: "I don't tell Rachel nothing.. Jeff told me not to"
Shelly is saying that the other side DKP are going to target rachel next week, "They want her out BAD".. Shelly is sure it'll get heated before this week is done. Shelly says if Dani leaves and Kalia stays then Kalia will be forced to vote with JJ but if Kalia goes Dani will be a lone ranger. Jordan says she's leaning towards Kalia going home because she's getting bad vibes from her. Shelly right away blurts out "I agree"
Jordan do you think we can trust Porsche .. Shelly says that Porsche will honour her deals and she'll make one instead of just kissing ass (Says the worlds second greatest BB13 ass kisser). Feeds flip to rachel and Kalia talkign about the comp … (WTF Shelly and Jordan exteme game talk flipped to rachel and Kalia extreme LAME TALK)
4:41pm HOH Rachel and Jordan Jordan devliering her standard game talk conversation to rachel
a) we cannot fight amongst ourselves because that is what the other side wants.
b) We are going to get picked off one by one (LOL you're side lost power for 3 weeks and only one person went home)
c) we need to win HOH or jeff is the target
d) JJ is good to the end with Rachel.
Jordan says if it's between Kalia and Porsche she thinks Kalia should go because the next HOH will be questions and they all know how good Kalia is at questions. Jordan really doesn't trust Kalia, "she's sucking up to everyone right now". Jordan thinks that Dani and Prosche are being more real with what their doing. Rachel agrees says Kalia is sucking up big time. rachel points out that Adam and Shelly really didn't do go in the POV comps it's almost like Adam wasn't even trying.
Rachel thinks if Dani went home than Prosche and Kalia will be BLANK and they will come to JJR for help. Jordan agrees.
Rachel thinks POrsche has Adam and Shelly is really friendly with Kalia. Jordan says that Jeff and rachel are the main targets so they need to step it up and make the right decisions. Rachel agrees 100% she thinks if shelly wins HOH she'll put her up.
Jordan assures her it won't happen she talked to Shelly on many occasions about it and shelly will not put Rachel up. Rachel isn't sure she always she's shelly whispering to Dani and Kalia.
Rachel thinks that Adam is close to Prosche and Dani. She brings up that Adam is always hanging out DKP, last night he was with them for hours and house. Jordan didn't know that she's a bit surprised.
Jordan: "Lets say that Dani or Kalia left.. that leaves Porsche around to be Shelly's target.. I don't have a good feeling about Kalia and I think if we keep Porsche around her and Shelly will go after each other" Jordan adds that Rachel was once Friends with Porsche they should get close again.
Rachel: "Dani is coming after Rachel and Jeff.. If he gets rid of dani.. it's be a round of applause it'll be this years biggest game move" Jordan agrees. Rachel doesn't think Dani wants her gone she'll want Jeff out, Rachel starts really pushing for Dani to go hime saying she's the strongest player on the other side. Rachel goes on and on about Dani beign a proven winner in HOH comps and she's targeting the 2 strongest players in their alliance. Jeff and Rachel. Jordan says that Jeff will not tell her what he is going to do, She doesn't want to know.
Rachel warns Jordan that Adam makes her nervous because he's slow close to the other side. Jordan just nodding away agreeing.. rachel says Jeff should know if Dani wins HOH she's coming after Jeff 100% again Jordan just nodding
5:37pm rachel/jordan working out. Jeff sleeping on the hammock and Kalia talking to anyone who is dumb enough to site on the backyard couch.
(Jordan's playing a stronger game right now she's gathering all the information from Shelly and rachel, Jeff will do the same with Adam and tonight they will discus what is happening)
3 DAY FREE Live Feeds Trial
Check out the BB13 Polls
Share it YO!!
Tweet