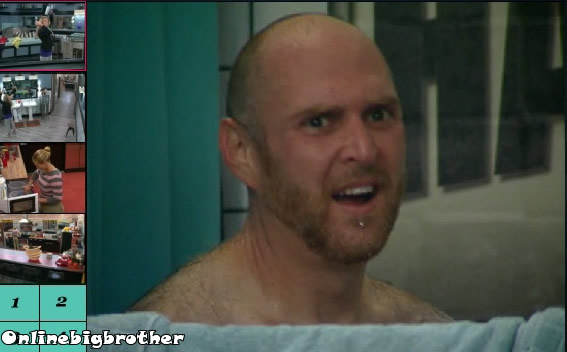 Big Brother 13 Live Feeds Can be watched on your iPhone and Android Mobile devices sign up -> Watch Big Brother 13 on Your iPhone or Android Phone
7:35pm Feeds back everyone is getting cleaned up after the comp. Rachel win the HOH. Jordan, Rachel and Adam in the bathroom.
Sign-up NOW and watch the houseguests live! Uncensored Live Feeds 3 Day Free Trial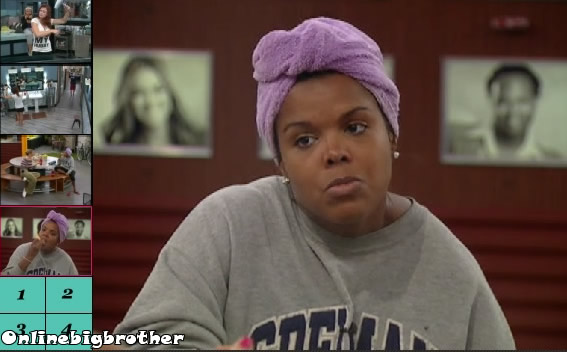 7:43pm Kitchen Kalia and Porsche They are talking about who voted for Adam. Kalia says she did. Jordan: "ohh shit.. I've been telling him you did" (Seriously Kalia WTF award goes to you) Porsche says to Kalia she made a huge mistake voting adam out. Kalia defends her reasoning she says she was told right before from JR that they were keeping Shelly, "I wanted to vote with the house"
Adam joins them says that it will be a long time until they get to go back outside. Kalia tells Adam that 5 minutes before the show JR told her that they are voting Adam out so Kalia did that. Adam says he doesn't care he's happy he's still in the house. Adam comments on how Sore his legs are from that comp. He grunts "Saturday is going to be a Battle"
7:59pm Porsche and Adam Porsche is telling Adam that dani talk her and Kalia "something" that will help them in the game. She's going to show Adam later tonight. (it's the strategy planning with the buttons)
Adam says that it's going to feel lonely in the morning not having Shelly outside to talk to with the morning smoke. POsrche jokes that she will take up smoking and hang out with him. Adam: "No don't don't I would feel bad"
Adam: "One HOH and 2 vetos left.. I don't even know what rachel is going to do"
Porsche doesn't know.. Adam thinks it's going to be Kalia and Adam. Porsche says if thats the case then she can win POV and take someone off forcing Rachel to put up Jordan. Adam says he wanted the game to play out like this POV is do or die for everyone.
Adam says he feels bad that Shelly is gone but she dug her ditch she really did and it was time for her to go. Adam: "If I go out now at least I go out fighting for myself" Porsche and Adam joke that hopefully Rachel opens pandora's box this week and it's a spa day with everybody. Adam adds "and Rachel gets to spend a hour with BRendon's ex-fiancee"
8:25pm Jordan and Rachel in the storage room Jordan is saying she's a bit down because she evicted Shelly.. Jordan feels like she may have made the wrong decision. Jordan also is upset because she hasn't won anything since week 2 and she feels maybe it would of been better if she won HOH because next week will be questions and she's horrible at those. rachel doesn't care she's happy they won, Rachel keeps reminding Jrodan that there is only 3 comps left until the finals.
Jordan starts pushing to get rid of POrsche because she really wants to break up the dreaded PA Alliance. Rachel: "no way I won't do that.. Kalia will put her up in a second."
Jordan says Kalia confronted her about her voting to evict Shelly when 5 minutes before the eviction Jordan told Kalia they were going to evict Adam. Jordan: "Oh I just told her I changed my mind at the last minute"
Jordan: "We have to split up Porsche and KAlia for sure"
Rachel agrees..
8:40pm Jordan cutting pizza… just chit chat going around.
9:15pm Cards yo