Get the BB13 live feeds on your Android and iOS devices. Sign-up for the 3 Day Free Trial
9:30pm Kalia and Dani dani thinks Kalia and Porsche will go up and they will try to backdoor dani. Dani says the other side has all the votes so whoever they want to go home will go home this week. Kalia mentions that the best case is if Dani wins POV and takes Kalia off the block.
Dani doesn't think Brendon's speech was rude.. she thought Brendon was trying to be funny. Kalia thought it was lame that Brendon used a line from a previous Big Brother.
Porsche comes in
Dani: "OH MY GOD one of us will be going to the jury house to see BRendon"
Porsche: 'After what he said to me yesterday i'm not looking forward to it"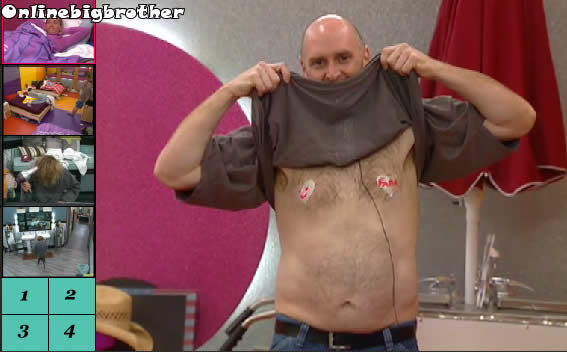 (Adam's nipples were bleeding after the comp so he stuck hearts on them)
Adam comes joins them.. they start talking about Brendon not understanding how this game goes. Adam points out its bad game when you make yourself the biggest target and you're Girl Friend (He corrects himself) "Sorry your Finacee" is running around making enemies with the house.. "That type of Game doesn't get you very far". Adam is shocked that Rachel is going back to giving everyone attitude. He comments that it didn't take long. Dani says that Jeff winning the HOH didn't help.
Rachel walks in asks about the beds. Porsche and Dani are taking their old beds back.. Rachel: "UHHH so I don't get a bed" Kalia: "No theres still beds for everyone"
Adam jokes "come sleep in the old age home with Shelly and Me"
10:05pm POrsche and Kalia Kalia brings up that When her and Dani won their HOH's they went out of their way to keep JJ safe.. She thinks that maybe that will have some berring on the nominations. Porsche isn't sure.. she doesn't know who else they would put up. Kalia agrees says in the end one of them 3 is going home thios week. Porsche points out they have had 3 weeks of power and only were able to get one of the other side out.
POrsche thinks that maybe they should go outside and be more social.. Kalia thinks they should but she's too tired. Porsche brings up that she doesn't want to go home until she wins at least one comp.
10:35pm Jeff, Adam and Shelly Kitchen Jeff is saying he knew he was going to win the HOH, He says he won because of his positive thinking and the fact he busted his ass during it. Jeff: "If I don't capitilize on those types of comp then I better just go pack my bags" Shelly adds that JEff was waaaaaay ahead over eveyone else. Adam agrees says at one point he looked over and thought he didn't have a chance. Jeff: "These are the comps I can win instead of …. HOW MANY Q-TIP ARE IN THIS OLD LADIES EAR…. Dude what the BLANK dude"
Jeff says at one point he inhaled a giant bubble. Adam heard that thought Jeff was puking. Jeff was just hacking. Adam says the hardest part was getting to the first half.. it felt like it took forever. Adam: "But you know what bothered me the most was those shoes.. damn tight"
Shelly thinks the shoes were suppose to be tight, she comments on how the entire house was really fighting for the HOH.
10:45pm Adam and Jeff Adam says their next goal is to get to final 6. He just glad that this time he's not going up as the pawn. Adam says Jeff needs to put Dani straight up and not try to backdoor her because she'll use the Ticket. Adam adds that Next week he's going to win the HOH so Jeff is safe. Adam points out that next week is the last week they can backdoor people.
Adam: "You don't want dani or Kalia to win the Veto"
JEff: "Yeah.. don't worry you two are safe"
Shelly: "Uhh Don't bother him right now about that"
(Jeff really didn't want to talk to them about game, Shelly picked up on it but adam didn't.. he kept bringing it up until Jeff left to take a BLANK)
11:00pm Dani, Adam and Shelly chit chat
11:15pm Jeff's HOH room
Big Brother 13 Spoilers POLL CAST your VOTE!
11:22pm Kitchen Dani and KAlia Dani is telling Kalia she needs to relax a bit and not act so desperate. Porsche joins them.. Kalia brings up Brendon calling out floaters and how he said "Float" right to the end. She thinks he was implying Jordan. Porsche brings up that Shelly's lips are attached to JJ asses again. Porsche: "You notice how Rachel is all friends with them again"
Shelly comes down into the kitchen from the HOH to grab some tea. Shelly says that Rachel is pissed at her right now… Shelly grabs her tea and heads back upstairs says she's not going to put up with Rachel BLANK. (She then goes up stairs and tells rachel they need to forgive each other)
dani doesn't think Jeff's going is going to put her up int he beginning because she never put him up.. she hopes that means something to him. Kalia says if he doesn't out Dani up and instead puts KP up then he'll have the 3 of them playing in the veto.
11:30pm Hoh Shelly, Rachel, JJ Shelly wants whatever is going on between her and rachel to end. Shelly: "I save your ass last week and All i've gotten for that is backlash.. I spent hours last week trying to keep you safe.. People on the same team have to be looking out for each other"
Jeff thinks it's all water under the bridge and they need to push forward. Shelly keeps on about it though tells Rachel she's doesn't deserve what Rachel is doing to her and the way Rachel is playing the game isn't helpful to their team. Rachel doesn't say much.. at one point she said that she never talks about Shelly to other people anymore.
Shelly heads downstairs
Rachel asks them what they are thinking about doing. Jordan says something like.. "they" will pick them all off one by one if they don't all band together now. (This is hilarious because i's Jordan's standard line she's been saying since week one)
Jeff says he has no idea who he's putting up.
Jeff: "If you put up POrsche and Kalia and Dani wins veto will she take one of them off the block"
rachel thinks she will.
Jeff: "What happens if I put up rachel and Shelly decides this is a good time to get you out.. or how about I put up Shelly and you flip ojn us and take Shelly out"
Rachel swears she will no every turn on JJ.
Jeff thinks he'll put up Kalia but the other person he's not sure about yet
Rachel says that Porsche is very strong in physical comps they should get her out. Jordan thinks they should get Kalia out because she good at mental comps.
Jeff: "What the BLANK how do you know how good they are going to do"
Jordan Suggests they put up Kalia and dani so if Dani wins POV she'll pull herself off and Leave. Rachel thinks that getting rid of Dani is the best thing. Jordan thinks getting any of the 3 Girls out is good because the girls are against them. Jeff says he already has a crew JJSAR .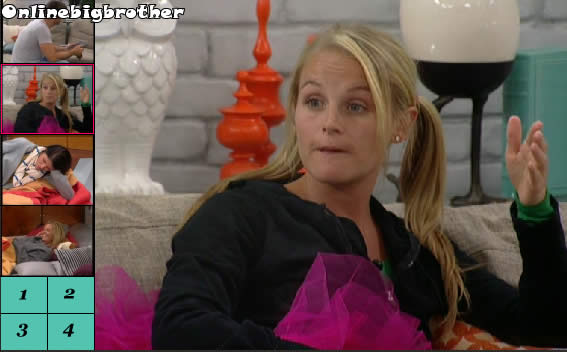 11:57pm Jordan and Jeff Jordan says that Shelly has been lying to everyone in the house and she's been doing that to cover all her angles. Jordan thinks shelly does lie and says stuff around the house but she's 100% on their side. Jordan thinks they should put Dani up and tell her she's the pawn but really the target.
12:01AM Adam come up to the HOH tells them put up Dani and Kalia should go up (He's been pushing this onto Jeff a couple times now)
Adam's main concern is if POrsche and Kalia are up on the block and Dani wins the Veto to take Kalia down one of their own goes up against Porsche.
Jeff: "We'll then Porsche goes home"
Adam: "dani is the biggest threat on that Side"
( Nominations Tomorrow .. maybe have nots as well )
Share it YO!!
Tweet