Big Brother 13 Live Feeds Can be watched on your iPhone and Android Mobile devices sign up -> Watch Big Brother 13 on Your iPhone or Android Phone
4:35pm Adam in bed just floating on through to another week
Sign-up NOW and watch the houseguests live! Uncensored Live Feeds 3 Day Free Trial
3:41pm Kitchen Porsche and rachel talking about the lockdown. Rachel hates lockdowns becuase they are so boring. Porche agrees says especially when the house is so empty. POrsche is going to ask the DR how long the lockdown is. Rachel thinks they will get to go back outside soon. Porsche is unsure.
3:45pm the backyard is open Porsche yells "Hey everyone backyard is open"
Shelly is up and ready to smoke
3:46pm backyard couch Shelly/adam smoking talking to Porsche about her HOH blogging and tweeting..
3:55pm Jordan and Rachel are walking laps around the backyard they are going
over all the possiblities of comps for the coming week. (this is pretty much what these 2 talk about all the time.. they are getting themselves very prepared for this weeks comp)
Jordan complains that her hips feel really fat. Rachel: "Oh my god Jordan you are so thin"
Jordan: "thank you" (they go back and forth about this for awhile)
Jordan points out that JR and KP are all so nice each other to their faces but when they are not around they rip on each other.
Rachel: "we're both going after each other.. thank god kalia is sleeping I hope all she does is eat and sleep before tomorrow" Jordan agrees, she thinks as long as it's not questions she'll do great
Shelly, JR and Adam left in the backyard.. Rachel is saying to them that apaprently
TLC wanted to do a story about Rachel and Brendon's wedding. Rachel declined because TLC wanted to do it before February and they needed to get permission from CBS but they never got it in time plus BR felt it was a little early to have it in Feb. Rachel wants to do a Dream Vegas wedding. Shelly: "Do it tell them (TLC) you want to do this vegas wedding and everyone thinks it's trashy but they will do it up real nice for you" Rachel wants to but doesn't know if CBS will let them.
JR start talking about their fans.. and how the people that run their fansites are the nicest people
rachel hopes that the fans have embraced her and Jordan again this year.
Jordan brings up that Jeff had never watch big brother 11 DVD's because he would get too pissed off.. Rachel: "Brendon and I made a packed we will not go on the internet this year" They go back to HOH comp speculation.. Jordan prays that it's not questions becuase she's no good at those.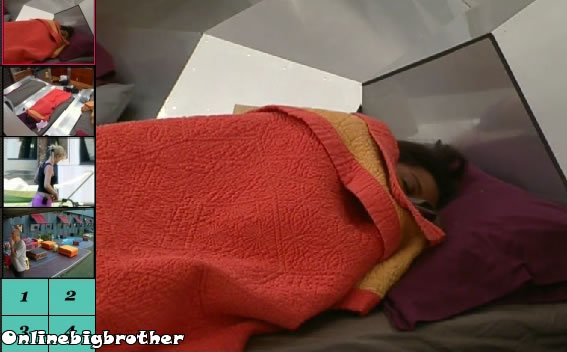 4:10pm Kalia and Porsche they start talking about adam/shelly. Kalia knows that the 2 people who have ben flip flopping all summer will continue to be like that. She has no reason to believe that if Adam stays this week that he would stay on their side unless Kalia wins HOH.
She's sure if she wins HOH adam will be stuck up her ass and if Rachel wins HOH he'll be stuck up rachels ass. (Heck it's the only option Adam has at this point)
4:56pm Quad
Porsche and Adam talking about the comp tomorrow and not wanting to be sore for it. POrsche points outs that JR are being really strange now. POrsche tells him that JR are still not telling them how they are going to vote and she's getting worried. Adam doesn't seem to care.. (he should cause JR are really starting to think Adam should go)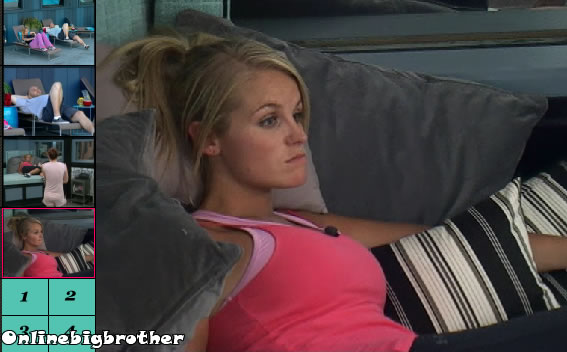 5:02pm bathroom
JR in bathroom. Jordan is really worried about the relationship between Adam and Porsche. Rachel is to. Jordan doesn't trust Shelly though because she lies to her. Rachel doesn't think adam is with them but they both know that Shelly still lies to them. Rachel is convinced that whoever stays this week will still vote against them or put them up if they win HOH. Rachel: "What do you feel like in your gut.. Jordan: "Evict Shelly" Rachel thinks Adam will turn on her but so will Shelly.. JR really doesn't know what to do.
Rachel tells Jordan that the only reason Shelly flipped on them was because of Dani. Jordan is really worried about Porsche and Adam. rachel agrees..
rachel: "My personal side says get rid of Shelly but my logical side is to evict Adam.. he's a wild car"
Rachel : "Adam is wild card.. shelly will stab you in the front Adam will stab you in the back.. We know Shelly's game she can't lie to us" Rachel now claims that Adam is the biggest physical threat in the house.
(these 2 bounce back and forth all the time, Rachel is pushing to evict Adam jordna is starting to lean that way to)