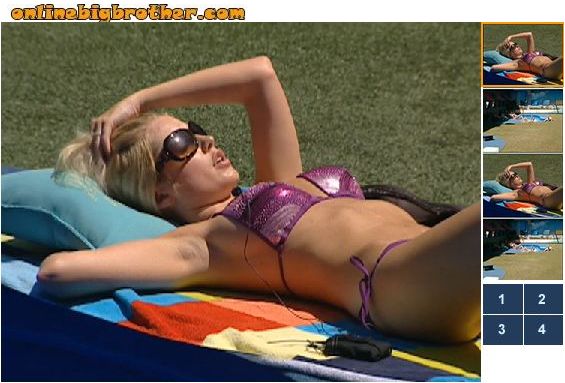 Watch everything LIVE as it happens!!
Superpass – 3 Day FREE Trial

1:35pm Matt, Hayden, Ragan, Lane and Britney are all laying by the pool.  They are talking about sports and other random things.

1:40pm – 2pm Kathy and Ezno are talking on the backyard couch about how bad they want Britney out of the house.  Enzo says that he thinks Brendon will put up Matt this week but that he is going to have a talk with Brendon later about putting up Britney.  Enzo says that he really needs to win HOH next week.  Kathy says that Britney just wants to be here with all the guys because she thinks she can manipulate them.  Enzo says that the first think he will do if he wins HOH is to put her up.  Enzo says that Britney only talks about her self and tells the same stories over and over again.  Kathy says that she doesn't think Britney could even tell her what her brothers name is… cause all she does is talk about herself.  Enzo says that if he wins HOH he is turning this house up side down.  Enzo says that he would love to back door Britney this week.  Enzo thinks its smarter to get out Britney this week because she could win HOH next week.  Kathy says yeah Britney is dangerous.  Enzo says that if Britney gets on the block this week she it gone …she is gone.  Kathy says see how confident she is right now … if that was me I would be freaking out right now.  Enzo says that he is going to tell Brendon that Rachel doesn't care if it is Matt or Britney that goes home.  Enzo says that she probably just said Matt because its easier to spell.  Enzo says that she gets what she wants … she is too young …she is not getting this money.  Kathy says that Britney tried to get into Rachel's head and throw everyone under the bus. Kathy says that Britney such a princess and that she can't even clean up after herself. Kathy says that she is glad Ezno is here …if he wasn't she would have probably told them to put her up on the block already. Brendon comes out to the pool.  Kathy says just watch home much ass she kisses.  Enzo says yeah watch …she'll be asking if she can lick his ass hole. Ragan joins them on the couch and kills their Britney bashing conversation.

Watch all drama on FLASHBACK! FREE 3 Days TRIAL
2pm – 2:20pm Kathy leaves and Enzo asks Ragan who he thinks lied about saying he was the saboteur. Ragan says that he doesn't think that you can trust anything that Brendon and Rachel say. Ragan says that everyone that has gotten close to them has gotten burned… just think about it … Annie, Andrew, Me, Britney… Enzo says yeah, yeah… Ragan says that Brendon told everyone something different about who he was going to nominate. Enzo says yeah he told be Lane and Britney. Ragan says that he thinks that Brendon will try and make deals with everyone and that you cant make deals with everyone. Ragan says that Brendon has his back up against the wall and that he needs to win the POV or he is gone… Ragan says how good would that be if Brendon is gone. Enzo says yeah oh yeah! Enzo asks so we have to do this all over again …we have to all go up there and talk to him again.. Ragan says that he is going to. Ezno says well yeah …you have the POV. Enzo starts talking about tonight's show …saying that he is going to get embarrassed about how he competed in the rope challenge. Enzo and Ragan agree that the rope challenge was far and away the hardest competition they have ever had. They talk about how they just don't know what type of competition will be next. Enzo says that at one point in the challenge he wanted to cry and that he was praying that someone would just win so that he could just be done with it. Ragan and Ezno make fun of how each week Kathy gets tired and gives up. Enzo says and she is always asking if she can have a cigarette. Ragan says when he was a smoker he would never ask anyone if he could light up …Enzo says yeah that he keeps telling her to just be herself. Ragan asks who Ezno thinks will go up … Enzo says that he doesn't know ..maybe Matt …and that he is definitely going to talk to him (Brendon) today. Big Brother calls Ragan in to the diary room.


2:20pm – 2:30pm Matt and Enzo talk on the couch. Matt asks what Ragan and him were talking about. Enzo says that they were talking about who they think will go up on the block. Enzo and Matt agree that they both need to talk to Brendon some more. Enzo says that his ass is hurting from doing the doggy paddle …that he uses his ass more than anything. Matt leaves to go lay out. Kathy sits down, then gets called to the diary room. She says no I'm eating … then she gets up and goes. Ragan comes back out and sits down with Enzo. They talk about being a have not and having to eat escargot. Enzo says its like snot. Ragan makes fun of how Rachel said she loves escargot …Ragan says yeah because you are one… Lane comes out and sits down on the couch and Ragan leaves to talk to Matt near the pool. Lane tells Enzo that when he gets out he is going to be at the airport thinking that people are trying to backdoor him. They laugh.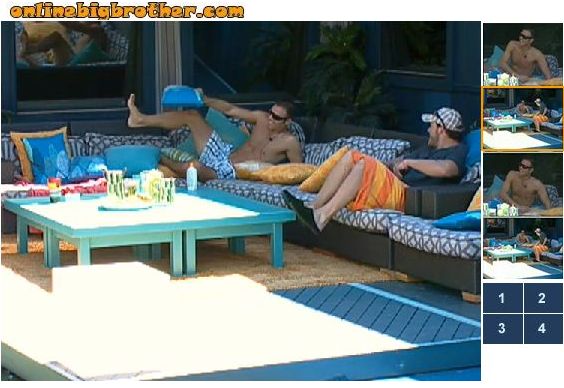 2:35pm Ragan tell Matt that he thinks the people that have made a deal with Brendon won't try to hard to win the next HOH. They plot about how they want to get Brendon out. Matt tells Ragan that he doesn't really want to talk about it anymore to day because its his only day to lay out and relax.

2:50pm Kathy goes up to the HOH room to talk to Brendon. Brendon tells Kathy that he really wanted to talk to her because he figured that Rachel probably told her the most. Kathy says that Rachel said that she loves him and misses him but doesn't want to see him in the jury house. Kathy says that Rachel told her not to worry about sending people into the house that she doesn't like. Kathy says that Rachel told her that she wants her, Brendon, Enzo and Hayden to stick together. Rachel says that she really wants Britney and Matt gone. Kathy talks about all the drama from last night, the Ragan & Rachel fight and the Enzo & Britney fight. Kathy says that she has never seen Enzo so mad. Brendon asks how it all got started. Kathy says that shes not sure that she missed the beginning of it. Kathy says again that her and him need to stick together because if they don't they will be gone one after the other. Kathy says that she really needs to win HOH. Kathy says that the house is split into two sides and they need to win. Kathy says that Britney is a spoiled little princess that has traveled more than her and her whole family. Kathy says that Rachel was going to leave your deodorant but it smelled like you so she took it…

LIVE FEED OFFER! Superpass – 3 Day FREE Trial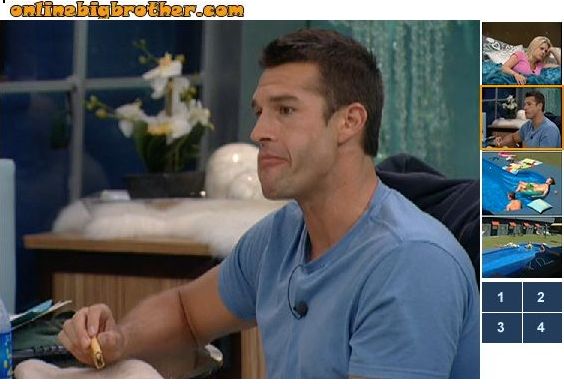 Share it YO!!
Tweet