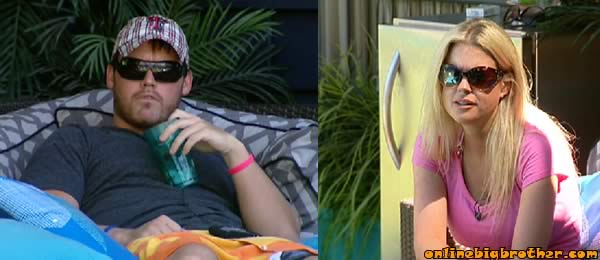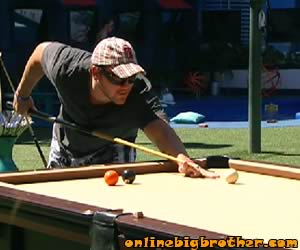 3:02pm Big Brother Out Door Lock down in effect everyone asking Brendon questions about his time spent outside the house during his Pandora's Box Reward. Brendon says he was blocked off to any outside communication. He explains that they gave him some beer and he was given a breakfast burrito. Live Feeds cutting out a lot during this conversation. Brendon tells them he was given a massage, the last time he had a massage was a while ago it was very relaxing for him. Brendon wishes he would of been able to see Rachel. Kathy being unusually chatty right now saying that Rachel told her that she gave him a massage every day so don't lie (she's joking around trying to be close to brendon). Brendon and Lane decide to go play pool. Enzo talks about who the heavy weights are in their pool league. They start talking about separating the tournaments and have a day bowl and a night bowl. Lane and Brendon are playing pool, Brendon is going over hi time outside of the house, says he was blindfolded. Brendon asks them about Rachel, he wants to know if she told them about the jury house specifically how many people are in the house. They tell him she didn't know, Lane mentions to Brendon that in the Jury house you can't share a bed with other houseguests.. Brendon" oh come on BB you know I won't talk game". Enzo starts showing them a Pool shot he did before while playing Lane it was a very tough shot. Lane mentions that he still won. Enzo asks if it's Brit and Ragan after this match, Lane thinks it is. Brit starts to impersonating the robot. "Lane LAne everything is the big in Texas except your brain". Enzo says he wanted to smash that robot and send him to the recycling depot.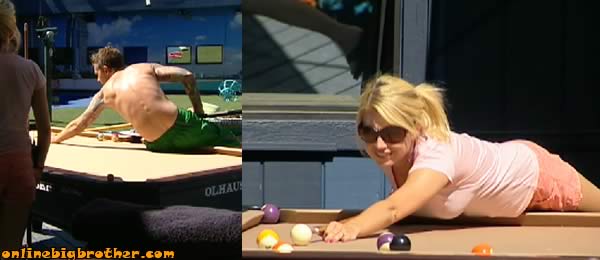 3:20pm Matt Plays Brit In the background enzo is doing a competary to the game, enzo: "Will the gremlin's way work in such heat.. he's rested in his gremlin cave and bow he is ready to come out and play.. He's soaked in the pool so there should be many time more gremlins running around". Brit and Matt Finnish up and Ragan and Enzo start to play, Theres really not much talk going one, at one point MAtt says that Rachel was suppose to show them how to make escargot because there was a special way to make.. but she left before she could tell them. Matt saying they might get a saboteur message tonight. They all seemed thrilled. Brendon wonders if Annie had made it all the way to week 5 and made the 50grand if they would of reintroduced the sab again. Matt thinks theres a chance seems like CBS is throwing in a lot of lets shit into the game. Matt thinks that CBS based their entire season on the saboteur and they got her out in the first week so maybe they never did plan on a second sab 1/2 way through.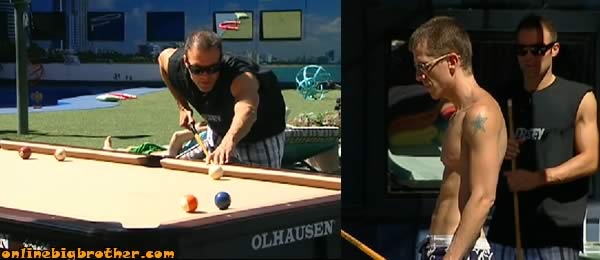 3:40pm doors open up lockdown over Ragan and Brit start playing pool. Brit brings up how badly Ragan roasted Rachel yesterday, Brit: "I can't believe you called her a read haded parrot from hell" They start doing their Good "shot babe" (teasing how Brendon said that to rachel after every single pool shot)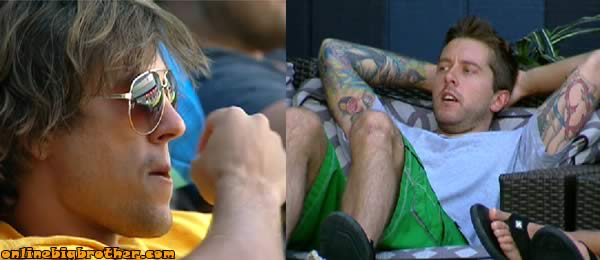 3:50pm backyard Couch Matt and HAyden Matt says that Brendon asked him about a final 5 with the guys and him. Brendon wants to put up Kathy and vote her out but he wants the entire house to be on the same page. Brendon was telling Matt that he wants the strongest competitors in the final 5 the ones taht deserve to be there the most. Matt tells him Brendon is going to go talk to them later. hayden :"So the final 5 is brigade plus brendon" Matt: "Yeah"
4:05pm Pool tournament still going on, Brendon, Matt and Brit talking about which states have southern culture. they cover racism in the south and how california is much more multicultural. Brit and Matt think that racism is a problem it's just that they have white schools and black schools in Arkansas. Matt adds that it's the same thing in hi hometown.