SEE what they CAN'T show you on TV! 3 Day FREE Trial
12am Brendon and Enzo are talking up in the HOH room. Enzo says that if he doesn't win HOH then he wants Hayden or Lane to win. Brendon says all the BLANK in the house originated with Matt, Ragan or Britney. Brendon starts talking about Britney saying her and her crazy BLANK eye… Enzo laughs and says you looking at me or what? Brendon says that he hopes Lane would want to be on their side and that he wants to talk to him but Britney is always around him. Brendon says he overheard Britney telling Lane that she would do a risqué spread if they paid her like $200,000. Brendon exclaims who would want to see her body. They start talking about how dirty she is and how she never cleans up after herself or ever washes a dish. Brendon leaves HOH. Hayden comes up and joins Enzo. Enzo is imitating Brendon telling Hayden he was complaining that no one wants to hang out with him, he's worried that he is going up next week. They laugh. Enzo says he was in the cabana room and Matt and Ragan were there and Matt told Enzo right in front of Ragan so you and Hayden are still split. Enzo is worried that Matt is feeding information to Ragan and Britney. Enzo says that Brendon is taking us to the BLANK Final 3. Enzo tells Hayden that Brendon wants to talk to Lane but is scared to go up to him. Enzo thinks the four of them can make it further in this game together. Enzo says that he doesn't know what Matty is doing, Yo! Hayden asks him if he thinks they are doing the right thing with Matt. Enzo says they tried to get rid of Britney and it didn't work out that way. Enzo says the only people he trusts is Hayden and Lane and then says that he wants him, Hayden, Lane and Brendon to be Final 4. Hayden says if they don't put up Brendon next week then they will have to put Ragan up against Britney. Hayden says doing that would be a power move! Hayden gets out some pretzels and they start going through scenarios. Hayden says that this week Matt goes home and then the next week we send Britney home. Enzo says that if Ragan wins HOH there is a good shot that he could put up Brendon and Kathy. Hayden says they need to sit down Lane and Matt together and talk to them both like they may stay, even though Lane will know he is the one staying. They are unsure whether they should tell Matt what is going on before the vote. Hayden says that we are not going to split the votes. Enzo we're not BLANK splitting. Enzo says that they're voting to keep Lane. Hayden says that they have to make the power move and put up Ragan and Britney. Enzo asks why do we have to put up Brendon just to make the house happy? Enzo says that Brendon is gunning for the other house guests so why would we get rid of him. Enzo says that Lane told him that Britney would not put up Hayden or Enzo and that she is gunning for Brendon and Kathy. Hayden and Enzo talk about the two of them being Final two. Enzo defends their position on voting Matt out by blaming Matt for keeping Brendon here in the first place. Enzo says he wanted to send Brendon home and Matt pushed to send Rachel home, if they had kept her they wouldn't even be in this situation. Brendon returns to the HOH.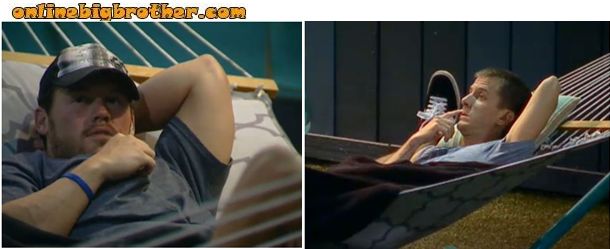 12:30am Out in the backyard are Ragan and Lane are in the hammock and Matt is out there talking with them about reality TV awards. Ragan says that he thinks Rachel could win a best villain award. They talk about Ragan and Rachel's fight. Ragan says that he thinks it will be the biggest fight of the season. Lane wonders if she lost a lot of fans when she started referencing gays to Ragan. They all think she lost fans. The start talking about Brendon. Lane says that after the POV is played he will tell that dude how much he doesn't like him. Ragan says that he bets production has range of when to do a double eviction when they want to do it, they might shift it to another week. Ragan says that he doesn't think people would be horrible to him but he would know exactly what people thought of him in this house. Lane says that he thinks there is going to be a double evict this week. Ragan says that if it's not this Thursday then there is not going to be a double eviction. Matt says that he agrees. Ragan says that he think they are contractually obligated to do the Vagas thing on the 17th of September. Matt says that he saw stuff about the Vegas thing. Lane says that his might just be the awards; Jeff said he went last year.
12:40am Up in the HOH room Brendon tells Hayden and Enzo that if Brit goes back on the deal she made with him this week then he will tell Britney that he is two votes in the Jury House so suck my balls. They talk about how they should study the Big Brother timeline together. Hayden says that it sucks being in the house with two chicks that are 40 years old and engaged. Enzo asks him if Britney wasn't engaged would he bang her. Hayden says no, she just isn't his type. Enzo says she has no BLANK.
Ragan tells Lane and Matt that he was dumbfounded when Brendon put him up against Lane and that he never saw that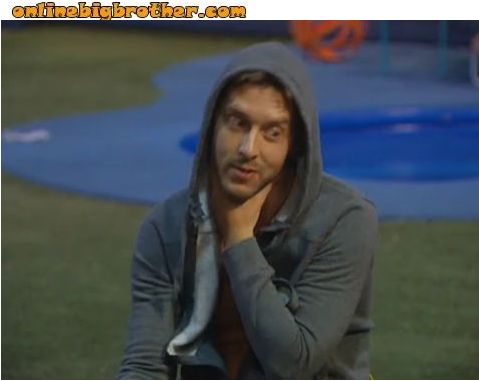 coming. Ragan says that if he wins HOH he would nominate Brendon and Kathy. Ragan says that he will tell Brendon that Kathy talks mad BLANK behind your back and then is nice to your face. Matt says he has a personal vendetta against her now because of the pretzel incident that involved Rachel. Matt is angry that she had knowledge that could have saved him before the veto ceremony but waited until after the ceremony to tell him about it. Matt jokes that Kathy is in the pool right now and they can see the snorkel and it has smoke coming out of it from her cigarette. They joke that Kathy will not go past the patio in the backyard and that she has never been in the yard or to the Hammock. Lane talks about how creepy it was to talk to Kathy about Ambien. They laugh about how Kathy was totally into having sex on Ambien, Lane says it was uncomfortable. Matt says that it's like having your mom say that BLANK to you. Lane says that if she kisses his neck one more time… Lane says that Kathy always hugs him goodnight and kisses his neck and it grosses him out. They say that they think Kathy is a good person. Britney comes out and joins them. Lane says there is no way she is a cop though because Kathy doesn't even know how to stand so how could she catch Criminals. Matt thinks there is a lot of crime where she lives. They joke about her being a cop. Lane says that he doubts that Kathy is a sheriff. Matt can't believe she made it through police academy, and thinks maybe she has a desk job. Lane says that there is no way she has a real gun. Britney says she told her that she has guns in every room of her house. Britney them that Kathy was pissed in the cabana that when ever Brendon comes no one will save her. They wonder if its an act because she was all up Brendon's BLANK last week. Britney jokes to Lane that Kathy is probably getting her Ambien right now so Lane may finally get lucky. Lane says that he would rather kiss Ragan instead. The conversation changes to gay men losing their virginity. They start making fun of Brendon. They think he could go home on Thursday if there is a double eviction. Ragan says that he thinks he was Brendon's number one target. Matt thinks that he was Brendon's target. Britney says that he definitely didn't anticipate Ragan winning the veto. Britney says Brendon is such a douche, she hates him. Britney is pissed that Big Brother even cast him this season. Britney says that Hayden and Enzo have been trapped up there with Brendon forever.
2:10am In the have not room, Matt and Ragan whispering. Ragan asks Matt if he thinks it is weird that Enzo and Hayden are spending so much time with Brendon. Matt says yeah, and that makes him think his days are over. Ragan says that he is sad. Matt says that he is sad too. Britney joins then in the have not room. They start to complain about how cold the have not room can be.
2:15am – 2:50am In the bathroom, Hayden and Lane are whispering. Lane tells Hayden that he is totally not on Ragan's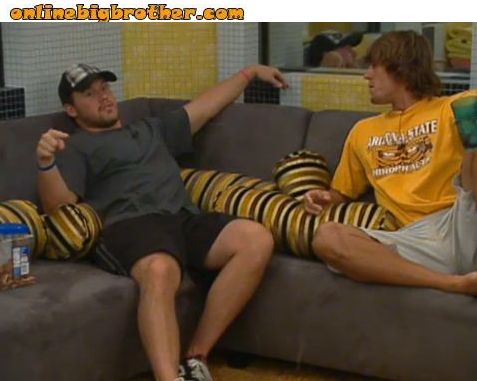 radar, he says he'd go after Enzo before he'd come after Hayden. Lane says that he isn't on Britney's radar either. He tells Hayden that Britney wants them to be the Final three. Enzo joins them. Lane tells Enzo that Britney and Rag want Brendon and Kathy gone. Enzo asks if he is serious, Lane says yes. They agree that gives them two weeks. Enzo says that if Britney or Ragan win HoH then anyone but Brendon needs to win POV and send Brendon home. They say that then they will sneak attack Britney and Ragan. Enzo says that Kathy had told him that Britney is asking a lot of personal questions, and says that she knows everything, but that Kathy falsified some information. They all laugh. Enzo asks Lane if they should tell Matt before the vote goes down. He says that Ragan told him that he thinks Matt is going. He says maybe they could tell Matty on Thursday. Britney comes into the bathroom and Enzo calls her the crazy eyed killer because of her lazy eye. Britney makes a face with her crazy eye and they all laugh. Britney leaves the bathroom. They Joke about how deep Lane was in the hammock tonight hanging out with Ragan, Britney and Matt. Lane makes fun of Enzo for coming out to play fake pool to spy on the hammock talk. Lane says that Enzo came out to play fake pool, and says that he just racked then went in; you didn't even hit the balls. Hayden and Enzo laugh. They start laughing about how they are voting the brains out .They say with Matt gone, they will lack brains so all three will have to form together. Lane says they wouldn't even form a brain, just a biceps. They talk about if they tell Matt the day before that they are voting him out but they think that Matt could out the brigade in his speech. Then Matt would have Ragan, Britney and Kathy's vote, and Lane would be gone and they would be BLANK. They say it would also give him a chance to fight. Enzo says but that would also make Matt look bad as he lied to Ragan and everyone too. They wonder if they should tell him Thursday. They say Kathy is the swing vote. They say they will tell him he is going home and say Kathy is voting for Lane to stay so it doesn't matter how the brigade splits there vote as Matt is gone. Enzo wants Ragan to win and put Brendon up. Enzo says that Ragan a pussy and will probably let Britney win. Hayden and Enzo laugh that they'll lose Britney and Ragan's vote in the jury if they don't put Brendon up. They think they could lose Matt's vote too. Enzo says that he thinks that's BLANK up if they lose his vote, he says it was Matt's fault for not getting rid of Brendon or Rachel during his first HOH.

3am – 4:30am Matt comes in to use the bathroom. Enzo asks Matt and Lane if they are all going to be friends after this and he says they need to find out what Kathy is doing. Enzo says they need to have their last Brigade meeting. Matt agrees. Enzo says that this sucks Matt, this is when the Brigade gets cracked. Enzo asks Matt if Brendon told him that he was going to put him up. Matt says Brendon gave him his word he wouldn't put him up. Enzo asks Matt if Ragan and Britney want to put up Brendon and Kathy, he says he doesn't know, Lane would know more about Britney. Hayden tells Matt that next week he wants to put up Brendon and Kathy if he wins HOH. Hayden starts telling Matt about possibly putting up Ragan and Britney. Matt says that if they do that Ragan and Britney will come after Hayden, Enzo and Lane, and that getting out Kathy will wait. Matt is sceptical of their plan to keep Brendon around. Matt says that there is no way that will work. Matt says that keeping Brendon is a bad BLANK idea. Matt says that he doesn't understand why they don't let someone else win HOH and let them get rid of Brendon. Enzo says he doesn't know if he can trust them and says that he thinks Ragan may be cool but he says Britney is the devil. Matt tells them that you aren't under the radar anymore, Brendon is totally on the radar. Matt says that he doesn't know and for them to do what you wanna do. Matt says that Ragan is trustworthy. Matt says that their best bet, once him or Lane leave, they should pick up Ragan as an alliance. Matt says that Ragan does not want them out of the house. Hayden and Enzo tell Matt they could talk to Kathy and ask her which way she is leaning. Matt says he thinks she is voting to keep Lane. Matt again tells them it is probably a bad thing for them to split their votes, he tells them he understands that they need to do what is best for their game play. Matt tells them that whatever happens Thursday, they should seriously think of teaming up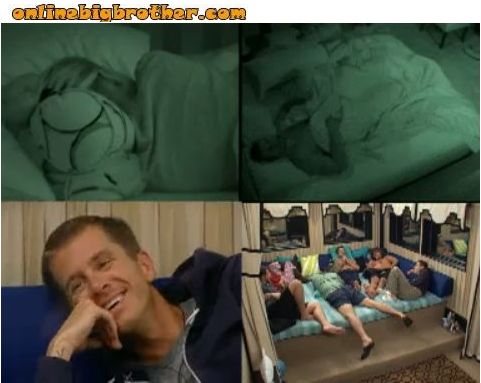 with Ragan saying that he doesn't lie. Enzo asks Matt if they find out what Kathy is doing should they tell him. Matt says yeah they can tell him at the last brigade meeting or whenever they find out. Hayden says he felt BLANK saying his goodbye messages to Lane and Matt.
4:50am Matt says Kathy told him that Rachel gave her the HoH key to give to Brendon but that he came back into the house from inside the HoH room so he wouldn't need a key to get back into HoH. They wonder if Kathy lied about getting a key from Rachel and what really happened is Big Brother opened the door for her so she could make a pretzel msg saying to nominate Matt. They also say its odd the Big Brother says they didn't catch anyone making a pretzel message then admitted that they did see it. They say maybe the saboteur got free reign and was allowed to do it. Matt says the diary room said that it was an oversight and that in future seasons it wont be allowed. Lane thinks that Kathy has taken Rachel's spot as the saboteur. Enzo wonders what Kathy will do this week in regard to the votes Lane and Britney think American tells her what her vote should be. Enzo says that now we have physical proof that there is a saboteur. They are saying that Kathy is the sab and doesn't even know that she is. They say that she is oblivious to everything that goes on around her. Matt says imagine if she's not and how bizarre her actions are. Enzo says well if it's not Kathy then it's one of you. Enzo asks if it could be Big Brother doing this? Matt says no, too much has been done for it to be Big Brother. Ragan says no, cause they aren't going to have someone sneak through the house and film it. Britney says that her next act of sabotage is putting a piece of paper and a sharpie in someone's stuff to make them look bad. Enzo says that she is creeping him out.
5am Everyone has finally gone to bed.
8:30am All the house guests are still sleeping.
10am The live feeds are showing the we will be right back screen … Big Brother is probably waking them up!