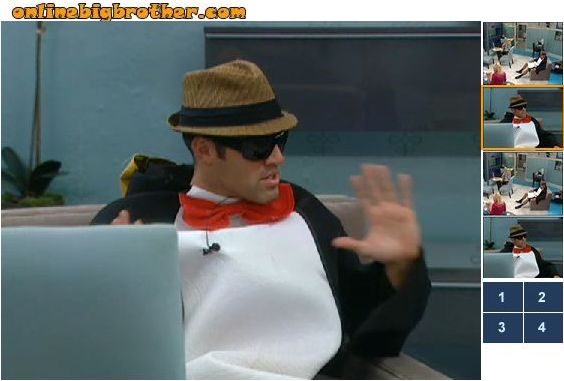 11am Enzo comes up to the HOH room to talk to Britney. Enzo says so what is going on is Matt throwing Ragan under the bus. Britney goes over the whole conversation she had with Matt. Enzo says that Matt is disgusting trying to throw Ragan under the bus. Enzo swears on his family that he will not put up Britney if he wins HOH or even if someone wins the POV. Enzo says that Matt is throwing Ragan under the bus and he is sleeping. Enzo says that he would never do that to Hayden or Lane. Enzo and Britney says that they are both good and that Matt needs to go home. Enzo tells Britney that they have a final four deal and that after that they can fight it out. Britney jokes around saying that she is going to put up Hayden and that she is sorry. Enzo plays along. Enzo and Britney leave the HOH room and head out to the backyard. They have caught a huge praying mantis.

Watch everything LIVE as it happens!!
Superpass – 3 Day FREE Trial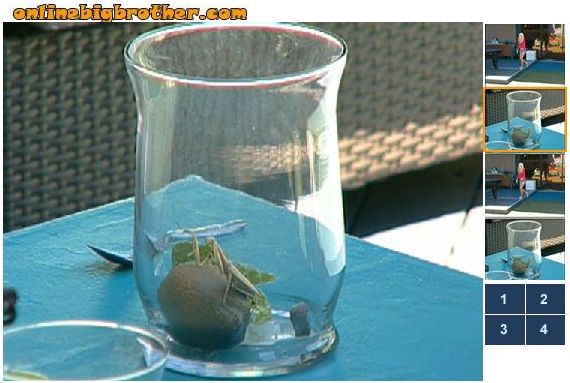 Britney goes to talk to Ragan and tells him that no matter what happens she is good with him. Ragan says that he is really worried that he will be the next one out of the house. Ragan tells Britney that Lane, Enzo and Hayden don't want Brendon out and that it will come down to Ragan and Brendon in the next HOH. Ragan says that Enzo, Lane and Hayden won't win because they don't want to make the decision. Britney says no everyone wants Brendon out. Ragan says he guarantees that he is the next one out. Ragan asks if Britney thinks that its strange that Enzo just started playing in competitions. Britney says that she doesn't want to lose Ragan in the game. Big Brother calls Britney into the diary room. Britney says that a lot of people have been coming to her to put up him all morning. Ragan says see this is want I mean …I am next! Britney says again that she doesn't think so … she says that she wants him here and that she needs him here for her sanity. Britney leaves to go to the diary room and says that he will probably be called in next. Britney says that she will try and talk to him after if she can but that it will probably happen right away since almost everyone has been called in already.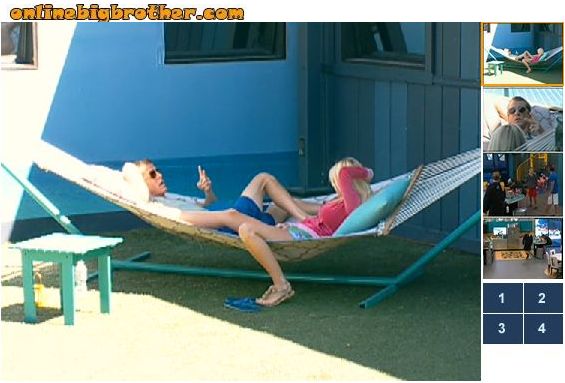 SEE what they CAN'T show you on TV! 3 Day FREE Trial

11:20am – 11:35am Hayden, Matt and Enzo are in the bedroom talking. Enzo is pacing back and forth in the bedroom …then says come on I'm in a penguin suit, yo! Enzo says that if Ragan goes up on the block he trusts them that they will keep him safe. Hayden says that it is a bad thing that Britney went up to Ragan. It means that she is not going to put him up. Matt agrees. They head into the kitchen. Matt asks if he should go out and talk to Ragan right now. Enzo says no …let him soak it in. Matt says okay. They go into the cabana room and talk about the fish. Matt asks if anyone has feed the fish today. Enzo says na….I'm not even feeding myself I'm not feeding them. Britney comes out of the diary room and comes into the cabana room. They talk about the fish. They they head into the kitchen to make lunch. Britney starts to make slop and Matt asks her if she will make him some too. Brendon gets called into the diary room. They talk about how they will be put on an outdoor lock down soon.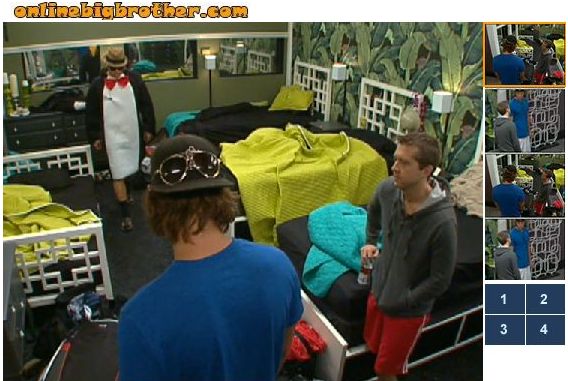 11:50am The live feeds switch to TRIVIA …. the POV ceremony is happening right now…