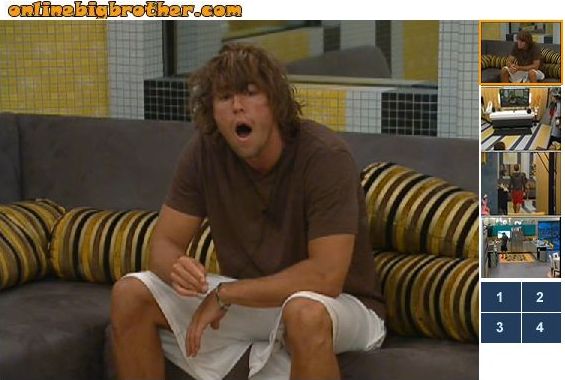 FREE TRIAL Live Feeds! Try it free for 3 Days!
9:30am Hayden is in the bathroom. Matt comes in and says that he is about to do operation knock out Ragan. Matt asks if Britney has come down yet? Hayden says no. Matt says that maybe he should just go up and wake her up ….there is only an hour and a half till the ceremony ..she will understand. Matt then heads out to the backyard. Matt talks to Enzo out in the backyard telling him that it's a big day today. Matt says that Ragan is a friend of his but that he is here for Stacy. Matt says that each one of them need to drop Ragans name. Hayden comes out and Enzo tells him to drop Ragans name too. Matt keeps saying we got to make this happen. Matt then heads up to the HOH room and Britney tells him that shes taking a shower. Matt says no problem I'll come back. Matt then heads back down and out to the backyard. Brendon and Lane are in the kitchen …Brendon asks if Matt even knocked or if he just walked right in. Lane says I don't know …but give her time to breathe…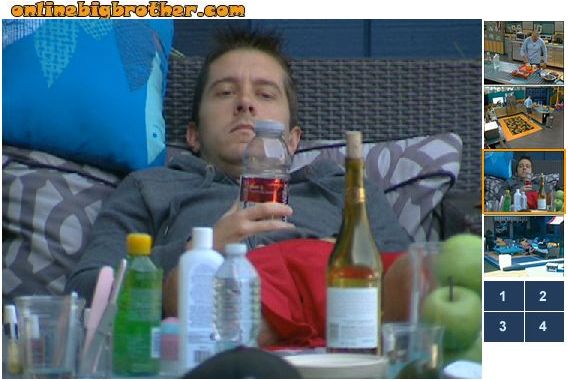 9:35am Matt, Hayden and Enzo are out on the backyard couch talking about the wakeup music Big Brother played. Brendon brings tea out for Enzo and Hayden. Brendon assumed Matt didn't want any and he was right. Matt leaves. Enzo says that guy told us all to throw Ragan under the bus. Brendon asks if he talked to him too. Hayden says no, but that he heard from Enzo. Brendon says that he, Hayden, and Enzo will all go up there and make sure she puts up Matt… that they will just stay up there to cock block him. Enzo says that he is just throwing his bro under the bus yo! Brendon says yeah loyalty. Brendon says that they all need to go up and talk to her ..and reassure her. Brendon says you got to keep in mind its gonna start at 11/11:30am. Enzo says yo we just got to keep talking to her. Enzo says that he (Matt) already ran up there … I'm kind of glad that he did so that he looks crazy. Enzo says that if he wins HOH he's going to put up Brendon and Matt.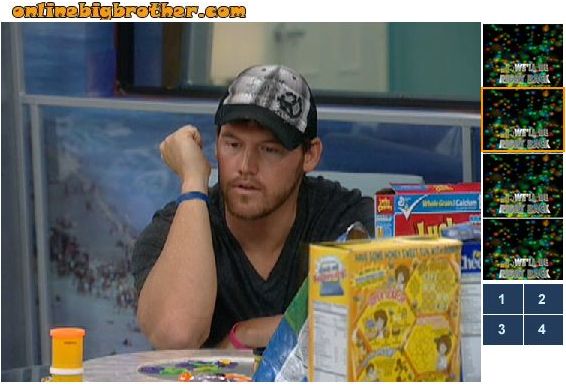 9:50am Up in the HOH room Lane is talking to Britney. Lane asks Britney if its better for Ragan to go up over Matt? Britney says no …she thinks its better for Matt to go up. Britney says that either way it's going to be scary. Britney says that if Matt and Ragan leave we are the only pair that people see left in the house. Lane says no … you will see after that there is someone else. Britney says okay I trust you. Britney says that if after the show ends she finds out that Lane has been in an alliance with someone else I am going to kill you. Lane asks do you think I have the brain power to do that…. I don't even have the brain power to talk to you and lift weights. Britney says well do you have the brain power to win then next HOH? Lane then tells Britney that Matt is going to come up and get her to put up Ragan. Britney asks really?! Britney says if Matt goes, Ragan will stick with her, if Ragan goes, she doesn't know what Matt would do. Lane says yeah he has been inching to come up here all morning. Britney says yeah he already came up here and tried and I told him I was taking a shower. Britney says that they really need to win HOH because she can't play but next week she can. Lane jokes around and ask Britney if its possible to get engaged twice. Britney says well yeah you did. Lane says no I mean at the same time.. Britney says Lane.. Lane and Britney head down stairs.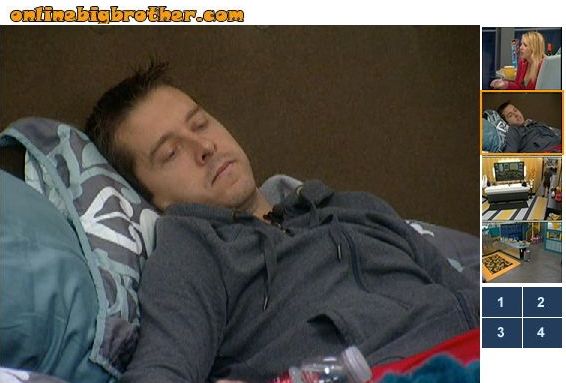 SEE what they CAN'T show you on TV! 3 Day FREE Trial

10:15am – 10:35am Matt comes up to the HOH and tell Britney that he is freaking out… I am freaking out man! Matt asks so what is happening. Britney says that it all came down to the POV and we didn't win. Britney says that she wont put up Hayden and that she doesn't feel right putting up Lane because he didn't play. Matt says well that's not right because I would have much rather been the host then. Matt and Britney talk about their loyalties to Ragan and Lane. Britney says that Ragan was campaigning to have Matt stay and then now you are throwing him under the bus. Matt explains that he told Ragan not to do that and that he is here for Stacy and that him and Ragan don't have the relationship that she thinks they have.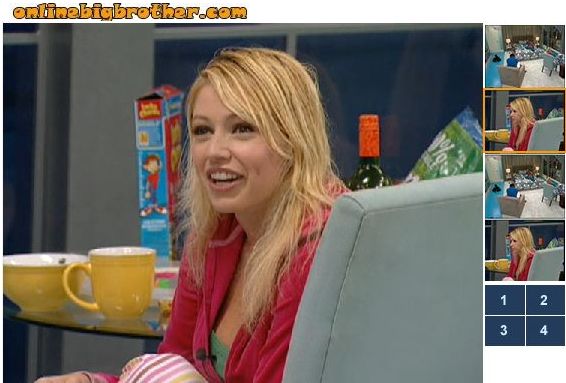 Hayden comes up and interrupts them, then asks them if they need time to talk. Britney starts to cry and says that she doesn't want to put up Hayden, or Lane, or Matt. Britney says that if she puts up Hayden …then Enzo will go home and he was the only person other than Brendon that really fought to win in that competition. Britney says that Enzo took two punishments, he took the penguin costume and his clothes were taken away. Matt argues that he has fought hard since the beginning and that its not fair. Matt says that he was up all night thinking about this and about Stacy. Britney says that all they needed was for Brendon to not win the Veto and then he did and now he is still lose in the house. Britney she makes enemies no matter what she does. Matt says that him not going on the block will make him really happy and that it he will not go after her if Ragan goes up or whatever else happens. Britney says that I just sucks …it's a hard hard position, that all they needed was for Brendon to not win. Britney says that she could have won a trip or something but that she tried. Britney says that someone took the prizes. Matt says that he swears on all that is holy and his wife Stacy that he didn't win anything. Britney says that if one of those punishments had been taken we would have won that game. Matt says that it sucks. Britney says that yeah it does suck because now I am in the position I am in. Matt says that if there is anything he can do to not become a three time nominee …please let me know because I will do it. Britney says that she doesn't feel right putting up Ragan because he didn't get to play. Britney says that people see Matt and Ragan as an obvious team and that he is the stronger player. Britney says that no one wants to sit in the final two with him …based on his game play. Matt tries to argue that she has won way more things than he has. Big Brother then calls Britney to the diary room. Britney gets mad and says that her hair is still wet and that she needs to blow dry it first. The feeds then switch to the we will be right back screen.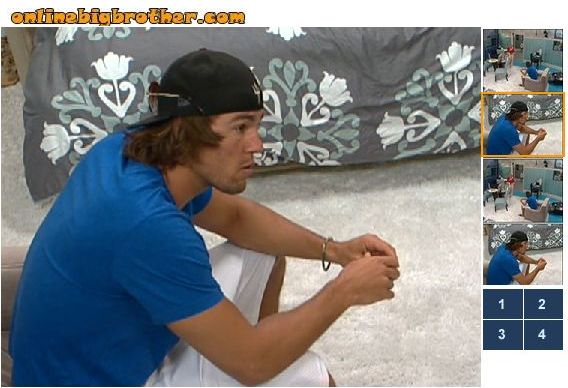 10:35pm – 10:45am Hayden is up in the HOH room talking to Britney.  Hayden tells Britney that if he wins HOH he would nominate Ragan and Brendon.  Britney tells Hayden the conversation that she just had with Matt and how Matt has said that he doesn't have a big of a bond with Ragan as people think.  Britney says that Matt kept going back to trying to get out Ragan and not you (Hayden) and that says to her that Matt really wants to not be associated with him any more.  Britney says that she wants Brendon gone really bad. Hayden says that it will be hard for them not to vote for Brendon because he will have to win back to back POV's and HOH's all the way to the end.  Hayden says that he already said that if he wins HOH he will put up Brendon and Ragan.  Britney talks about how she doesn't feel right having Enzo evicted after how he took two punishments ….he gave his clothes away and got the penguin suit.  Britney thanks Hayden for trying to save her from Matt, she says that Lane tried too.

Hayden goes out side and talks to Lane and Enzo.  Hayden tells them what he talked about with Britney.  Lane says that's what the speech should be …that they can't trust someone who throws their best friend under the bus.

10:50am – 11am Brendon is up talking to Britney up in the HOH.  Britney says that if she puts up Matt then she is taking out one of Brendons threats. Britney says that she would be taking out someone that has pledged allegiance to her.  Brendon brings up the fact that Matt is throwing his best friend under the bus so his word means nothing.  Britney tells Brendon that all she is asking for if Brendon wins HOH next week then she wont go up and not even if some one else wins the veto.  Britney says that if it is a double eviction she is just worried that if Ragan wins POV she doesn't want to go up.  Britney says that she doesn't want to be the second choice.  Britney says that her and Brendon going to final 2 is fair because they both have both won HOH and POV's and that they have both fought to be here.  Brendon promises that he is not going after her… he wants Matt and Ragan out.  Britney says that the only think that worries her is that she doesn't want to go home if Ragan wins POV.  Brendon says that they will sit down and talk out the scenarios.  Brendon and Britney agree that the next competition will be a fast and physical.  Brendon says that Matt is the shadiest person in here. Brendon tell Britney that Matt and Ragan were up in the HOH last week pushing for her to go home. Brendon says that he and her are chum buddies. Brendon says that he cant believe Matt is throwing Ragan under the bus ….that is disgusting.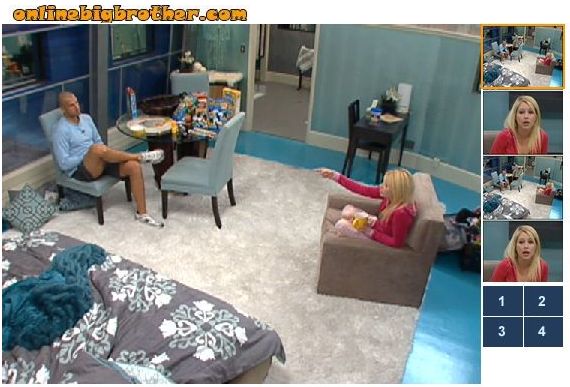 Watch everything LIVE as it happens!!
Superpass – 3 Day FREE Trial