12:45pm Britney and Matt are in the kitchen talking. Britney says that she feels really bad and that she can't even imagine how had it must be for Enzo to be up on the block because he has a new born baby. Britney says that she feels bad and that its not like she doesn't have a conscience. Meanwhile, Hayden and Brendon are out in the back yard by the pool. Britney comes out to the backyard and brings Hayden slop. Britney says that she just back doored somebody that is cold. Brendon tells Britney that she made the right decision putting Matt up.
Hayden, Lane and Enzo are in the pool talking. They talk about their earlier conversations that they had with Britney. They talk about how smart she is. Enzo says that Matt made a crucial mistake. They talk about how they need to win the next HoH. Enzo says that they need to put up Brendon and Ragan. Hayden and Lane agree. They talk about how they need to stop Ragan from being the POV Winner. Hayden says that if he wins this weeks Head of Household he is putting up Brendon and Ragan. They laugh at Brendon and say that he thinks that he is golden in the game since he won the POV and Matt will be nominated. Enzo points out how he walks around saying that he is still here and Matt "Bit the Dust".. They laugh and say that next year they will make the golden power of Veto in his image. They laugh at how Brendon thinks he is playing the whole Big Brother house. Enzo says that it's the Brigade who's playing the whole house. They talk about their conversations that they had with Matt when Matt knew he had the diamond POV. Enzo talks about how it pisses him off how Matt was playing them back them. Lane says to Enzo and Hayden that ideally Britney goes home this week. Enzo says that she thinks she is making the decisions when we are making the decisions for her. Britney comes out to the backyard and sits down by the pool. Enzo starts talking about how he has to win the next HoH. Enzo tells Britney about how Brendon tried to make the Athletic Alliance with Enzo, Hayden and Kathy. They all think Brendon thinks they are all dodos and that he is in control of the game.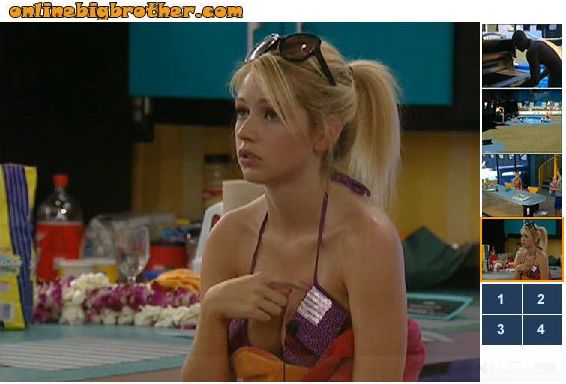 1:10pm – 1:25pm Britney is talking to Britney about how Matt threw him under the bus. Ragan is pissed that Matt was trying to throw him under the bus. Ragan says that when he was up he never threw Matt under the bus and that last week when Matt was up he had a nervous break down thinking that Matt was gone. Ragan says that he feels stupid and that now he looks like a dumbass. Britney says that she doesn't want to be part of the drama when he confronts Matt. Britney says that Matt was saying it to a lot of people. Ragan says that he wear his heart on my sleeve, and that he can't hide how how he feels. Britney tells Ragan to not tell him I told you. Ragan says that he won't mention any names, I won't make it a big dramatic thing. Britney says that when he threw you under the bus that was cold. Ragan says that just goes to show you know matter how much you think you're friends. Britney says that she thinks he just had his back up against the wall. Ragan says that he would never ever do this to him, I don't fault him for playing the game, but when you start saying put this person up, especially when there are other options. Ragan says that he is mad that he spent the last week as a zombie. Ragan says that he knows everyone is playing the game. Britney says that he was trying to spare himself from the block at anyone's expense. Ragan says that he doesn't want to know the details …because that will just make him more mad.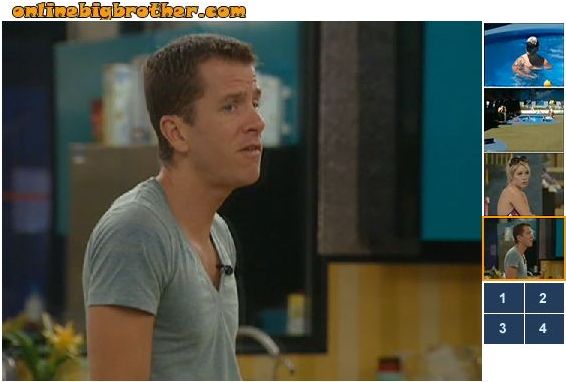 *** Updated***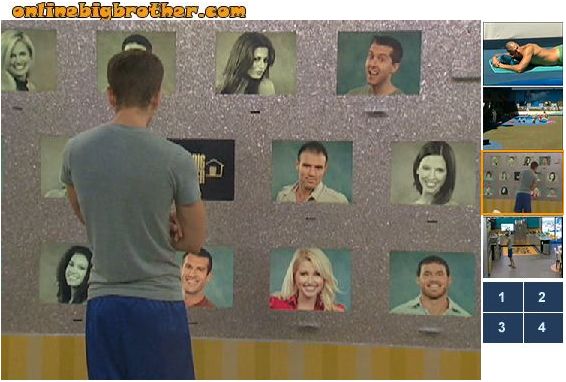 1:25pm – 140pm Ragan goes over to the memory wall and starts studying the features of the house guests for the competition where Big Brother morphs the house guests faces and they have to guess who it is. Meanwhile out in the backyard they are talking about random stuff. They say happy birthday to Britney. Britney says thank you and says that she feels like she closed the gap between their ages and that they are all closer in age now. Hayden asks them if any of them will get a Big Brother tattoo. Matt says that he might ….but that he wont run out and get it immediately after. Enzo tell the story of how he first started saying meow, meow… there was a girl that he met at a bar and she got into his car and farted and was like whatever meow meow. Enzo says that ever since then he's been like meow meow…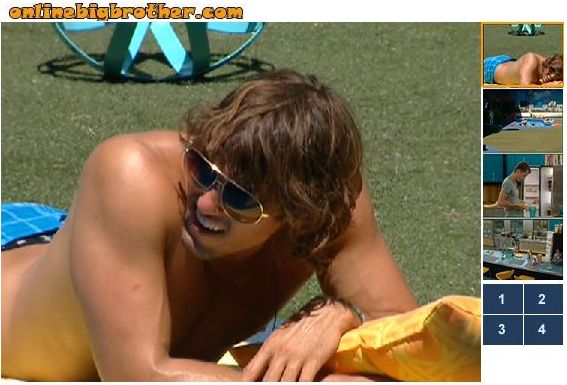 1:45pm Brendon, Hayden and Enzo grill and eat some broccoli off of the BBQ. Meanwhile inside the house. Matt goes into the kitchen and asks Ragan how he is doing? Ragan says that he is alright. Matt asks him if he is sure. Ragan says yup. Ragan asks Matt what he told Britney. Matt pauses and then starts to say that he was trying to keep the focus of him and Ragan. Matt looks so guilty, he is not good at lying. Matt says that they talked about how Ragan and Matt where a pair. Matt says that he pointed out Lane and Britney are also a pair. Matt says that he was trying to sway for Hayden to go up but that the focus keep going back on them (Ragan and Matt). Matt is so obviously lying to Ragans face and Ragan knows it. Matt keeps saying that was that and he tried but that it didn't work out. Ragan says okay then …well I am going to go lay out and listen to music. Matt asks Ragan again if everything is okay … Ragan says yup. Matt says are you sure because you are acting weird with me. Ragan says yup and leaves for the HOH room. Matt goes to the bathroom and then heads back out to the backyard.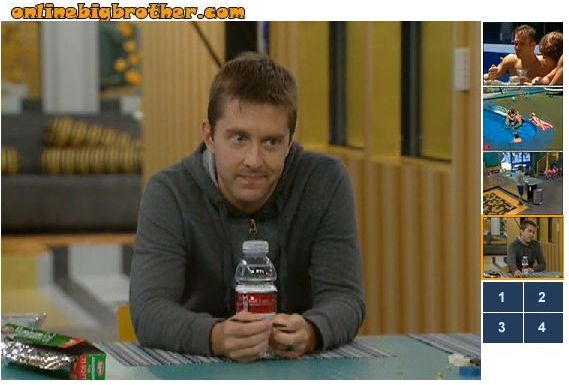 2pm Britney and Brendon are in the backyard talking about random things. They are talking about scientific research and using rats and mice. Britney says that she can't believe that they haven't come up with a way to grow a human embryo out side of the human body. Britney says that its just nature … Enzo says that its not supposed to happen. Brendon talks about how they can change the eye colour of a baby. Britney says that they can do the sex too right?! Brendon says I don't know about that … and that is a tricky ethical subject to get into … Lane gets called to the diary room. Lane gets up and Brendon tells him that he thinks he just saw his eggs. They all laugh. Britney says enjoy that live feeders….