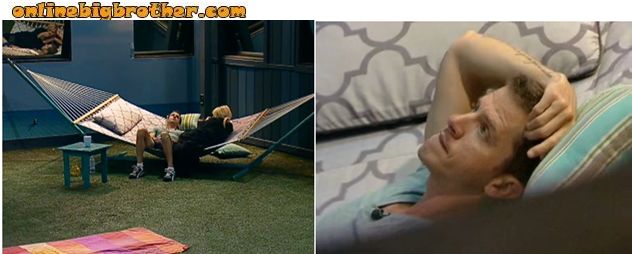 Watch everything LIVE as it happens!!
Superpass – 3 Day FREE Trial
12am Out in the backyard Ragan and Britney are talking on the hammock. Britney tells him about the conversation she had with Brendon about him marrying Rachel. They laugh at the thought of Rachel and Brendon getting married. They talk about how Brendon is so much better of a person without Rachel here. Britney says he is so much more toe-lerable…. Ragan tells Britney about talking to Matt about what Matt's conversation to Britney had been about earlier. Ragan tells Britney how hurt he was about situations and patterns in his life where someone in his life, friend or family, and he (Ragan) gets passive aggressive. Ragan talks about what made him cry was when he heard Lane's story and then thought about how if he had won the phone call, who would he have, other than his mom and sister. Ragan says that it made him feel low for himself. Ragan says that he is happy for Lane though. Ragan says that he does not condone what Matt did but truly believes it's a real friendship. Ragan says that he thinks he will grow up to be lonely person if he can't forgive people. Ragan tells Britney that they need to have a serious conversation about the two of them, how they should go on in this game. Ragan thinks that they will be seen as the pair now and that makes them a target. He says they need to do things to distance themselves somewhat from each other so that they don't get put up against each other. Britney says she has been spending more time with Hayden and that's a good thing. Britney says that she also thinks people think of her and Lane as a sort of a pair.
Enzo, Brendon, Matt, Hayden and Lane are all sitting on the backyard couch. Hayden tells Matt that Ragan is creeps him out. Matt agrees. Matt talks about Britney and tells Hayden that he is so suspicious of Britney. Matt says that he just wants to have a talk with her, he knows it is done and over but he just wants to understand what happened. Matt says it isn't about being up on the bock that upsets him, it's all the drama and BLANK that lead to him being up. Matt says that he won't be giving Britney his jury vote. Matt and Hayden are playing a game where they flick a folded piece of paper through a wine bottle and tinfoil goal.
12:25am Britney says that she agrees with his strategy to distance themselves even though she doesn't like it. Britney tells Ragan that they will both get to stay there is Brendon doesn't get HOH or POV this week. Brendon says goodnight from across the yard. Britney and Ragan say goodnight. Ragan says that he thinks that after Brendon is gone, Britney is the number one target. Ragan tells Britney that he has her back. Britney says thanks Ragan, and I've got yours. Britney says that their game got screwed by Rachel Riley. Ragan says he doesn't understand why she was after him more than anyone else. Ragan calls her a psycho BLANK. Britney says that she wishes she would never have to hear Rachel's voice again. Ragan and Britney talk about how amazing it would be if they made final two. Britney says that Rachel would have to wear a diaper because she would be so uncontrollable. They mimic how they think Rachel would react to Ragan and Britney as final two on the finale night. They laugh about how Matt is going to be sent to jury house with Rachel. They talk about how it is karma! They talk about how it would even be better if it was double eviction and Brendon went into jury right after Matt and Matt was stuck there with Brendon and Rachel.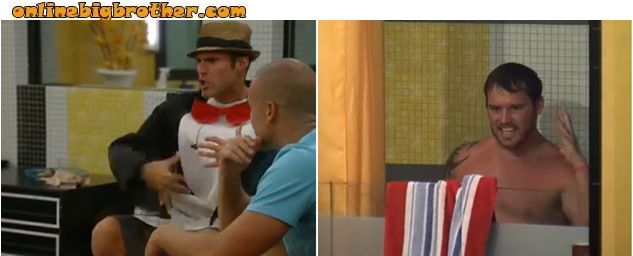 TRY the Live Feeds for FREE!!
Superpass – 3 Day FREE Trial
In the bathroom Brendon, Enzo and Lane are talking. Lane is in the shower. Enzo tells them that he was planning on coming into the house and pretending that he wasn't married. Enzo says that he blew his own cover right away and just had to tell everyone he was married. They talk about their first impressions of everyone.  They talk about Hayden coming in with his glistening hair flowing all over the place.  Enzo says that he was scared of Hayden at first saying that he was a big dude …and that he'll need to get in shape first before they get into it.  They talk about Monet.  Brendon says that he thought she was hot but that he's into black chicks.  Enzo says he knew right away that Ragan was the gay guy. Brendon brings up Andrew and Enzo says he wasn't scared of Andrew, he knew he was a big nerd. Enzo says that when he first saw Rachel he was like damn, bazookas… They laugh about how crazy it was the first day standing in front of the house waiting to enter and how they couldn't say anything to each other. They head out of the bathroom.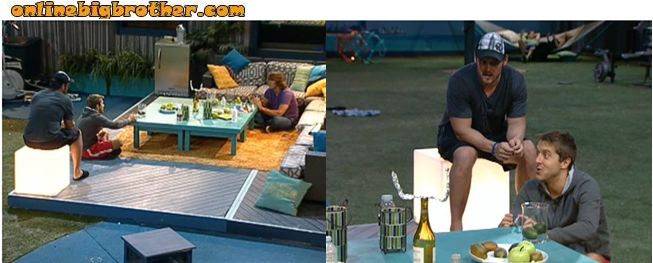 Lane comes over to Matt and Hayden in the backyard. Matt and Hayden are still flicking pieces of tinfoil through the goal. Enzo comes over and says to Matt so yo, Matty you got no powers? Matt says that he has been talking to one of the diary room guys about Howard Stern…. Big Brother cuts the feeds. When the feeds come back, Ragan comes outside carrying a glass of red wine. Enzo gets up to go over and lift some weights. Britney asks Hayden if he is HOH next week and has to pick one have-not, who would it be? Hayden says Lane. Lane acts surprised but Hayden says they already talked about it. Hayden and Matt are searching for the folded up pieces of tinfoil that got lost in the couch. Ragan and Britney start talking about the Real Housewives of New York. They talk about what they got to see before they went into sequester. They wonder what Real Housewives franchise will be up next when they get out of the house. They laugh at Enzo working out lifting weight. Enzo asks what you've never seen a penguin lift weights? Ragan talks about how Enzo will be doing the live show in his penguin outfit and says that the more cantankerous you are the funnier it will be. Matt says now you're going to have tell him what cantankerous means. Ragan tells Britney that he knows they make fun of how Brendon cooks food, but that the broccoli he made smelled good! Britney says that is his burden to bear. Britney is making a tinfoil tiara.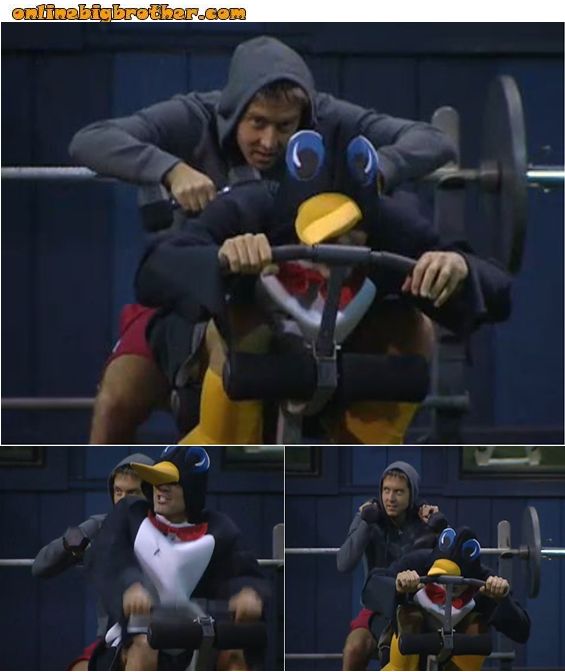 1:15am Enzo is lifting weights while Lane lays in the hammock and laughs at him. Enzo fools around on the weights. Enzo puts on the head of the penguin and pretends he is flying a space ship. Matt hops on the back and they pretend to are fly a space ship. Enzo starts making sound effects. Its pretty funny to watch. Matt says he is getting off they're all crazy. Enzo gets off and worries he may have pulled a hamstring doing that. Britney is now posing and walking in her tiara made of tinfoil. Enzo goes over to Lane who is in the hammock. Enzo says that he hates it when Ragan tells stories. Lane and Enzo think he knows way too much about the game, Lane says what?! … has he seen every season? Britney joins them and Enzo says do Kristen, do Kristen!! Britney does her impression of Kristen. Enzo tells her if she did that in diary room session she's going to get BLANK up. Britney say that she did … Big Brother cuts the feeds. When the feeds come back …. They are talking about how Kathy is in the Jury House with Rachel. They talk about how they think Kathy would want to kill herself rather than be there with Rachel. Hayden tries to use a vase as a skateboard and then he breaks it. They start talking about things Rachel could do after Big Brother. They talk about how they think she would be great on Bad Girls Club or a Rock of Love type show, or Celebrity Rehab …. Enzo says that she could be on Skank Bus… They laugh. They laugh about Hayden breaking the vase. Ragan says that no one would ever guess by looking at him that Hayden has anger issues. They talk about how Rachel said Hayden is always yelling in his diary room sessions.. Hayden says goodnight to everyone. Matt tells him not to break anything on his way in. Britney starts attacking Enzo with a towel. Britney chases Enzo inside. Everyone is laughing. Ragan and Matt are alone on the hammock now…
SEE what they CAN'T show you on TV! 3 Day FREE Trial

1:45am Enzo and Lane are talking and laughing in the Taj bedroom. Enzo grabs his fake saboteur note and holds it up to the camera and says I know your secret ….you're gonna be wearing a penguin suit in two days.  They all laugh.  Enzo says that he is going to winning at least one HOH! Lane says watch he'll win HOH during double elimination so he won't even get the HOH room… Enzo says that they'll give him half a letter and a ripped up picture. They laugh. Enzo jokes around with Britney and Lane. Enzo says he is getting used to the penguin suit and that it is becoming a part of him. Enzo says that people are talking to him now like they don't even see the suit. Enzo says that it actually makes his upper body look good. Enoz says that he is thinking of wearing a belt and a hat with it on Thursday. Enzo says that he is keeping this BLANK when this is over! Enzo says that he wants to get it washed before Thursday! Hayden comes in and tells them he is bummed because he got in trouble for breaking the vase. Enzo starts talking about all of his clothes that they took away…and says that they are wearing my clothes, that's what is happening behind the walls. Enzo says that someone is wearing a meow, meow shirt. Hayden tells them that he is on probation with Big Brother because he broke the vase. Hayden says that this is the second thing he has broken and he can't be going around breaking things. Hayden broke a pool sticks and now the vase.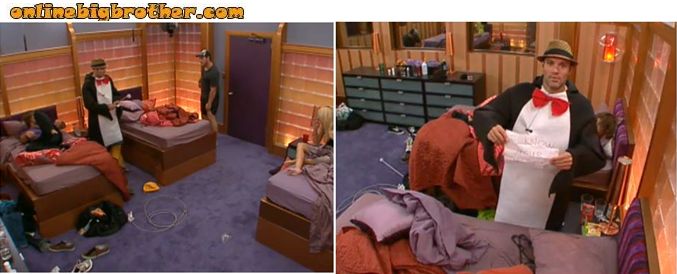 Matt and Ragan are in the backyard. Ragan asks Matt if before Matt leaves the house would he tell him if he won any prizes in the POV competition. Matt tells Ragan that he swears he didn't get any prizes. Matt tells Ragan that he thinks Britney won the Hawaiian vacation. Matt tells Ragan that he just needs to understand what happened this week was from Britney's mouth. Matt says that he doesn't understand what is going on with Britney. Ragan tells Matt that he doesn't think it was Britney it was someone else pulling the strings. Matt says that he always thought it was Britney on her own that decided to come after him. Matt thinks that Ragan is alluding to Brendon pulling Britney's strings. Matt says he would like to see Hayden, Ragan and Lane in the final 3. Ragan says that is never going to happen, he does not trust Hayden anymore after last week. Ragan says that Hayden revealed a sensitive conversation to Britney that he and Ragan had. Ragan says that he trusts Hayden the least of anyone in the house. Matt is surprised. Ragan says that he thinks that Hayden and Enzo are our season's ultimate floaters and that their days are numbered. Matt says good for you.
2:10am Enzo asks Hayden if Matt is trying to get votes. Hayden says a little, he just wanted to know that everyone has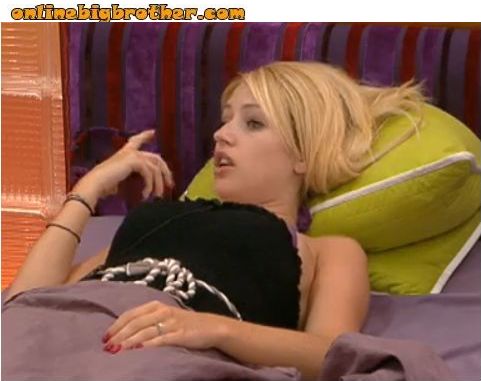 an open mind when it comes to the eviction. Enzo says he is going to have a crazy speech and that he wants to make it a long one. Britney says that they only give you forty seconds. Enzo says that he is going to make mad shout outs… Britney laughs and asks in your penguin outfit?! The conversation changes to cast for big brother. They talk about how they think there were about two hundred people that made the finals and that it was then cut down to the thirteen of them. Enzo is joking around and says that he can't stop talking about production, its like a drug. Britney starts telling a story from a show called I Shouldn't Be Alive. The group flips off the light to hear Britney's story. Britney says that it's a story about a group of people traveling in Africa. Britney says they were sleeping in tents and a herd of hyena's entered the camp and ended up pulling a guy from the tent by his head. The others in his group were able to save the guy before the hyenas were able to drag him away and eat him. Lane gets up and scares Enzo because he cant see him in the dark.
2:30am Ragan and Matt are still talking. Ragan says that his big plan if he wins HOH is to make a big move. Ragan says that he thinks if he can win the next HOH he can be responsible for sending Brendon home and if he doesn't win HOH he says he is going to try to fly under the radar and spend time by himself. Matt says he should be social with everyone, if they ask him to play pool, go play pool. Matt says he is still going to try to stay. Ragan responds that he is just being his friend and tells Matt that nothing is going to keep him here this week. Matt says to Ragan that as a closet fan of the show he can tell that Ragan is in a great position. Matt says that he thinks Ragan is in a great position, and that Ragan doesn't even understand. Matt reminds him that this is a house full of pussies and they don't want to vote you out.
Watch all drama on FLASHBACK! FREE 3 Days TRIAL
Enzo and Hayden decide to go to bed and head into the have not room. Brendon wakes up when they come in. Enzo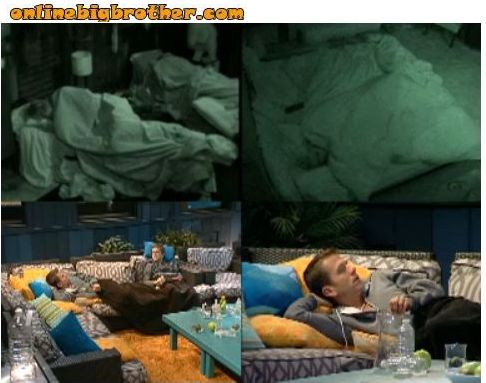 comments on how he hates laying in the other beds and then coming in to sleep on the cots. Enzo says that he thinks Matt and Ragan are still talking out in the backyard. Enzo says that he wonders what is up with that BLANK bromance and BLANK!! They say goodnight to each other.
2:45am Matt tells Ragan that this day was low on his list. Ragan says that he is going to be so alone. Matt says if he wins HOH people will be kissing his BLANK. Ragan says that he is going into Thursday like it is double eviction and that he already has his mind made up as to what he'd do if he wins HOH. Ragan and Matt talk about how Hayden betrayed his trust. Matt says that he thinks Britney is the sneakiest most untrustworthy person left in the house. Matt really thinks that he is going to try to stay in the house. Ragan keeps telling him that it is a lost cause. They both head inside to the bathroom. Ragan is upset that he'll be on his own once Matt leaves. Matt says that he thinks that is the best position to be in and to not be in a pair, because they will be targets. On their way to bed Matt and Ragan stop to look at the memory wall. Matt says that he doesn't think they touched up the pictures. Ragan says they touched up his picture a little. Ragan says Rachel's pores are like the opposite of a Noxzema commercial. Matt and Ragan are in the bedroom talking. Ragan talks about how Chima obstructed the camera in that room. Ragan comments that Chima's behaviour makes more and more sense to him everyday. Matt and Ragan say goodnight.
3am All the house guests are asleep…
7:55am The house guests are still fast asleep.