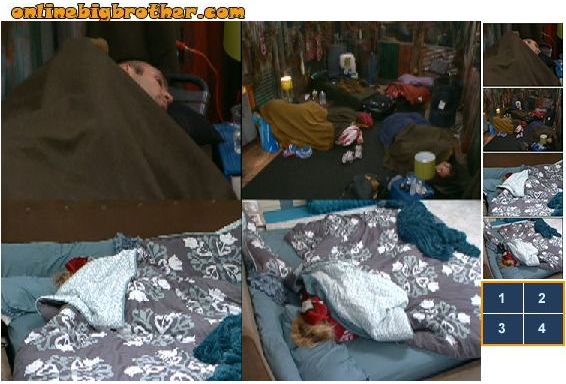 Watch everything LIVE as it happens!! Superpass – 3 Day FREE Trial
8:40am – 9:45am Big Brother switches the feeds to the we will be right back screen to wake up the house guests. At 9:05am the feeds come back up with two cameras on the have not room and two on the HOH room. Enzo and Hayden are still trying to sleep. Hayden says that there is a noise that sounds like its raining in there. Enzo doesn't say anything. Up in the HOH room Britney is still asleep with the lights on. Brendon is lying out on the couch in the backyard. Big Brother tells him to exchange his microphone. Brendon grabs coffee and heads out into the backyard. Brendon starts talking to the cameras and says hi to his family if they are listening. Then Brendon gets up and starts cleaning up the backyard and puts the hose in the pool to fill it back up. Brendon says that they are going to be voting out Matt on Thursday … because he messed up his HOH with his Diamond POV. Brendon says that Matt will go home and that Ragan will be left without his life partner. Brendon says that the hope is that Ragan looses it and cant play the game any more.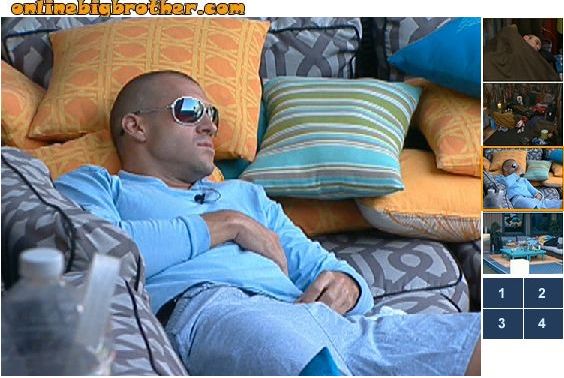 Brendon says that there are three guys that haven't won anything… and there is Britney and him that have won a lot. Brendon says that he still thinks that Hayden and Lane are the life long friends. Brendon says that he has to watch making deals with Hayden and Enzo because if Hayden and Lane are the life long friends he could end up turning on him. Brendon talks about how last night was when everyone starts to crack. Brendon says that they only have 3 weeks left and that this Thursday it should be double eviction. Brendon says that if he wins HOH he will send Ragan home. Brendon says that he and Britney have to go together to the final two… Brendon says that her and him agree that if either of them go to the final two with Ragan …they will lose. Brendon says that he thinks going to the final two with Britney is good for anyone because she has rubbed a lot of people the wrong way and so no one will vote for her. Brendon admits that he doesn't dislike Britney as much as he originally did. Brendon says that he is still here though by the grace of god. Brendon says that he believes that anything is possible. Brendon says that its gotten to the point where he cant study with anyone anymore because if he does he might be shooting himself in the foot.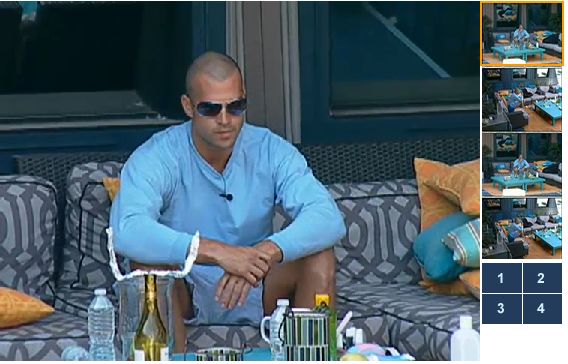 10:20am Brendon says that if he hasn't said before he wants to give a shout out to his family in Vagas. Brendon says that he has over 250 family memebers there. Brendon says it mi familia. Brendon says that he and Rachel were right …who ever stayed would have to win back to back HOH's and POV's. Brendon says that he definitely misses Rachel. Brendon says that if Rachel had stayed she wouldn't have one that HOH and she would have been sent home. Brendon says that everything happens for a reason. Brendon says that the half a million dollars would help …but that there are definitely people that are worse off than him. Brendon says that he would definitely donate some money. Brendon says hi to more of his family.  Brendon says that he wonders how Rachel is doing in the jury house …and that he hopes she is happy.  Brendon says that he misses her and almost wants to be there with her but that he needs to keep fighting and stay in the house as long as he can.  Brendon says that he thinks that even if he does survive being on the block people will want to get rid of him even more because they will think that he cant be sent home. Brendon then starts to study the events of the house for upcoming competitions…

SEE what they CAN'T show you on TV! 3 Day FREE Trial