SEE what they CAN'T show you on TV! 3 Days FREE No Commitments
10:10pm Pool table, Lane and Matt Matt starts working Lane. Matt tells him that Ragan has really toughened up he's tell Matt that there is no chance of him staying. Lane wonders if Ragan is mad at Hayden. Matt says no he's not they've been talking a bunch lately and Ragan is onto the B, he's throwing Ragan off our scent. Matt explains that Ragan knows about the splitting votes between you guys and now he thinks theres a 4 player alliance. Matt says he tryign to say that the 4 guys just hang out together they were talking about splitting votes during week 2 just as a gesture of fairness. Matt has a good idea how Brit was able to clue in on the guys alliance, Matt: "Within the span of 45 minutes all four of us went up to her HOH and told her the same thing". Matt goes over a couple points that Ragan told him, Ragan thinks that there are Enzo, Hayden and Brendon are together and have some sort of arrangement.
10:27pm-11:01pm Matt tells Ragan that he's a crazy huge big brother fan from the beginning of the season. He's hard hard hard hard core into this show. He was such a fan that he was suppose to be in last season, he would drive in cars with natalie, casey and Ronnie. (Him being a super big brother fan is his big secret)
Ragan is shocked that Matt almost made it to season 11, ragan: "Oh matt you should of won this season". Ragan tells matt his biggest mistake was wasting the DPOV on Kathy. Matt agrees but adds that he made a lot of mistakes. Ragan asks a couple questions about matt getting called to be on this season after getting so close last season. Matt says he applied for every Big Brother season. Ragan says you must of been cast to be the offbeat.. Matt: "yeah It was casey or me… Casey just seemed like a old drunk dude".
Ragan wonders if Lane sees how devious brit is.. Matt doesn't know but he points out that hayden, enzo and Brit are up there all night.
Matt suggests a deal with Brendon: "deal with the devil… i'll go to Brendon, make a deal with him.. tell him he has a way bigger BLANK chance of winning HOH then enzo does and if he does win HOH he'll take out Brit"
Ragan: "that is straight up talk it will never work.. Brendon is an emotional player nothing he does is based on logic so you saying that will just make him happy"
Ragan: "For you to stay in this game you'll need to make a HUGE move… a HUGE move.. Something bigger then a lie since you are already tagged as a sneaky player no one will believe you"
Matt asks Ragan which way is best getting Lanes/Hayden vote or Lane/Brit's vote. Ragan: "I don't think you can get Brits or lanes.. " ragan explains that he had all the logic presented to brit and it was correct and for her to not accept it means there is something else going on up in the HOH between her and hayden/enzo. Ragan tells Matt to go into the DR and spitball ideas with production.. he thinks they might help him figure it out they've seen this happen before .. feeds cut.
Feeds come back and MAtt is talking about how BLANK the Jury house will be if it's double eviction and him and Brendon go out. He'll be stuck in a house with Rachel, Brendon, and KAhty.. Matt wonders if theres a red button in the jury house maybe he'll jsut hit it and leave. Ragan says he'll lose the stipend and be black listed… Ragan: "I think if you quit the jury it will be a decision you regret because they'll never let you partake in any big brother events".
They start talking about the POV and how strange it was to have that type of comp so late in the game and to have the buzzers working that way. ragan: "The contest is to test who can hit the buzzer the fastest" Matt: "I just don't get why they have a crap shoot comp this late in the game". ragan is really worried that he'll get voted house before he can get a HOH. It's very important to him to have the full big brother experience.. he's had a lot thrown at him this season. Ragan says today that today it's been tough to study because "I've had a pooo storm drop on me" but he has 2 more days until what is likely the Double eviction and he's the target. Matt tells him he wants to see Ragan win that HOH.. Matt leaves.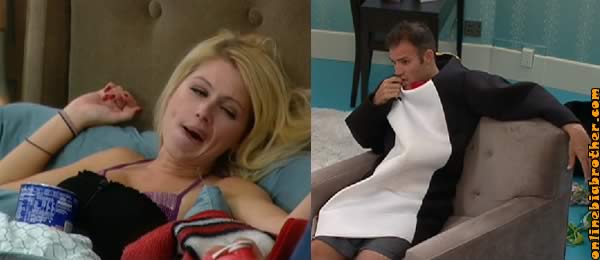 10:38pm Brit, Hayden and Enzo Doing a little studying, a little scheming, a little small talk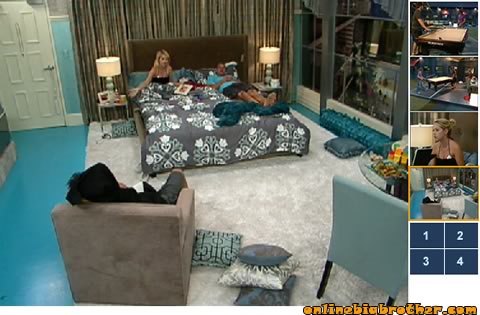 11:11pm HOH, Brendon and Brit on the bed Enzo the chair These three getting friendly while Matt hangs with Hayden and Lane downstairs.
11:22pm Backyard Lane and Hayden
Matt asks them if they have anything going on.. Hayden says he's mad no deals and has made no long term goals. Matt: "You guys sure theres not deal with you guys and Brit?" Hayden again says he has no deal Brit. Lane however says he has a bunch of deals, one with brit (sarcastically says it ), Brigade, ragan offered him final 4 yesterday. HAyden says that ragan offered him final 4 last week. MAtt laughs at Ragan's saying final 4, MAtt never knew he was running around doing that, Matt told him not to do that.
Matt says that something is up with Brit thats why he's been asking the guys about her because her reason are so BLANK up. Hayden: "We'll what are her reason"
MAtt says she told me, "we'll I just think he deserved it more because he tried so hard in the comps he deserves it.
Matt: "I know she thinks I got some BLANK prizes and I didn't get any BLANK prizes".
Matt starts to build up how dangerous Ragan is in the game, matt says that ragan has everything memorized he'll be very tough to beat in quizzes, plus Ragan has the fire in him he wants the more than anything. Hayden asks if there is a double eviction, matt thinks there will be.
hayden: "If you stay who does Ragan put up"
Matt: "Brendon and Brit.. "
Hayden: "I bet it'll be brendon regardless"
Matt: "I'm not sure about that he's very suspicious about the 4 of us.. plus he sees Hayden, enzo and Brendon as a side alliance"
Hayden: "I think it'll be me and Enzo"
Matt agrees hayden and enzo if MAtt Leaves and Brendon Brit if Matt stays.
Ragan joins them with a glass of wine…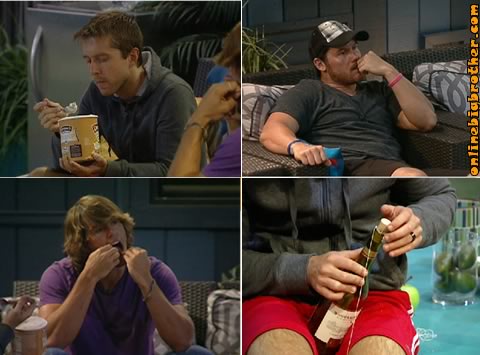 11:50pm The Gremlin, Hayden and Lane screwing with dental floss and talking about how HUGE they are going to be when they get out. Lane tells them about his phone call and how his mom said that everyone in fort worth is his fan. Upstairs in the HOH Brendon, Brit and enzo are bonding..