SEE what they CAN'T show you on TV! 3 Days FREE No Commitments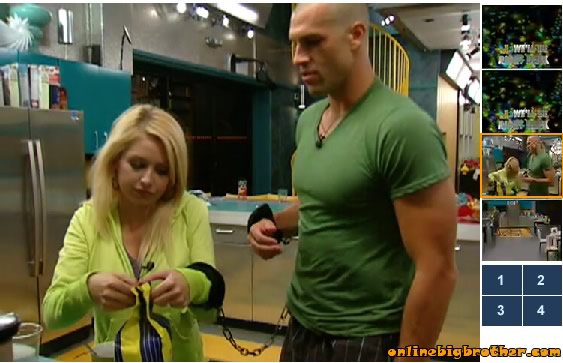 9:44pm The Happy couple making coffee
9:35pm Backyard Hayden: "Wheres the bowl?…. Guys guys wheres the bowl.. the bowl is gone" Yes there Pool Tournament was left outside and now it's gone, Everyone suspects the penguin did it.
9:39pm Hot tub Lane and Enzo Enzo is a bit worried about Brit he asks Labne if she going to put matt up as Planned. Lane says everything is fine. Lane asks him if he has a facebook page, When Lane gets his family phone call he can tell them so say something. Enzo says if brendon wins the double eviction he'll put up ragan and brit. Matt joins them.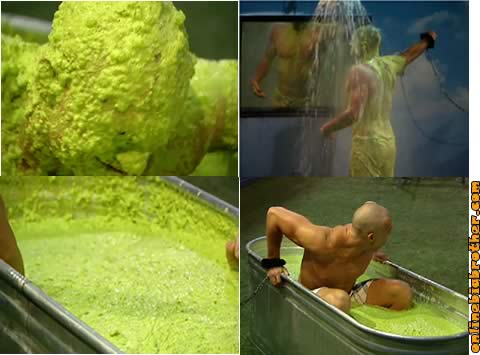 9:48pm Brendon gets to take his chum bath
10:03pm hottub Matt tried to make a bomb out of dry ice and chum but he was told by production to stop it, Matt: "Sorry showtime just trying to give you something to watch". They asks MAtt about Ragan, He says that ragan is feeling depressed and he's taking some personal time. Brit asks why? Matt doesn't know, Matt: "you know how ragan is he's emotional". they start talking about the chum, Brendon says it really doesn't smell too bad. Lane says it's not real chum its the wrong colour.
10:24pm Jumanji Room Lane and Ragan Lane says he doesn't know what the house is doing there getting down to the final 5 anyone can leave at any moment. He understands on brit's part…. Hayden comes in so they move to Taj.
10:29pm In the Taj Ragan tells him that there is 3 pairs in the house and the boys do not want Enzo to go. Ragan thinks that BRendon, Enzo and HAyden have an alliance and they've done a good job because now they are in a very good position to go all the way. Ragan says that when matt had the power he could of put the guys up but he didn't . lane thinks its the three of them that scares the house (Brit, Ragan and MAtt). Lane knows the decision brit has is between Matt and HAyden, he doesn't envy her he knows its a tough choice. Lane saying that people are getting close tot he money and you'll start seeing the ugliness in their games. Ragan goes on and on about MAtt not taking out one of the boys last week when he had the DPOV and how it's bullshit that he's the target now. Ragan cannot understand why Brit is doing this because next week it's going to be her on the block. Lane tries to explain that it's come down to the wire people have to go up, Lane knows theres people in the house that are going to put him up with Hayden just like theres people that are going to put Ragan up with Brit. Lane tells him that this is getting close to the end and everyone has to make tough choices. Lane explains that if he wins HOH next week then he's going to have to put 2 people up that he likes, he should of won HOH in the beginning when he didn't know anyone. Lane mentions that the house is scared to go final 2 with him. Ragan doesn't understand that he's only had 2 friends in the house and he's won 1 competition.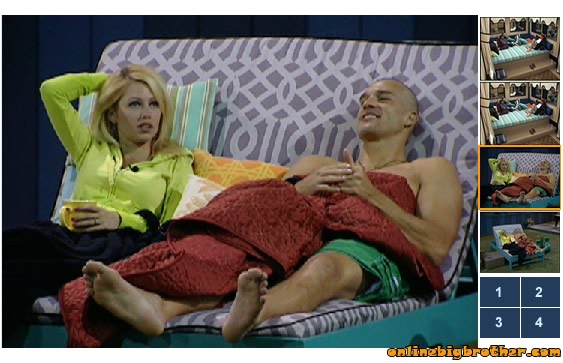 10:44pm Brit and BRendon talking about stupid shit