SEE what they CAN'T show you on TV! 3 Days FREE No Commitments
7:09pm HOH Hayden and Brit Hayden asks her which past houseguest would did she want. Brit was hoping for Evil dick or maybe Dr Will, but she can understand that they would pick someone from last year. HAyden says that the one person he remembers the most is Jessie. Brit is worried that Matt is going to be all over her tonight, Brit is just going to tell him her 2 options are MAtt and HAyden. Brit: "when it comes down to it i'm not telling him he's not going when he is" Brit really hopes Matt and Ragan won't come up here, She thinks Ragan is blinded by Matt. They both agree that Matt has Ragan wrapped around hi little finger. Hayden adds that whatever Matt does Ragan will buy it. Hayden says that during Matt's time on the block Ragan was campaigning for MAtt big time. Hayden says that Ragan was trying to offer enzo and hayden a final 4 deal. Hayden: "I don't know where that leaves you and Lane…" Brit: "In the jury house". Brit: "I really do like Ragan but theres no way around that". Hayden: "well you have to make a big move in this game". Brit says if Matt's leaves then Ragan's closest to her, he can't get too mad because he won't have anyone. Brit has brought her emotions into this game she's not like a robot or evil dick.
lane joins them and the talk shifts to the DR trying to get them to say BLANK about NICK. Brit demands they tell her what they are saying, Of course they tell her they can't talk about their DR. (brit eats up all there flirty BLANK). Talk moves to snowboarding… wow.. Brendon and Matt join them and they all start talking about skiing winter sports in general.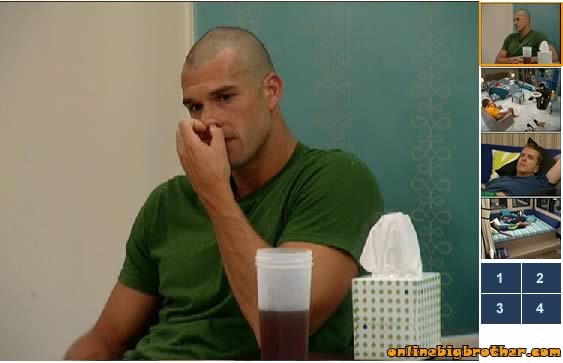 7:40pm During the riveting extreme sports conversation in the DR you can see MAtt with his hand jammed right down his pants also the Ogre picking his nose so much he cannot talk (which isn't bad so keep picking Brendon)
7:18pm cabana Room Ragan and Matt Matt tells Ragan that he's getting a weird vibe he's sure that she's thinking about putting him up. Matt says it doesn't make any sense but she's been up there with Lane, Enzo and HAyden all day. Ragan: "whoever goes up besides Enzo will be going home" Matt: "I hate being a professional replacement nomination". Theres a big feeling of hopelessness int eh Cabana room right now. Ragan: "I just makes so much more sense to her to keep us her friends through most of the game" Matt: "It does". Ragan has figured that they told her they are good with Brendon and he won't put her up next week and they probably promised her that they will stab Brendon in the back and take her to final 4. Matt is worried that Brendon is getting the cuffs on right now and Brtit will be attached to him for the next 24 hours. Ragan points out that they still have one night to talk to Brit. Matt is pretty sure that Brit is throughly brainwashed. Matt wonders that maybe Ragan can work on Lane and he'll work on Brit. Ragan says that will mean he throws Hayden under the bus, Matt agrees it's not a good idea. They got over the competition and how fishy it was, almost like Production wanted enzo to get the penguin suit. Matt and Ragan are positive that there is no legitimacy in Big Brother they believe that production is building a story and they will do whatever it takes to perpetuate that story… Feeds cut
7:45pm cabana room Ragan Ragan: "Even when my friends win HOH i still have to fight.. how am I going to move forward in this game…she puts me up or matt we're gone there no question"…
8:21pm HOH Matt and Hayden Hayden is trying to pretend that he worried he's going up. HAyden and MAtt count the votes, Matt tells him he has his vote, Ragan and Lanes. Hayden is sure Enzo has Brendon's vote. Matt tells him he'll probably go up so Hayden shouldn't worry. Hayden acts surprise. They start talking about the POV comp and how fishy it was. Hayden mentions that Enzo said he delayed before hitting the penguin suit option, Matt adds that he was hitting the button for penguin suit before the question was even finished. They go over how convenient the comp was for Brendon and come to the conclusion that something ain't right. Hayden: "Nothing is a guarantee in this house man" Matt: "yeah nothing is… BLANK i have a bad feeling about this". Matt asks him how did this happen why is he getting put up again.. hayden: "They need drama in this house man.. thats what it comes down to". MAtt asks Hayden if theres a chance they can get Brendon to talk Brit in putting up Ragan. hayden says he'll try it's all they can do at this point. Hayden tells him that Brendon doesn't care who goes up either Matt or Ragan. matt says they should talk to him before the cuffs go on.
8:51pm Cabana Room Matt and Ragan Ragan: "why are we feeling this way when our friend wins HOH". Matt says the thing that gets him is she won't even talk to him. Ragan: "How could they get inside her head so fast?" ragan is shocked that Brit his friend int he house for a very long time is turning on them so quickly. Matt brings up how Brendon walked up to HOH and was very comfortable talking to everyone.. he doesn't know if its just him being super sensitive but he's thinking the rest of the house is closer to brendon then he thought. Matt goes over Enzo not hitting the Peguin costume button and how both him and Hayden are suspicious of th integrity of the comp. Ragan: "What is the point of playing this game?" Matt: "we're not playing it we're being played.. puppets" … Feeds cut..
Matt: " I know what I did during that POV and I don't care if anyone else doesn't believe me but what I did should of garnished me at least one of those punishments if not all of them" Ragan: "I'm done with this.. I feel like i'm just a cog in the machine"
9:13pm The handcuffs are one. Matt asks them about the chum bath and Brit says she has to wake up every hour with Brendon and go with him for his CHUM bath.