SEE what they CAN'T show you on TV! 3 Days FREE No Commitments
8:48pm Taj Matt and Lane Matt asks him if something is going on with them all does even have any sort of chance. Lane: "You know were i am i'm in the same boat as you" Matt: "I don't want to bother you guys if you have your minds already set on a plan". Lane tells him he doesn't think its a lost cause He thinks Matt should go for it. Lane wants to know what ragan thinks. Matt says that ragan told him its a lost cause and matt can't convince them to vote for matt. Lane thinks that he should get him and Hayden together and talking, Lane: "I want to see the BG get far but right now people are smelling the money". Matt just wants to know if they all have any deals going on and if he still has a chance because he doesn't want to waste their time. Lane says he'll tell Matt what the plan is, lane likes matt thinks he's a stand up guy.
Matt: "you and Brit i get but what about Brendon and Enzo and where does Hayden sit?"
Lane: "I look at Hayden as too nice a guy to do any schemeing.. I get what your saying he's in a good spot".
Lane: "Preach to him that we all want brendon out this week and it's going to be a quick quiz and you can win that"
matt: "My concern is he'll keep brendon over enzo just becuase of the fear"… Feeds cut
Matt wonders what is really going on with enzo because it's sort of late in the the game to be "going deep" with your side alliance. Matt tells Lane that there is brendon/enzo, Brit/Lane and HAyden is in the middle. matt: "ragan sorta knows what I was doing but I've already brought him back just like that" (snaps his finger)
Hayden walks in lane leaves
Matt tells Hayden that the next batch of comps will be quizzes and there going to be rapid questions. He asks Hayden to just tell him tomorrow if he has a chance or not because he doesn't want to be bothering them and being a nervous wreck, Matt briefly brings up his wife and how he only need 60grand for her surgery he feels like he's really letting her down. Matt starts to explain his fight with Ragan and how Ragan doesn't know shit about the BG and matt's doesn't care if they want to take Ragan out next week. Matt says his target is still Brendon. Matt bring sup a bunch of evidence about Brit talking about people and telling stories, He warns hayden that brit is freaking dangerous and is very smart. Hayden agrees he sees brit as the primary threat. Matt tells him that he's been loyal to the BG from square one all his plans have been to benefit the BG. Matt says none of his plans have worked out.. Hayden: "I'll keep a open mind.. theres lots to think about now". matt leaves HAyden starts talking to the camera, "I'm on showtime… S H O W T I M E" (lame)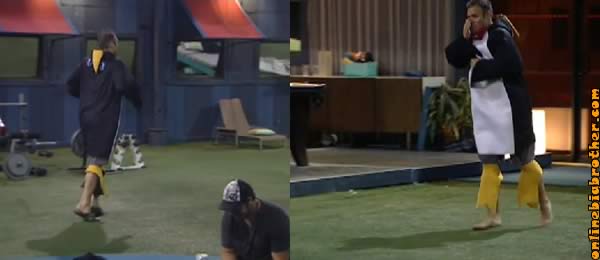 9:25pm Backyard Penguin running and complaining about how board the house is right now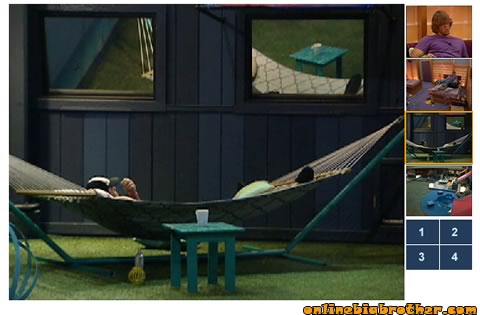 9:38pm Lanes been quiet since his talk with the gremlin, Brit is playing pool by herself the Ogre is on the elliptical grunting away and HAyden/Penguin are studying in teh taj.
9:56pm Ragan and Matt om Taj
Matt gives ragan a run down of his conversation with Lane and HAyden.. He thinks it went well. Ragan tells him flat out that he has no chance. Ragan: "right now they are just courting Jury votes"
Ragan: "If brendon gets it to final 2 with one of those boys i'm voting for Brendon"
Ragan: "You should of taken HAyden out instead of Kathy"
Matt: "Yeah you right but what I was trying to do was to stack the POV so we could get brendon out"
Ragan: "Today was a eye opener for me, those boy will not get my vote unless they are the final 2"
(The boys are Hayden, Enzo and Lane)
Ragan tells matt that he would be more shocked at matt haveing the votes to stay then we would if matt pulled another DPOV out of his pants.
Matt can I tell you a big secret that might cheer you up… you in a mood that you'll laugh. Ragan: "is it weird.. like a hook up thing". MAtt: "it's something you'll never guess i'll tell you tonight.
Ragan: "Is this something someone told you ?"
Matt: "no this is first hand.. its not a game changer but i'll tell you"
ragan thinks that one of the girls was a man.. MAtt laughs says no, tells him that it's something both him and brit would find funny but he's not going to tell Brit because he sort of mad at her now.