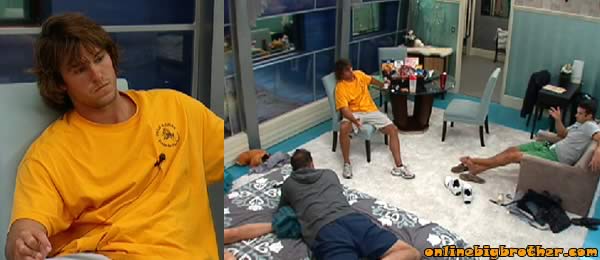 12:30AM HOH Kathy, hayden, Enzo and Brendon Everyone studying Kathy has her nose firmly planted in Brendon's BLANK. Kathy had told everyone that MAtt asked for his sleeping medication and they told him no. They are certain taht the comp will be tonight or tomorrow early because matts medication has a prescription. Enzo walks in tells them that Brendon wants o put up Matt but they've been trying hard to change his mind. Enzo wants Matt to go up there and talk to Brendon tomorrow.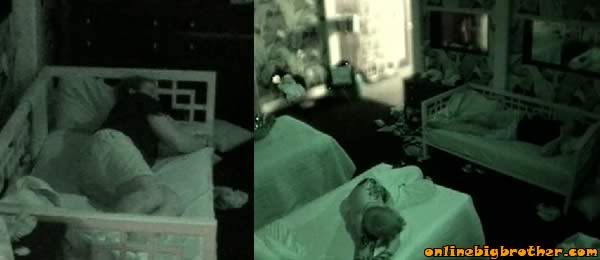 SEE what they CAN'T show you on TV! 3 Days FREE No Commitments
1:10am Jumanji Lane, MAtt Lane explains his entire oil business and what his job entails. Lane comments on the BP oil spill, He says that off shore drilling is risky and BP must of ignored some warning signs. He says that BP's mistake has now tarnished his career because everyone associates the oil business with a environmental disaster.
1:18AM Backyard Pool Table Hayde, Enzo and MAtt. Enzo and HAyden are saying that they've been up in HOH for a hour tryng to talk Brendon into putting up Brit instead of Matt. Enzo tells Matt it's time to go upstairs and throw Brit under the bus. Matt says that he's mad a with Brendon that he wouldn't go up or get backdoored he tells them he wasn't worried before because Brendon made this deal to keep him Safe. Matt adds that Brendon came out of the blue with this deal. Enzo wants to know what Brit and Ragan are doing, Matt says they've been sleeping from before the tournament ended. Enzo: "I don't want to see you and the Beast up there" They tell Matt to not out the brigade, Matt knows to keep the brigade a secret he tells them that no matter what happens they shouldn't overreact and say anything about the brigade. Hayden says the chances are around 50 percent, Enzo says that everyone up in HOH was fighting to get Brit up but Brendon really wants to get matt out. Matt comments about whatever happened to the deal that Brendon gave him that he wouldn't back door him. Enzo and LAne tell Matt if they win HOH next Ragan has got to go, matt tells them to not let the secret of the brigade out.. Matt goes to bed tells them he'll talk to Brendon tomorrow morning.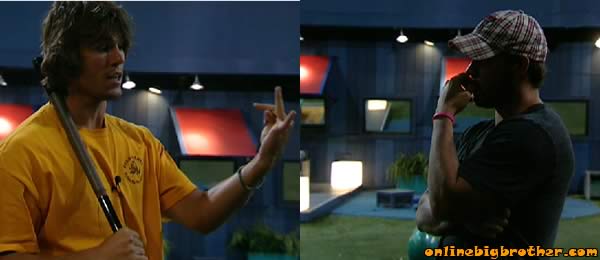 After matt leaves enzo points out that the reason matt has been acting so calm is because he had a deal with Brendon. they wonder who matt threw under the bus fort the deal. They both agree there is no way they can put Brendon up or backdoor brendon because they would lose 2 jury votes, they need to get Ragan to do the dirty work. Hayden the reason why i questioned matty's loyalty is becuase matt said that he would vote for ragan. Lane joins them and Hayden asks "Who do you want up this week Brit or Matt" Enzo wants brit out but theres no way to know what Brendon is going to do. Lane says that he's getting worried that matt might out the brigade if he feels threaten. Hayden start running through Matt's strategy to bring ragan to the final 2. After hearing it all Lane tells them they all need to fight harder in the comps. Lane tells them he'll put Brendon up and tell him that he's a pawn. They agree to keep feeding Brendon what he wants to hear. They decide on Lane to go up to Brendon tomorrow and tell him that he won't put brendon up if he wins HOH if Brendon put up Brit this week.
enzo Brit and Ragan don't talk game to me they want us all to take Brendon out but then they will come after us next week. Hayden: "I hope they understand we're not here to make friends". enzo: "Sure they'll be mad when they go home but when they think about it it's all game, they know we are the target after Brendon is gone and if they don't then there not playing the game yo. " Lane wonders what is going on in Matts head he told Matt that if he goes up againt Lane this week they are still to keep the Brigade secret. They agree it's because MAtt is being cocky and thinks he has the votes to stay. Lane mentions that MAtt is beign tight lipped about what is going on in the havenots. Lane is still int he loop because of Brit. Enzo says it time for them to make a power move they need to win HOH and they need to take out Brit and Ragan. Hayden: "If Rachel or production is not the saboteur then Matt has to be" enzo agrees, he points out that they need to worry about getting MAtt out because he'll be tough to beat in the jury house he's won a alto of HO comps and has a sick wife. They now flip back to wanting Matt gone this week they all figure it's there only chance to get him out easily. hayden makes a point that he doesn't really talk to Matt anymore and he's feeling closer to Brit lately. They have a quick laugh about the HOH comp then Lane leaves to go to bed.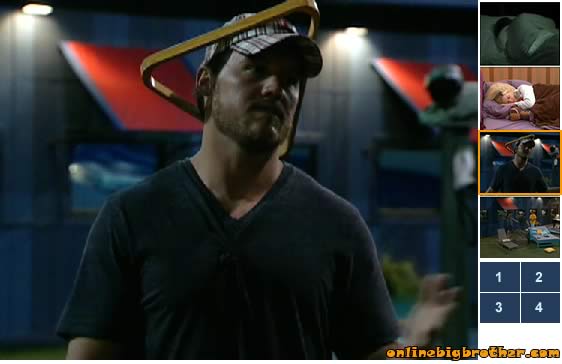 hayden : "I kinda like Brendon he's a tool but He's not bad" enzo: "Brendon is playing the game he's telling people the world" Hayden: "We gotta keep until final 5" Enzo: "we'll be like matty after this, we'll have 2 strong alliances the brigade then the athletics (their allaince with Brendon). Enzo: "Yeah you almost feel bad for the BLANK doucher… ideally it'll be you me lane and Kathy final 4". Hayden agrees but is worried about the special power. Enzo leaves to take a shower.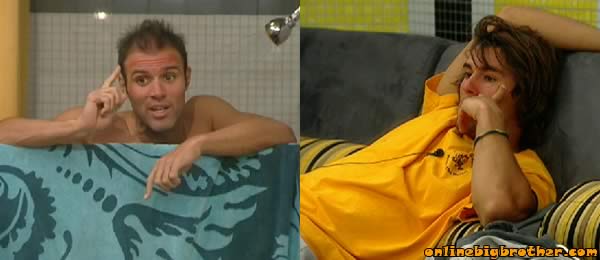 2:00am Enzo showering while Hayden watches Enzo says that he feels bad for them going after Matty after all they have been through but he's here to win the money. Hayden agrees, reiterates that he's not her to make friends he's hear to win money.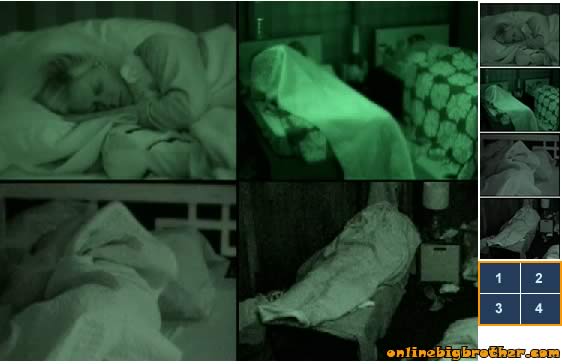 2:20 everyone sleeping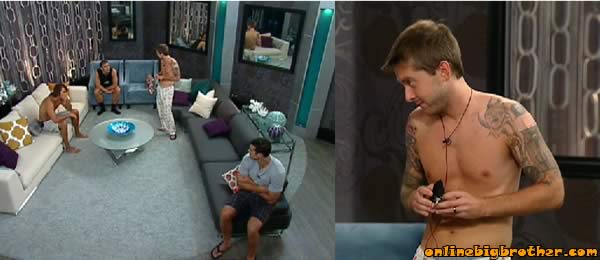 2:45am Hayden, Brendon, Matt, Enzo, they've received a new Sab message. Matt: "The sab is BLANK there no comp tonight" . The message told them to "wake up houseguests wake up". They are thinking they will get messages like this all night. Enzo seems to think that theres going to be a comp.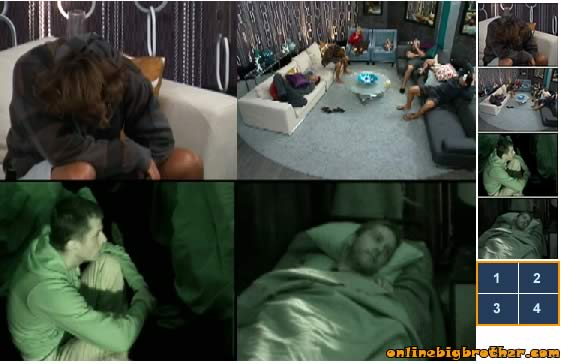 6:50pm Sabetour Messages Houseguest have been awoken all night with sab messages
#1 – HGs Wake up HG wake Up
#2 – HGs Expect the unexpected
#3 – HGs Did you miss me?
#4 – HGs Did you say your prayers?
#5 – HGs Could someone be going home tomorrow?
#6 – HGs Am I keeping you up?
#7 – HGs Your time is running out
#8 – HGs being evicted is not that bad
#9 – HGs Are you having nightmares about me?
#10 – HGs Insomnia is not that bad?
#11 – HGs Did u remember to pack your bags?
#12 – HGs Say your goodbye's tonight
#13 – HGs Who can you trust in tomorrows comp?