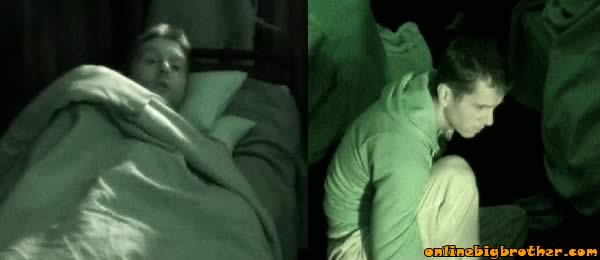 **Last night the houseguests where being woken up with sabetour messages. Through the night Hayden and Enzo meet up with Brendon on separate occasions and work him to put Matt up.
6:50pm Sabetour Messages Houseguest have been awoken all night with sab messages
#1 – HGs Wake up HG wake Up
#2 – HGs Expect the unexpected
#3 – HGs Did you miss me?
#4 – HGs Did you say your prayers?
#5 – HGs Could someone be going home tomorrow?
#6 – HGs Am I keeping you up?
#7 – HGs Your time is running out
#8 – HGs being evicted is not that bad
#9 – HGs Are you having nightmares about me?
#10 – HGs Insomnia is not that bad?
#11 – HGs Did u remember to pack your bags?
#12 – HGs Say your goodbye's tonight
#13 – HGs Who can you trust in tomorrows comp?
7:01AM HAve nots Ragan and Matt MAtt is going over that if Brendon is a putting him up it's not a sure out for him but putting Brit up its a sure out. Matt doesn't expect to be the one that gets put up because of this. Matt brings up that is Brendon puts him up he's breaking a deal with me which guarantees i'll be going after him but if he honors the deal I may not be. Ragan is going to go talk to Brendon about it he doesn't want to but he will. Ragan will tell him that MAtt will honor the deal they made earlier in the week. Matt is would like to think Brendon would honor the deal because it was a handshake deal but you never know what Brendon is going to do. Ragan is so disgusted by Brendon it makes his stomach sick having to go talk to him. Ragan will try and tell Brendon that he's a emotional player but thinks rationally. He won't put Brendon up just because brendon put him up he'll make a decision that benefits him in the game.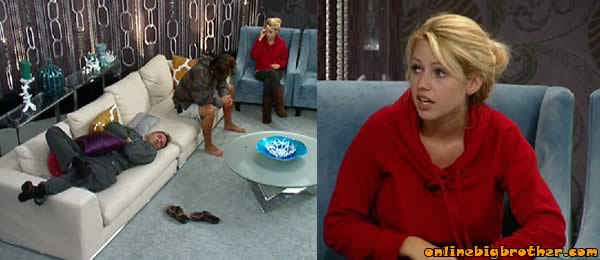 7:17AM Living Room Hayden, Enzo and BRit Talk is about the saboteur message, Brit believes that this year the will use the messages as part of a HOH comp. All the houseguests look exhausted and stressed Hayden is worried that there an eviction today. Brit doesn't think so she thinks this is for Thursday, hayden doesn't know why if it's for Thursday they would tell them this late. Brit agrees she suggests that maybe it'll be like this all week. Brit breaks it down that the messages started at 2:00am with a frequency of 3 messages ever hour for a total of 15 messages. Hayden mentions the one saboteur message "being evicted isn't bad" must of come from Rachel. They agree that Rachel is most likely the Sab (enzo sleeping only Brit and HAyden engaged in conversation). Brit is starting to think that maybe Hayden is right that there is an eviction today and A compatition. They all head to bed.
7:25am All the houseguest are in their beds a bit of whispering most;y everyone is trying to sleep
7:52pm Hammock Ragan talking to the live feed audience
Ragan: "OK live feeds audience I have they biggest decision I'va had to make since i've been here"
"Heres the deal Brendon the imbecile is of course trying to make deals with everyone in this game so he stays safe the following eviciton"
"So i'm certain he's made deals with brit, enzo, hayden and Matt and he thinks he's safe with Kathy"
"The problem is you can't have a deal with everyone and not break it"
"It's obvious that Brendon word means absolutely nothing in this game"
"We had a deal that we shook on that Brendon would not put me up and guess what i go put up on the block"
"Matt went up to talk to brendon this morning amongst all these saboteur videos and matt and brendon had a deal that matt would not go up this week or get back doored"
"Now of course now that i've won POV he told Matt that him and ragan are the strongest pair in the house so basically he's going back on the deal"
"I feel like the only way i can 100% keep matt in the game which is somrthign very important to me is to have a conversation with brendon and tell him something he wants to hear make the same bullshit deal he made with me then if I win HOH i can stab him in the back"
"This is something I don't want to do every one in the house wants to Throw this next HOH expect for me and lane"
"The best thing for us to do is keep matt on the block and take out Lane because hayden, lan and enzo have a final 3 deal it's obvious. If Lane goes then Brit no longer has a number one loyalty and she becomes more loyal to matt and ragan"
"My biggest concern will be can we get matt get the 3 votes."
"what should I do… this is the move that will make or break my game.. I think matt has enzos vote and he has my vote and I think enzo and hayden could vote together".
"all my strategies hinges on HOH and with all the people throwing it, I still might not win. I don't know what to do"
"I need to talk to Kathy tell her if she votes to keep Matt we'll have her back till final 3.. I can't sound like i'm bullying her because thats what Brendon and Rachel have been doing since day one"
"the house wants Brendon then Kathy or so they say.. why is it in my best interest to get rid of Kathy.. I don't think hey will want Kathy gone after Brendon goes I think they'll want me"