SEE what they CAN'T show you on TV! 3 Days FREE No Commitments
9:50pm Pool table Lane and Hayden Hayden wonders if production writes the show while the season unfolds. Lane is certain that is how they are doing it. they start talking about the sab message. Lane: "I dunno I gotta quit thinking it's Stressing me out ". Hayden: "What if winning the competition is something you don't want to do because it'll piss of like 5 people" Lane: "Maybe they want to split up the Brigade". Hayden: "But we're already doing that". Ragan and Matt start to watch. They ask ragan what he thinks the comp will be. Ragan thinks it'll either be a double eviction spread over a week or a comp to get a special power like the coup d'etat. Matt shudders :" that makes me feel uneasy" Matt asks if they think it'll be a power that the person has to use this Thursday. Ragan brings up season 11's power and how Jeff had 2 weeks to use it. They start saying that maybe it's Rachel who get to pick a replacement nomination. Matt: "if there is no comp tomrorow and next time i hear that static i'm taking a nap this is just bullshit."
10:10 Brit, Ragan and Matt. They start off talking about Brit's wedding plans and how she wants to have a beach wedding and using opera's book she's been able to cut her cost in half. Ragan says he's never been to a beach wedding but he's seen them on Melrose place and they looked fabulous. Matt is saying he doesn't think it'll be a comp for the power because part of the effect of the cop d'etat is the surprise factor if you take that away it's not as dramatic. He leaves to play pool. They comment on how stressed they are right now because of the comp. Brit says she gets the feeling that this enitre season has been geared to B/R's favour. Ragan asks if she's talked to Brendon about last night. Brit says she told him that she had a tiny argument with Rachel over a conversation they had about who the sab was. they decide to start studying their questions.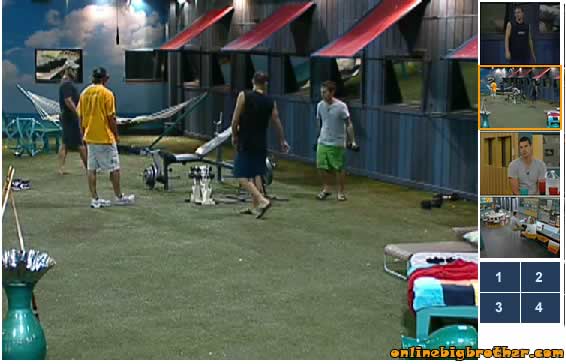 10:30pm Brigade working out At one point MAtt tells Enzo they seriously need to consider doing something with their music when they get out of hear. He says he nows how it's all done whoever wins the money will pay for the studio time for them to cut 1 track and they'll build it from there. Matt knows a great studio and then can get a deal.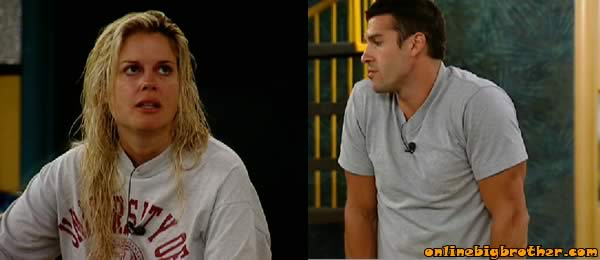 10:35pm Kitchen kathy and BRendon Brendon saying he's having trouble deciding who to put up . He knows Rachel is really wanting Matt gone but he thinks that Brit may be better for him in the game. He asks Kathy if she thinks that Rachel will be happy if either of them go home. Kathy says yes she will be but. Kahty really trying to get Brit put on the block. Tells him that she is rich and doesn't need the money, KAthhy feels it inside that something doesn't add up with BRit and all the stories that have been twisted come back to her. kahty has noticed that brit seems very comfortable even though she's a possible nominee. Kathy tells him he needs to think of the jury votes and that Brit is a very dangerous and smart player if he has a chance to get rid of her he should take it.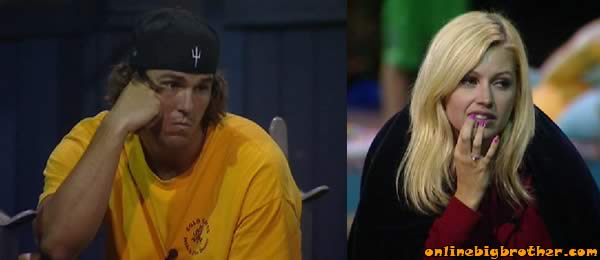 10:40pm Hammock Hayden and Brit They're talking about the competition tomorrow, will it be tonight? will it be mental? (pretty much the same thing everyone is talking about), brit is stressed out about all the competitions they have been having lately. She fells like ever day theres a stressful event. Brit tells hayden she's worried she might go up. Hayden can't say for certain but he has a feeling Brit will no go up this week. Brit doesn't believe it she was talking to Brendon earlier and he told her that people in the house are wanting her to go up. Hayden asks her if she's ready for the quiz. Brit thinks she's got t0 figured out but it's hard to remember some things plus she doubts she'll do well under pressure. Hayden says he tries to study but it still foggy in his head.