SEE what they CAN'T show you on TV! 3 Days FREE No Commitments
10:00pm Matt, KAthy and Brit talking about coffins. MAtt wonders why they don't make heart shaped coffins for couples that die untimely deaths. Brit tells them about a guy she new in high school that really liked golf and he was buried in a coffin that had a gold course air brushed on it.
10:07pm Brendon and Hayden Brendon asking a bunch of questions about what is going on in the house. Whats ragan doing, Whats, Brit doing, are they campaigning against people. Brendon says brit causes all the drama, HAyden agrees says that Brit caused everything between her and Enzo. They compare notes about how the blow up started between Rahcel and Brit.
10:15pm Kitchen Enzo, Hayden, and LAne They are talking about Brendon being by himself but he doesn't know it yet. Enzo says they are all part of the "athletic alliance " they all laugh they decide to change the name to the ******* alliance.
Lane to Hayden: "what is brendon asking about"
Hayden: "he's asking about if ragan and Brit are campaigning and he wants to know what ragan was sayign to me in the hammock"
Lane brings up earlier today that Brendon was looking at Matt somehting crazy trying to read his lips. Enzo:"we've created a monster we gotta put him down"
Lane asks if ND is getting pissed because they aren't talking to him as much. Enzo: "he's getting jealous.. so what do we do we get rid of him next week" Hayden: "we need to".
lane thinks they should put up brit and ragan and backdoor Brendon. Enzo tells them that Brendon thinks no one will put him up next week because he made a deal with everyone. Lane says that Ragan and Brit will be putting him straight up.
Enzo: "bredon is freaking out thinking about brit and ragan winning.. he thinks we might not win HOH". Enzo warns them to get ready if Brit/Ragan win HOH becuase Brendon is going to throw them all under the bus he'll saying "when i was HOH enzo and hayden were talking mad shit about you guys (ragan/brit) trying to get you up on the block". hayden and Lane agree thats why they want him out asap. Enzo says if Brendon brigns up anything about them he's going to deny everything tell brit and ragan that Brendon talks shit and get into Brendon's face about it. They are trying to decide if they need to win HOH. lane thinks they should throw it to ragan and Brit because they can get Needledick out. None of the three want to get out Needledick becuase he represents 2 votes in the jury.

10:20pm Backyard Couch Kathy and Brit talking about family, childhood and Arkansas.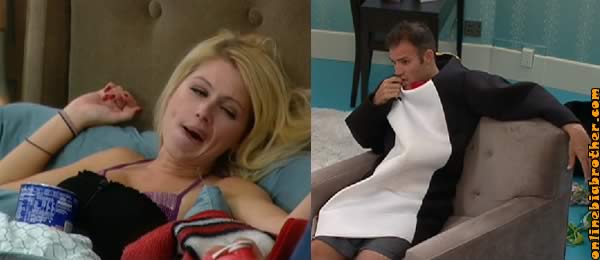 10:38pm hayden with Kahty and Brit telling them about his grandfather needledick and Matt playing int he tournament


10:45pm NeedleDick beats the Gremlin and wins the pool tournament