SEE what they CAN'T show you on TV! 3 Days FREE No Commitments
8:00pm hammock, ragan and hayden There is something Ragan wants to tell Hayden but he feels like it's not in his place to do it, he thinks that maybe Matt should tell him. ragan doesn't want to step out of his place but he has some ideas he would like to talk through with Hayden. Hayden asks if Matt has the power. Ragan says he's good at reading people and he's sure that Matt has no special power.
Ragan: "maybe i should bite the bullet and just tell you whats on my mind"
Ragan: "this week we have 2 guys on the block both with integrity there basically equal"
ragan: "You have to look at the people who have palyed the game you have to see that Matt did what everyone in the house wanted to do he got his hands dirty"
hayden: "besides Rachel Matt has the most blood on his hands"
ragan: "All thing equal I think Matt deserve to be in here more because of what he has done"
Ragan: "I'm playing a game right now that i'm guaranteed I won't have vote in the jury and I have the sneaky suspicion that the same thing will happen to Matt "
Hayden agrees, Ragan mentions there is now way B/R will vote for me. Ragan saying that kathy told him Rachel left a message for Brendon to evict MAtt. Hayden knows, Rachel made it out of preteselz and it said I 'heart' U then under it was MATT. Ragan says this eviction is a game changing eviction they have to think about the next phase in the game. ragan proposes that him and Matt and Hayden/Enzo could have a good run to final 4. Hayden: "its not out of the realm of possibility". Ragan doesn't want to go into the next couple of weeks and have no clue what is going to happen he doesn't want his life in this game hanging in the balance. Ragan: "if brendon wins POV i'll shoot myself in the head". Ragan explains if Matt stays and for some reason BRendon survives the week then Brendon's main target will be left in the house. Ragan brings up how awesome Brit is at this game she knows it inside and out. Ragan looks at brendon's gameplay and he's a moron and Ragan doesn't respect his gameplay. ragan respects Brit's gameplay. Hayden asks if Brendon would of put up Brit and LAne where would the vote have gone. Ragan I would of voted for brit to leave.. I love her but she's deadly in this game.
8:40 Hammock Ragan and Brit Brit is thinking that this season will have the final 3 right to the end. ragan isn't sure that the double eviction will happen but if it does it'll be Thursday. Brit says that Brendon could tell the change in attitude towards him after the POV ceremony, and that is why he's hiding in his room all day. they briefly talk about the sab and how stupid it is, Brit is sure that the sab messages are created from what they say in th house because they've been talking alot about double eviction. Brit mentions that Brendon told her after Matt goes ragan will be lost and she better watch out. Ragan laughs "ohhh you need to just watch out" Brendon also warned her about Ragan telling lies about Brendon because Ragan will be mad at Brendon for getting out his friend. Matt joins them says that Production is doing pick-ups all night tonight so they probably can't go to bed early. .. Brendon is now outside playing pool, Ragan heads inside to shower.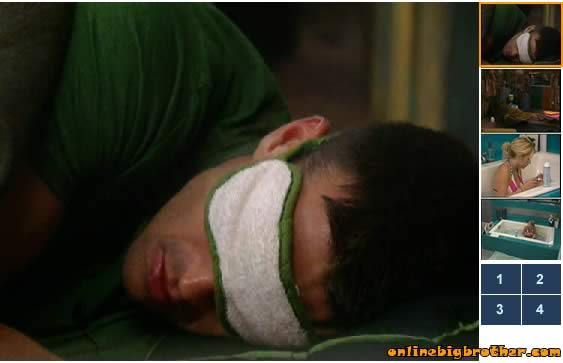 8:59pm Pool Table Lane, Enzo and Hayden Hayden telling them that he's talked to ragan and he's convinced that Matt doesn't have a power. Enzo: "If matt has a power we can't tell him that we're voting out Lane we gotta lie" Enzo tells them they have to stick to the plan take out Needledick and Kahty then ride Brit and Ragan to final five. Enzo wants to get Brigade shirts after Brendon leaves. Hayden isn't sure they can easily beat Brit and ragan in mental comps.
9:05pm bathroom Brit and kathy Brit saying that Brendon's days are numbered unless he keeps winning comps he'll be going home and she can't wait to be the one that does it. kathy is just tired of big brother she sick of Rachel, brendon and the sab wants them to go away. Kahty is saying that Brendon is all over her asking her what the house is saying about him, Kathy says she's been trying to get away from him. Brit: "What a creeper"
9:28pm Pool tournament Gremlin vs Enzo