TRY the 24/7 Feeds Life Feeds 3 DAYS FREE!
7:04pm Living Room The house They are talking about whats a acceptable number of people to have sex with. Enzo: "Ehh sometimes you find tight girls some times you find loose girls.. the trick is to find hot girls that are loose". Lane: "uhh loose?" Enzo: "Yeah Loose.. you know if its a ugly chick then of course she's loose". Brit asks him how many partners did his wife have before she met him. Enzo says that she was from the same town so he knew her background a bit and he knew she was a good girl. Enzo: "She aint no virgin but what are you to do". Brit asks then how many partners is too much. Lane: "one". Hayden: "1 or 2..3… double digits are too high". Ezno thinks 3 is a good number but he also thinks a chick with double digits might not be a bad idea. His reasoning is that if she's only had 3 partners then she might still be thinking about them but if she's had 11 she's forgotten about them already as is ready to move on. Enzo says he remembers early in the season Monet and Brit asked him what he thought of Rachel's body and he said its was rockin because he didn't know who talked with who yet and didn't want to piss anyone off.. He thought it was funny how disgusted Monet was with my answer.

Lane asks Enzo if he would let a guy sleep with his wife for 1 million dollars. Enzo: "Will he wear a condom?" they all start laughing… Enzo: "yo YO i'm just joking yo". Brit asks Hayden if he would date a girl that use to be a cocktail waitress like Rachel. Hayden says if she is anything like rachel then no he wouldn't. Brit brings up how cute Rachel looked in her high school pictures, Brit: "She looks so clean and not Trashy and fake".

Brit brings up Kathy and how she was always talking about Rachel 's panties and pubes she would rip on brendon and Rachel all the time.. enzo: "Yeah Kathy talked mad shit about us all". Lane: "Wait what did she say about me". Enzo: "she didn't talk about you, just everyone else". They start talking about the time when Rachel came back into the house. Hayden says he was so scared that Rachel was back in the game because she had her bags with her. Brit remembers Rachel coming up to her and asking brit why her goodbye message was so mean. Enzo was really worried that rachel knew about the brigade. They tell Brit how they started to scramble when they saw Rachel, Matt ran into the DR to ask them if anyone told her.

Brit tells them that there is less than 40 people out in the live audience. Enzo thinks its a hundred. Hayden tells them that Rachel was upset because no one would hi-5 her when she walked out of the house. Hayden: "She said she was the character America Loved to Hate"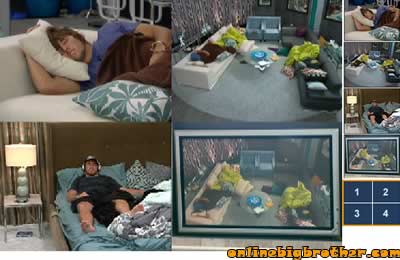 8:21pm MAD GAME TALK GOING ON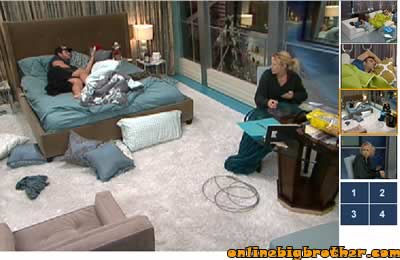 9:00pm HOH Brit and Lane. She is telling him that whatever they are building outside is going to be hardcore. Brit thinks Enzo and LAne don't seem to be too worried about the competition she has the feeling that they are giving up and handing Hayden the 500K. Lane thinks Hayden is a great guy he thinks hayden deserves the money and will probably win it. saying this makes brit mad she would love to be able to fight but she's going home. Lane says he's pretty
Brit is the jury votes personally and your with enzo you will lose but if they vote competitively they will vote for you to win. Brit explains that if he brings Hayden to final 2 he will lose regardless if the jury votes personally or competitively . Lane: "if it's a gamble with Enzo I would rather the money go to Hayden then Enzo"
Brit: "so your giving away 450K". Lane says that he wanted to take Brit to final 3 he wanted Enzo to go this week but the cards fell a different way. Brit really doesn't what to see Lane give up she wants to see him fight in the endurance. She tells him the last competition is always a crap shoot so the endurance is crucial to winning. Lane agrees he's confident he can beat Hayden.
9:11pm Living Room enzo and Hayden. Enzo saying he's been thinking about it and he thinks he has a chance against Hayden and Lane in the final 2 he just needs to win the final HOH. Hayden says that however wins the final HOH has a very good chance to win.
10:30pm HOH Hayden and Brit They are talking about the entire house thinking that Lane, Hayden and Enzo were floaters not playing the game. Brit: "Not only were you guys playing the game you were playing it better then they were" . He asks Brit if she thinks he should try for the endurance comp, Brit says of course. She thinks he has a very good chance to wining this game she feels like Enzo and Lane are convinced Hayden has already won.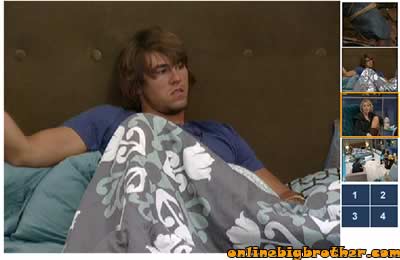 10:50pm HOH everyone Brit says that Ragan got so upset the week when Matt had the DPOV, he would cry and cry constantly, Hayden thinks it's funny that everything Ragan told MAtt came back to the brigade. Brit thinks matt wanted to take Ragan final 2. Hayden and Lane tell Enzo about Matt campaigning against him, Hayden: "He told me if I wanted a Brigade final 3 I would have to take him over enzo". Enzo: "He was a little creeper.. I knew the first second I saw him I thought this guy is going to try and be something he's not". Brit: "He really left with his tail between his legs.. he sure was down the last couple days before he left"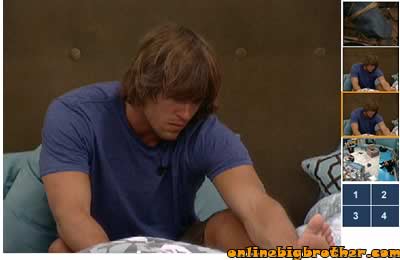 11:30pm HOH Hayden telling them about his big knee injury that took him out of Baseball when he was 22. HE explains that in BAseball it's very rare for someone to be a prospect if they are 24… Essentially he's saying his baseball career is over. Enzo brings up a 28 year old player that did it once. Enzo doesn't care about steroids in sports he thinks the more the better. The bigger they are the more entertaining it will be to watch, Enzo: "I want to see 80 home runs in a season cmon yo… Football players should do steroids all the time". Lane: "Like that video game blitz".. Hayden: "You can give them steroids in blitz?"