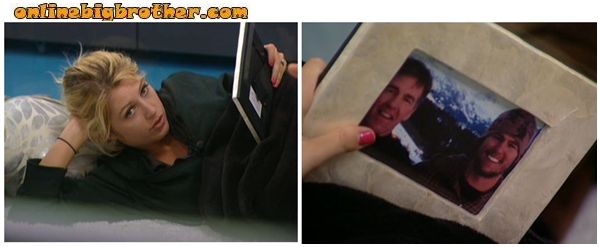 FREE Live Feed 24/7 streaming video of the BB12 house!
3 Day FREE TRIAL!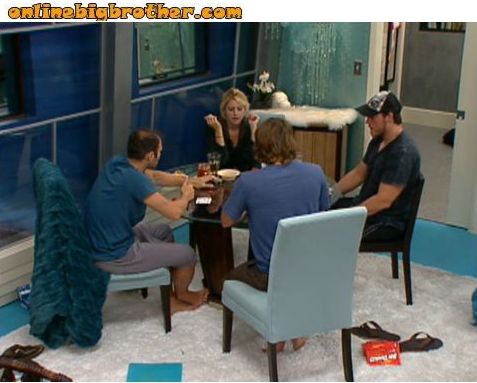 11:40pm – 12:40am Up in the HOH room Hayden, Lane, Enzo and Britney are all hanging out. Britney is trying to convince Lane to dye his beard. Lane tells her that he doesn't want to. Britney is looking at the HOH photo that Hayden has of his dad and him. Britney tells Hayden that he looks like mountain man. She says that his face looks a lot beefier because he let his beard grow out. Britney tell him that he looks a lot like his dad the way he smiles. Lane is playing a few hands of blackjack on the floor. Hayden and Enzo are watching. Hayden gives Lane advice about what number you have to stay on or to hit. Lane tells Hayden that's in Arizona. I'm playing Oklahoma Indian rules. Hayden says Lane to never split 10's. They decide to clear off the table so that they can all sit around it and play blackjack. They convince Britney to join in the game. Enzo says that they need to practice for when they go to Vagas and he also wants to play in Atlantic city. Hayden explains the rules to Britney.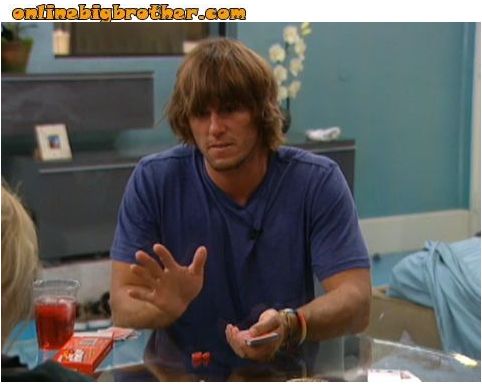 They start playing. Lane gets up to pour them drinks and he tells them that he feels like Rachel. Britney says thank you waitress. Enzo gets excited when he wins a few hands. They are using candies to bet with. Lane has a pair of tens and wants to split them. Hayden tells him that you shouldn't split 10's. Hayden tells Lane that even the dealer will question if you really want to split 10s. Hayden says thatpeople get mad at the table when you don't play right. Enzo decides to taking a break from blackjack and listen to music, he climbs into the HOH bed and puts on the headphones.
1am They finish up playing blackjack. They talk about playing gambling in Vagas. Hayden says that when he goes to Vegas with some friends have a lot of money and they play $30 hands. Hayden says that the largest hand he will play is the $5 table. The conversation changes to talking about the reality show awards that happen after Big Brother is over. Hayden says that he thinks Rachel will be voted as the biggest villain. Lane decides to go downstairs to take a shower.
Enzo says that playing cards was fun. Britney says that she thought it that was fun too. Britney talks about how tired she is, she says that she didn't sleep much today. Enzo says they took like seven naps today!! Lane comes back up to the HOH room and asks Britney if she will help him die his beard. Britney says yeah and heads downstairs with him. Enzo says he is finally going to do! Downstairs in the bathroom Britney is dyeing Lanes beard.Britney tells Lane that he has a big beard. Britney starts laughing and Lane says don't be laughing! After Britney is finished putting the dye on Lane ask how long he has to wait because he can feel it burning. Britney tells him to hang in there Lane were almost there….don't pansy out on us now, we came this far!! Lane gets into the shower and washes it out. Britney tells him that it isn't dark enough and that they may need to do it again. Britney says that she is really tried and decides to go to bed.
FREE Live Feed Trial!
Try it FREE for 3 Days!
1:20am – 1:40am Up in the HOH room Hayden and Enzo are talking about what will happen this week. Enzo says that wants to know what's going on this week. Enzo asks if he thinks Wednesday will be the endurance competition? Enzo says that he thinks Wednesday might be the live show. Hayden starts reading his HOH letter. Enzo tells Hayden that he thinks Lane will take Hayden to the final two. Hayden doesn't think so and says that he thinks the only way he'll make it to the finals is by him winning the final HOH competitions. They talk about the jury votes. Enzo says that he thinks it will be a 4-3 vote no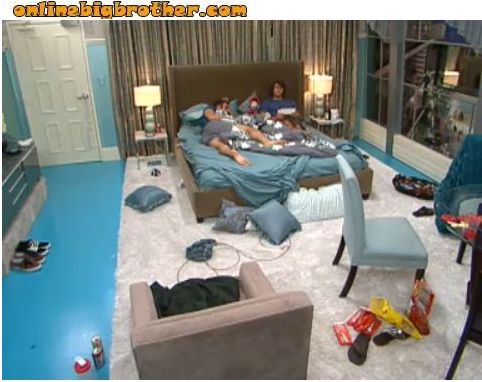 matter who makes it to the finals. Hayden says that the ending is going to be insane! Hayden asks who do I take, I'm close with you, I'm close with Lane. I fell like I'm in a tough spot! Enzo says that we are all in a tough spot! Hayden says that he isn't going to use the veto and its up to Enzo to decide who it is best for him to go up against, he will have the choice of voting out Lane or Britney. Enzo says he knows voting out Lane would be the best thing for him but he is just thinking about having the brigade make final three. Enzo says that he thinks Lane is playing for the $50,000. Hayden thinks Lane and Enzo both have a good chance of winning the half a million against him. Enzo says that whichever one of them leave the house at the final three, will definitely win the $25,000 America's choice vote. Enzo says that he thinks Lane would be happy with the $25,000. Enzo says that its nothing to stress about, we made it to the final 3!! Enzo says lets have fun with this. Enzo says Britney will be gone soon and says that she is just salty. Enzo says we are awesome ….we are greatness!! Hayden says that he wonders how they stack up against other seasons and wonders if they are they the greatest Big Brother alliance. Hayden says that he wants the Brigade to go up against the other alliances in a Big Brother allstars season. Hayden says that it could be called alliance allstars. Enzo says that he knows he would be a way better if he came back and played the game again. Enzo says that it makes sense to get rid of Lane but I'm not going to do that! Enzo says that he thinks this next week is going to be a lot of fun. Hayden says that he thinks he is in a BLANK position going into the final two. Hayden says that he doesn't think he could get Brendon or Rachel's vote… he says that he thinks they hate him. Hayden says that he doesn't think he would get Britney's vote either. Hayden asks Enzo if he thinks Matt was closer to him or Lane? Enzo says that he thinks he was closer with Matt. Lane joins them up in the HOH after his shower.
SEE what they CAN'T show you on TV! 3 Day FREE Trial
1:40am Hayden, Enzo and Lane are up in the HOH room talking. Enzo asks Lane who he would take to the finals? Lane doesn't answer. Enzo tells Lane that he thought about keeping Britney over Lane. Enzo laughs. Then, Enzo says nah….that's not me thinking that, you know what I mean? Enzo tells Lane that he would never do that to him, he is looking forward to the three of them making final three and having a great week together. Enzo says we're the brigade, were going to the final three. Enzo says that he is sorry he even brought up what the diary room threw out to him about voting Lane out over Britney. They talk about the jury votes. Hayden says that he thinks Britney still hates him. Lane tells him that Britney isn't mad at him anymore. Lane says that he is only playing for $50,000 and that he doesn't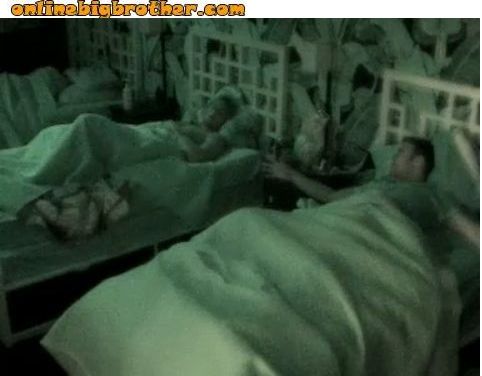 think he has a chance at winning the game. Lane says that $50,000 is a BLANK load of money! Enzo says that whichever one of them doesn't make the final 2 shouldn't be salty over it. Enzo asks Lane if Britney is still talking game or does she know its over? Lane says she knows its over for her. Enzo says BG to the final three then let the best BG member win! All three of them get ready for bed.
2am – 4:30am Hayden, Lane and Enzo head into the jumanji room to sleep. Enzo says that he really feels like there could be an eviction on Wednesday. Hayden says that what is helping him get through this is thinking about his family and their steamboat trip. They are all excited to meet each others families. Enzo says that he thinks of them as his family. They talk about what happens after the finale. Enzo starts talking about his wife and daughter. Then the conversation changes to talking about what they remember from this season. Enzo tells them that he threw the paint can competition. Hayden says that he knew he threw it. Enzo says that he didn't throw the rope one though. They talk how dramatic Brendon was in the competitions. Enzo says that was one good thing about him. Hayden says that he wonders if they know about the brigade in the jury House? Lane and Enzo think that they known for sure. Lane says that they aren't supposed to talk about the game in the jury house without the cameras around. They talk about how they the next competition is going to be endurance. Lane and Britney are now asleep. Hayden and Enzo talk about Evel Dick. Enzo says that he looked him up on youtube and says that he liked him. They say that he would definitely be on an allstars season. Enzo asks them how they think they would have done if they were on last season? Enzo says that he thinks he would have been voted out early. Hayden says that he would have been in the athlete clique. Enzo says that he would have probably been in the popular clique. They discuss whether BB10 or BB11 was better. They talk about all the different house guests that were their favourites. Enzo says that it is going to be crazy to watch their season and that they cant wait to see each others diary room sessions. Enzo says that he wants to see Kristen's diary room sessions saying that she looks like she'll scare the lens off the freak'n camera. They talk about the brigade. Enzo says that its going to be a storybook finish and thinks that the Brigade is the dream team and since BLANK day one. They talk about how they couldn't have done this without each other. Enzo says that no one has ever done this in Big Brother history yo!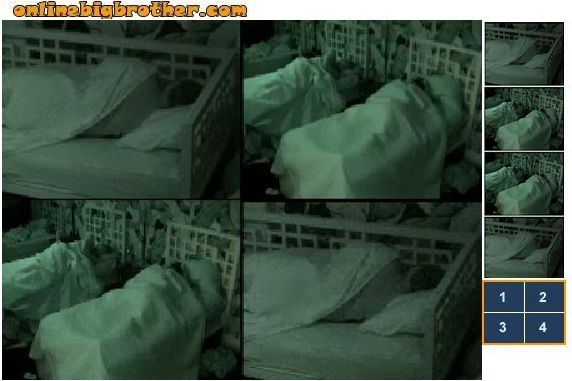 Enzo says that he hopes Wednesday is a live show. Enzo says that he thinks it would at least make the time go by quicker. Enzo says that he isn't stressed at all to go into the endurance competition; he wants to get it on already… They start playing 20 questions. Then Enzo talks about how he almost didn't audition for Big Brother. They talk about being recognized after it is all over and how long it has been since they've seen their families. Enzo and Hayden finally decide to go to sleep….
6:40am All the house guests are still asleep…
8:20am Big Brother switches the live feeds to the "We will be right back" screen.
9:20am The live feeds have been showing the fish tank for the last hour…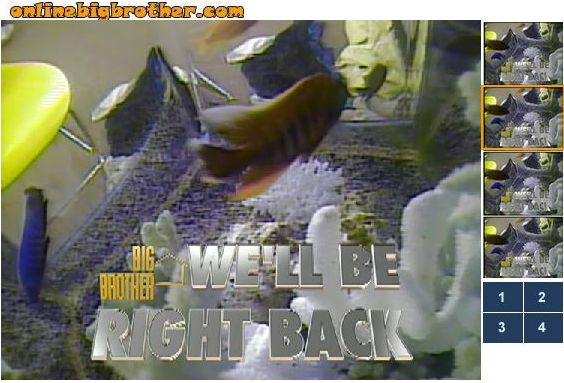 FREE Live Feed TRIAL!
Superpass – 3 Day Trial!