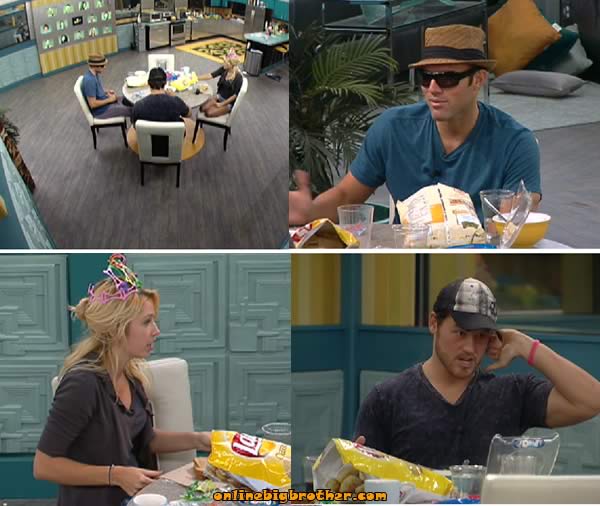 2:46pm Kitchen Lane, Brit and Enzo There asking Lane if he could land a 747 if it's pilot couldn't. Lane thinks it would be pretty tough since he only flies little planes like Cessnas but he's sure he would have a better chance then some regular person. Lane explains to them how the large planes have a lot of automatic features. Britney tells them a story about a pilot that told her they don't let you use cell phones during take off and landings because they want people to pay attention of whats going on. Enzo wants to be detracted if the plane goes south, Enzo: "If I die I don't want to know that I'm dead". For the last 30 minutes Lane has been giving Enzo flying lessons. Lane tells Enzo that after the flying lesson Lane just gave him enzo has a good foundation to learn how to fly all he needs to do is take a course. Enzo agrees list off a bunch of new terms he learnt during Lanes lession, "taxi, wind speed, yaw, pitch".. Live Feeds flip to Trivia.
3:03pm Live Feeds are back Lane talking to Britney and Enzo telling them that a airline pilot told him that flying the big planes is easier then the little Cessna. They all start complaining about flights, how they only get a single drink now were they use to get Nut, crackers and cookies. They're wondering why Hayden is blogging on Monday usually they do that on Tuesday. Enzo thought it might be another Pandora's Box.. Live Feeds cut.. When they come back on Hayden has joined them.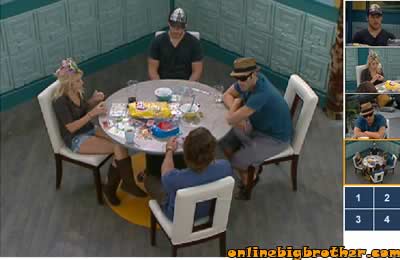 3:11pm There talking about Steamboat, Hayden is saying he really wants to get his sister to go and her boyfriend Cliff. Lane asks if cliff is a good guy does hayden approve is he into sports. Hayden: "He rodeo's" Enzo: "Ohhh is that a code word".. Lane: "a code word for what?" Hayden: "He's also hardcore into basketball". Britney says cowboys always look like they have giant packages because there pants are so tight. Enzo brings up Brendon's tight jeans and how Rachel didn't like them and told him they were too tight but he still wore them. They all start laughing about Brendon and his tight clothes. Hayden: "Hey there still banging out there" they all start speculating what is going on outside. Big Brother has put them into a indoor lock down. Enzo thinks its for a "luxurious" competition. Lane says there putting in a new Johnny 5 (the centre camera in the backyard) with arms and legs. Lane asks Hayden why he was doing the Blog today and not tomorrow. Britney says they usually do the Power of Veto ceremony on monday and they never did it. Hayden doesn't kow he does what he's told.. They start talking camping and boating, Each one has a sotry about para sailing, jet skiing, camping etc.
Hayden gets called into the Diary Room. They wonder if Hayden comes out they will have a luxury competition. Brit wants to go take a nap but thinks it's best to wait until Hayden comes back. They start talking about driving classes. Britney says if you take Drivers Ed your insurance is lower so it's smart to take it. Lane tells them that their driving Ed instructor is the same one his Dad had.. she's BLANK old man. they all start sharing stories about driving. Enzo tells them that him and wifey like to take a long drive to her family's place it's a hour away so wifey gets out her magazines. Brit and LAne laugh at enzo, Brit: "wait… you think a hour is a long trip .. for me to have magazines it needs to be 6 hours" Lane: "A hour twice a day." Brit says says she can still hear production working outside.. she's going to go to take a nap. Lane says he's going to go listen to HAyden's CD… this leaves enzo alone in the living room CRACKING YO. Enzo: "It smells like ass over here.. ohh BLANK is that me.. no"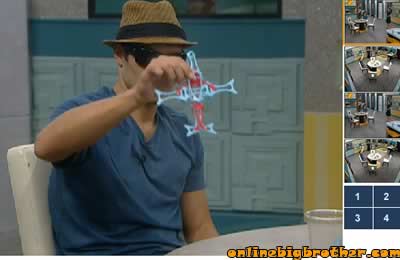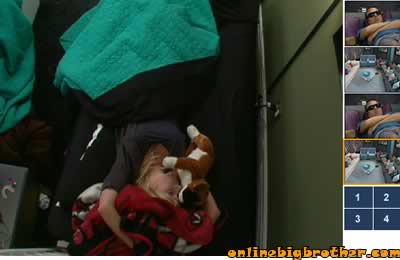 3:42pm Nap Time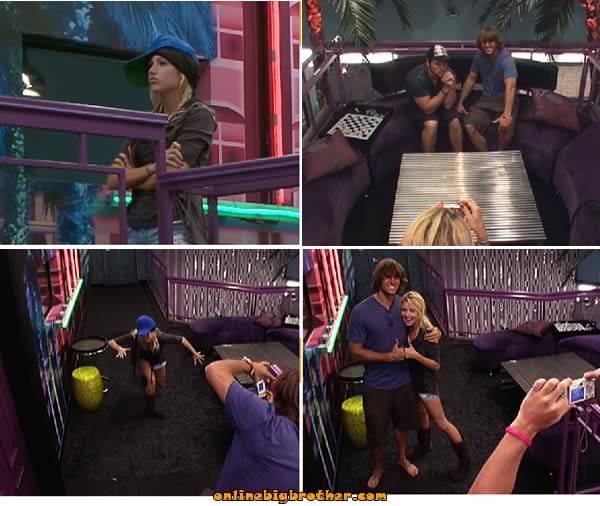 4:20pm Head of House hold Picture time
Hayden and Britney wondering why everything is out of order this week. Britney thinks they will be in lockdown until Thursday. Brit brings up that they recorded their Good bye messages before the Power of Veto ceremony. Britney: "Something is amiss"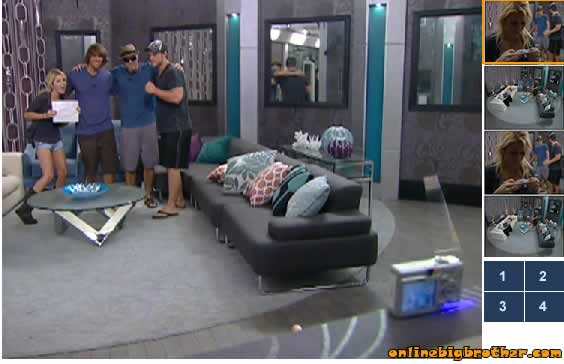 4:37pm More HOH pics this time the group holds up Ragan's "I know your secret" letter.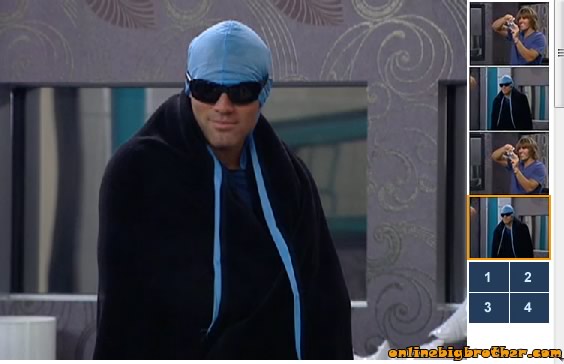 4:40pm Enzo is looking through the pics on the camera tells Lane that Nick is divorcing brit for sure. Lane laughs doesn't think the pictures were bad (Lane and Brit hugging), Enzo says it's not only the pictures its the entire season. Enzo notices theres not pictures of him "hard as BLANK" so he slaps on the rag, some shades and a blanket. Enzo: "I look lilke a bootleg super hero".
5:18pm Living Room Hayden, Enzo and Brit talking about there jury being the worst in BB history.


5:48pm HOH Lockdown There talking about how weird it is to have a hoh lockdown.. lots of speculation about what is going on.
6:30pm MANGIA MANGIA