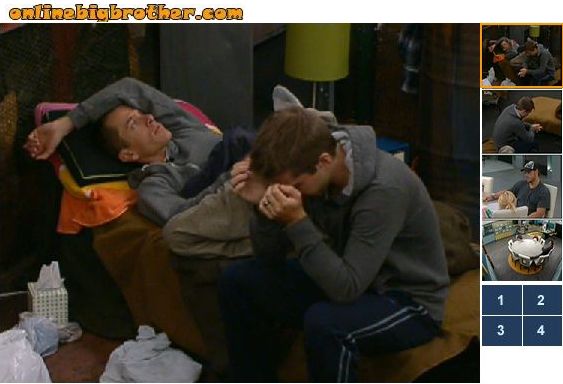 Watch everything LIVE as it happens!! Superpass – 3 Day FREE Trial

1:30pm – 1:45pm Matt and Ragan are in the have not room talking. Ragan is still wiping away the tears and crying saying how much he doesn't want Matt to leave. Ragan asks Matt how he will act with Rachel in the jury house. Matt says that before the whole pretzel message he would have been nice to her but not now. Matt goes on to say that there was no reason for Rachel to mess up his game after she was already out and that it wasn't right. Matt says that it also could have just been Kathy making it all up. Matt asks Ragan if he has made his HOH request yet!? Ragan says no …that all he really wants are his dads suspenders and a letter. Matt says but you could ask for different toothpaste and stuff. Ragan says that he thinks it would be bad luck for him to go ask though. Matt says oh okay. Ragan says if you go I wonder what Julie will ask you "So you seem to have formed a strong relationship with Ragan" Matt says yeah she probably will ask that. Matt says that Hayden was saying some super nice things last night and said that he wanted to tell Matt this stuff because his goodbye messages always suck. Ragan says that his goodbye message was really long… big brother cuts the feeds. Ragan asks Matt if he like all the media stuff. Matt says he doesnt mind it but that once he is home he just wants to be at home and not be in any newspapers or anything. Ragan and Matt leave the have not room.

TRY the Live Feeds for FREE!! Superpass – 3 Day FREE Trial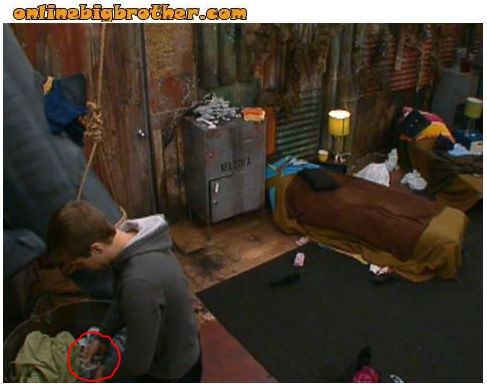 1:45pm – 2pm In the above picture you can see Matt pull the diamond POV out of his jeans that are folded up.
Meanwhile, In the kitchen Lane, Enzo, Britney and Ragan are talking about random stuff ans what they are going to wear tonight. Britney talks about he birthday coming up …and Enzo mentions that his wedding anniversary is coming up too. They tell him that he can get the producers to call and wish her a happy anniversary for him. Ragan goes into the cabana room and starts crying again. Ragan says that being here has taught him what is really important to him and what his true values are… Kathy is laying beside him, listening and rubbing his arm. Kathy tells him that they can choose which way they go and that with their values and moral there are more bumps in the road. …Ragan says that from this week especially he see why he keeps his friends close to him. Ragan says that the game is a metaphor of his life and that it brings stuff out….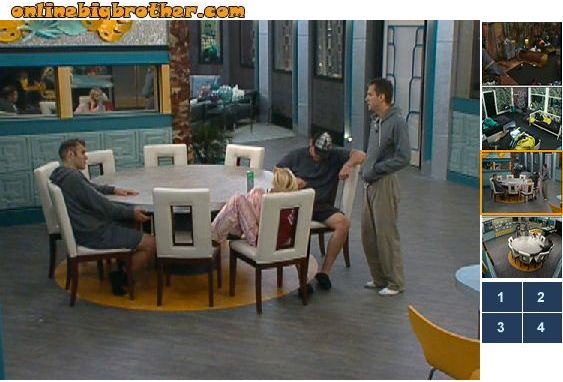 3:40pm Feeds on Trivia