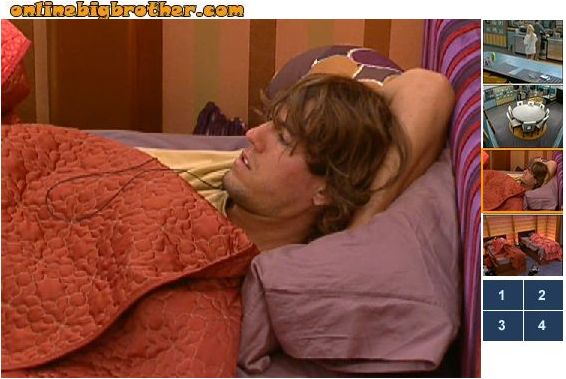 Watch everything LIVE as it happens!!
Superpass – 3 Day FREE Trial
12pm Big Brother calls an end to the lock down. Enzo and Hayden head back into their bedroom and get back into bed. Enzo says that Thursdays are good you just sleep all day. Enzo says that he aint talking to nobody today. Enzo says that when he wins HOH he is putting up Britney YO! Then he says but we're not going to win. They both laugh. Enzo and Hayden go back to sleep.

In the kitchen Ragan is making slop. Lane comes in to get some cereal. Brendon brings his things down from the HOH room. Ragan and Lane eat their breakfast/Lunch. Britney and Ragan head into the cabana room. Britney asks Lane if he wants to come too. Lane says that he has to go finish packing but thanks. Britney and Ragan go into the cabana and Britney says that she is sad that if Matt goes home and they win HOH he wont get to see what will happen after. Ragan and Britney talk about what the true/false questions might be and how they should answer. Ragan then asks Britney to ask him some true/false questions about the other house guests but for her to falsify some of the information to see if he can get it right. After studying for a bit Britney and Ragan leave the cabana room. Britney goes and sits on Lanes bed with him. Britney asks what Lanes going to wear tonight? Lane says a wife beater …just in case he gets into a fight. Lane says that he has to take off his shoes if he gets into a fight, and his that he will wear his favourite underwear cuz maybe there will be a bachelorette party is waiting for me. Britney and Lane make fun of Brendon for wearing a bandana. Britney asks what does he think he is competing today? They laugh.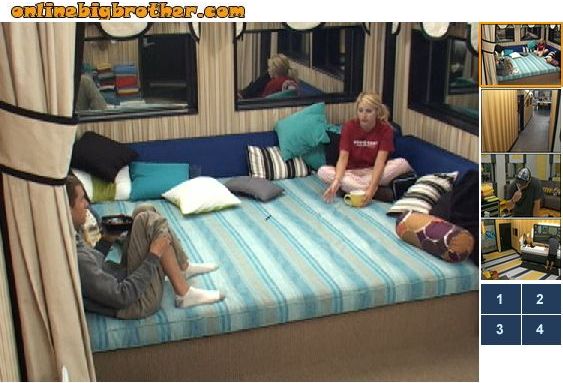 SEE what they CAN'T show you on TV! 3 Day FREE Trial
In the bedroom Lane and Matt are talking about what they are going to wear. Matt says that he literally only thought he would be on the block and HOH four times and so he only packed 4 button down shirts. Production switches all the cameras back to Britney and Ragan in the cabana room.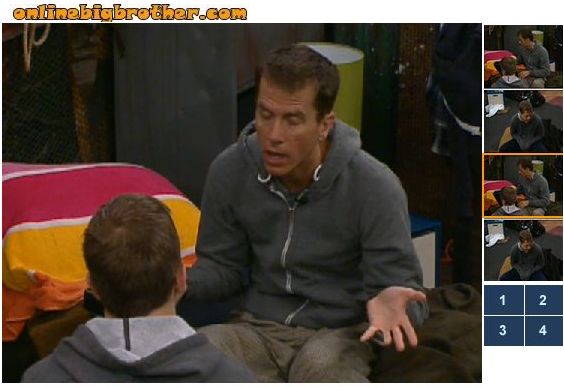 12:35pm Matt and Ragan are talking in the have not room. Ragan and Matt talk about the strategy to beat Brendon in a number quiz competition where to beat him you could just answer just a bit more than Brendon. Matt thinks because Enzo and Hayden are spending so much time up in the HOH with Brendon studying that they should know more knowledge on the house than everyone. Matt thinks that if Enzo or Hayden don't win a quiz competition then he is convinced that they threw it. Matt tells Ragan that he thinks Enzo and Hayden don't want blood on their hands in evicting Brendon so they may throw it to Britney or Ragan. Ragan asks Matt if from talking to Enzo and Hayden if he genuinely want Brendon gone. Matt says that he really feels like they do want him gone. Matt also says that without even bringing it up to Enzo, Hayden that outside of them (Matt, Hayden, Enzo and Lane) Ragan is the fifth person they all trust. Ragan tells Matt that he can imagine the house without Ragan. Matt says that no matter who leaves there will be a big character loss. Ragan says that hanging out with Britney only after Matt leaves isnt agood thing. Ragan wants to form a solid alliance with someone if Matt leaves but not Lane because of Britney. Matt says thats too hard because if that person doesnt want to do it they'll tell the whole house and it will back fire on you. Ragan keeps saying god I don't want you to leave. Ragan says that he thinks that if they were keeping him ….they would have already told him. Matt says that he has been sleeping up until a few minutes ago ….but that Ragan is right …bad news would wait until the last minute and good news I would have already been told.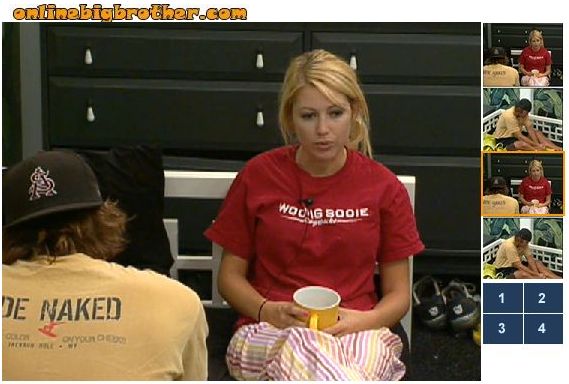 12:50pm Britney and Hayden are talking in the bedroom. Britney tells hayden that he has been acting shady by staying up in the HOH so much with Brendon. Hayden says no … he's giving us all his brain power. Hayden then says that he thinks most of Brendon's information is wrong anyways …thats what he's been told. Enzo joins them and they talk about who will take what bed. Britney tells Hayden and Enzo that she wants HOH really bad and if they don't want it …there won't be any judgement …just throw it .. Hayden says that he wont throw it but if you beat me you beat me. The conversation changes to what they will wear tonight. Enzo says that he might rock pink and Hollywood Hayden says he'll wear a flannel shirt.

12:55pm – 1:10pm Ragan is in the have not room crying. Britney comes in and tries talking to him and he tells her that he is upset. Britney asks Ragan if he want to be alone or talk and he says that he just needs to be alone. Britney goes into the kitchen and Matt asks her if she really wants the HOH …she says yeah I do! Matt asks her who she would put up if she won. Britney says that she isn't sure of one of them but that it would definitely be one of the 6 people that will be left in the house.

TRY the Live Feeds for FREE!!
Superpass – 3 Day FREE Trial
1:15pm – 1:30pm Britney and Matt are in the kitchen talking about random stuff. Matt is eating. Britney is giving herself a manicure. Lane comes in and Britney says Langel what are you doing? They start talking about how dirty and sticky the house is. Meanwhile Enzo and Brendon are talking in the bathroom. They start talking about whether or not there will be a double eviction tonight or not. Enzo says why dont they just set up 8 courses in the backyard and then just do them all. Brendon says yeah then we'll see who the real champion is…. Brendon starts trash talking Britney saying that she acts like she has all the power. Brendon and Enzo can hear Britney talking in the kitchen and Brendon tells Ezno to just shoot him now, slice his throat …just get it over with. Enzo comes out of the bathroom and says that its been a day and a half since he took a shit. Brendon then tells them that they should all study just in case its a quiz … study everything backwards and forwards just so that they are ready. Then the feeds cut to the we will be right back screen….