SEE what they CAN'T show you on TV! 3 Days FREE No Commitments
Lots of new things havve happened over the past 12hours check out The early morning Big Brother Update and the Late Night Big Brother Update

8:25pm All feeds on sleeping houseguests
8:36am Hammock Gremlin and ragan
Matt: "Good morning johnny good mornign America"
Ragan: "so this is what I feel like doing i'm going to blow some smoke up Brendon's ass i'm going to do everything but make a deal with him…The question in my mind who is Brendon more threaten by brit/lane or me and you "
Matt: "it's you and me"
Ragan: "well then your going up for sure"
Matt tells him the house wants us out to so Brendon may want to keeps me to shift the target from himself to me
Ragan: "i'm starting to think what Brendon is doing right now is he's forcing hands that could of waited awhile to be played this may be a time to start thinking about final 4 situations"
Ragan: "The thought I was having in bed was that working for enzo and hayden's vote because those 2 will vote together"
Ragan is going to go up to hayden and Enzo and tell them Brendon wanting a deal to keep him safe next week is basically saying that he needs to put up Hayden, Enzo or LAne if he wins Next week.
Matt: "why is Brendon's deal is not saying put Kathy and lane up"
Ragan explains that if Hayden and enzo vote out Matt then if he made the deal with Brendon he's going to have to put up Hayden and Enzo.. Ragan wants them to know all the deals brendon is trying to make.
Ragan: "if they don't vote to keep you in the house they need to realize that anything to do with Brendon is complete utter bullshit"
Matt: "yeah I think they do"
Ragan: "I think they (Hayden and enzo) like you and lane equally..if you and lane go up on the block who would they want to take out? that is the question"
Ragan thinks he's going to tell them that Brit has more house knowledge and Lane is holding back but he's still a very psychically powerful player.
Matt: "don't make any deals with them just explain to them how it'll pan out"
Ragan: "I think theres a strong chance your going up"
Ragan: "I have been watching Brit and I am certain there is a deal with her and Brendon"
Matt: "If there is a evcition today expect a surprise"
Matt: "If you win HOH i want you to nominate me and brendon and i'll win POV use it then vote brendon out that is how confident I am with the houses final 5 agreement"
Ragan: "if you were in my shoes what would you do"
Matt thinks Ragan should go talk to Brendon this morning and make sure he's the last person brendon sees before the POV lockdown. Ragan hates talking to Brendon so much but he'll do it to keep matt around.
Matt: "I think enzo has less moral fortitude so what he says doesn't really need much.. Hayden's word is more solid"
Matt wonders why Brendon thinks his friendship with all these guys that has started the last few days will stick.
Matt tells him some of the bullshit Brendon was telling him that he's glad Ragan won POV because Brendon put Ragan up so see him compete at 100% ragan: "He's a fucking douche bag"
Ragan: "I just don't want to give up another HOH, not that you didn't legitamately win those 2 HOH's It would of ben a much longer battle… UGH the thought of going up to HOH and tlaking to him makes me sick"
Matt: "Don't do anything uncomfortable on my behalf. If I am up on the block, we will work on the votes."
Ragan starts reiterating what he plans on saying to Brendon.
Ragans talking points with brendon
1st – Be vague about a deal with us and him..
2nd – Matt and Ragan are 2 people that will keep their word and Matt is a player that plays hard in ever competition. He is one player that has not thrown each competition like so many other players in this house.
3rd – Matt has a better chance of staying against Lane then brit so do yo want to break the deal with Matt and have him stay int he house next week or do you want to break the deal with brit and see her walk out the door on Thursday.
Ragan: "if it was any other person in the house we could make a deal with him but he's so full of shit he makes deals with everyone"
Ragan: "I feel like eating eggs"
Matt: "yeah me to maybe i'll get them today in a hotel somewhere.."
Matt suggests Ragan should says he's uncomfortable making a deal with Brendon because Brendon would be making a deal based on breaking one with Britney, therefore there are major trust issues. They got over the votes and they think that they can get Kathy's vote the trick will be to get hayden and Enzo.
Ragan: "it'll be 3-2 to evict you or 4-2 to keep you"
9:20pm Ragan still going over what he will say to Brendon.. (reiterating the same thing he's said above)
9:30pm Ragan gives Brendon his speech Ragan is doing a good job making it very clear to Brendon his logic about keeping matt off the block. Ragan does a lot of talking, Brendon understands what Ragan is saying and agrees with his logic. Brendon tells him that ultimately he'll be making his decision based on which player will get him furhter in the game.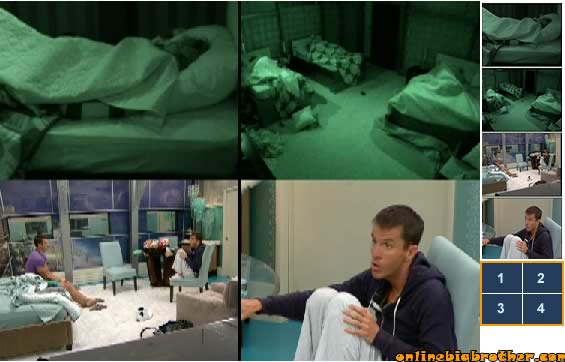 9:50pm Ragan still talking in circles with brendon rest of the house is sleeping
11:27pm Bubbles