SEE what they CAN'T show you on TV! 3 Days FREE No Commitments
10:17pm Hammock Hayden and Ragan Hayden tells him that Matt has a chance to stay. ragan says no he doesn't and that is not why I asked you here. Hayden mentions how sad he'll be when MAtt goes home, Hayden says he talks about how sad he is in the DR. They both agree that MAtt's website for his wife probably made enough money for her because of all the donations. Hayden can i ask you a question? Ragan: "HAyden are you HIGH i can't believe your asking me that" Hayden: "I just want to ask you because Brendon is my target". Ragan says that He like BRendon and he's being cool and not stirring up shit.
HAyden I think it's clear that he's probably the biggest threat…
Ragan: "He's not coming after you and enzo he's coming after me and brit…IF POV is used then it's Lane that goes up.. If he stays in this game he is going to win this competition"
Hayden: "theres no questioning he'll win in the final 2… Hayden doesn't want to see Brendon slip through the cracks he wants them all to fight for HOH"
Hayden: "He's the only person out of us all that is a clear cut winner"
Hayden explains, Brendon/brit won 4 each, Hayden/Ragan won one each , Lane/enzo won nothing
Ragan ask if he wins HOH who to put up, Hayden: "I dunno it's somebody that need to know they are a pawn its up to you.. again you need a back up plan in case Brendon wins the veto"
Hayden say that MAtt is probably going to go home but its not 100%, ragan knew that. Hayden is worried that he might lose Brendon's jury vote if he's the one that puts him up. Hayden: "I like Brendon i really do". Ragan: "Brendon is a completely different person now that she's gone… She really brings out the worst in him" Hayden mentions that Enzo will put Brendon up even though it'll be awkward. ragan isn't sure that will happen.
10:40pm Brit and MAtt There talking about there all time favorite songs/ albums. Matt's says when he was in college he smoked pot and hung out in his buddies car.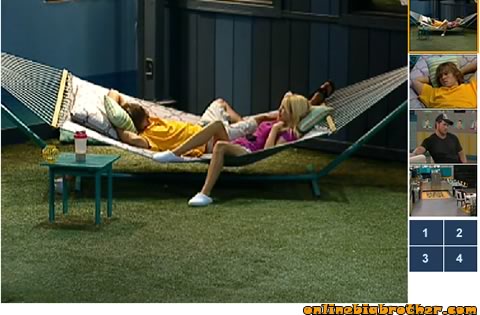 11:00pm Brit and HAyden Hammock Hayden tells her that Ragan is going after Enzo and HAyden but when he talks to Ragan he says he's going to take out Brendon. Hayden has a feeling that Ragan is up to something. BRit says that Ragan is all messed up in the head he says that I'm expendable and that all you boys have an alliance. Brit: "I think Ragan is super paranoid". Hayden thinks Ragan is cracking because MAtt is going home. Brit is worried that ragan is going to start playing like Matt did.. he's going to run around the house and "pump" things into enzo's, Brendon and Brits ears. Hayden basically says that Ragan is fucked in the game and they are going to move to move to final 3. (Brits is starting to says y'all as much as Kathy said You Know.. more evidence that they are related). HAyden starts to point out how much money Lane has compared to the rest of them, New tahoe, new house, parents bought him a gym..
11:38pm Ragan telling Matt all about his podcast, Brit, Brendon, ENzo and Hayden talking about sports.
Midnight Enzo, Lane, MAtt, Brendon and Ragan, There talking about Kathy and how funny she is. They all share stories about how funny KAhty was. Lane and Ragan tell them about the time Kathy was feeding Andy like he was a baby.. It was very gross to watch.