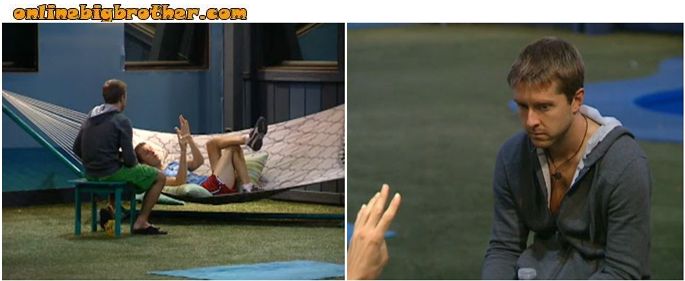 FREE Live Feeds! Try it free for 3 Days!
12:30am In the backyard Matt and Ragan are talking. Matt asks Ragan that if he is so sure that the Lane, Hayden and Enzo are going to make the final three then why doesn't Ragan just put up two of the guys and forget about getting Brendon out. Matt is trying to convince Ragan that it would be such a great move to throw a kink in their plan and evict one of them. Ragan says that he is still worried about Brendon coming after him. Matt tells Ragan that he isn't trying to sway him any which way he is just giving him some scenarios. Matt tells him that whoever he gets out ….whether its Brendon or Hayden or whoever, Ragan will go up on the block next week regardless. Matt is really pushing for Ragan to put up two of the three Brigade members against each other. Matt tells Ragan that he is just giving him options. Ragan says he thinks that those four are definitely working together. Matt asks what four? Ragan says Hayden, Lane, Enzo and Britney. Ragan says that he is thinking about putting up Brendon and Enzo and then if Brendon wins the POV, Brendon would come off the block and then he would replace him with Hayden. Matt tells Ragan that would be such a power move. Ragan tells Matt that Hayden told him that he would put up Brendon next week and that so would Enzo. Ragan says that he doesn't really believe they will. Ragan says that Hayden is being sheisty. Matt and Ragan wonder if they are up in the HOH studying. Matt says that he thinks they're up there plotting. Matt then starts quizzing Ragan on the time line of events in the house.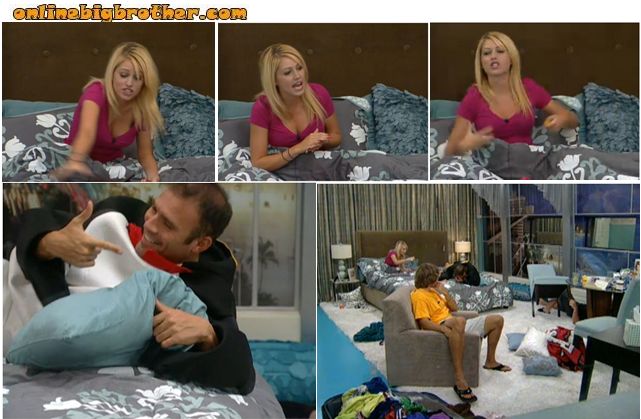 12:50am Up in the HOH, Lane, Britney, Hayden and Enzo are all joking around and talking about commercials. Hayden pretends to do a Burton snowboard commercial. They want Lane to do a Coors beer commercial. Hayden says that Enzo can do a meow mix commercial. Britney explains to Enzo how the nutritional information on the back of foods work. Enzo and Hayden talk about being have-nots. Hayden thinks that taking the cold showers is the worst part. Enzo says they are almost done being have-nots. Enzo wonders if there is a chance that they could all hate each other after this? Hayden says certain people probably will hate some people. Britney thinks that Brendon will hate her, she also says Rachel is going to hate her. Hayden says that Nick will probably hate Lane. Enzo says that he thinks that Kristen will hate him. Enzo brings up Monet, he says she was her for two weeks and cried for a week of it. Enzo says he can't wait to see Britney's Kristen face in her diary room sessions. Enzo asks Britney to do the Kristen face. Hayden asks the what face? Hayden says its okay he only knew the chick for three weeks. Britney tells Hayden that Enzo called Kristen the crazy eyed killer. Britney then does her Kristen impression which makes Enzo lose it laughing. Hayden laughs too. Britney thinks Kristen is going to hate her. They talk about the week Kristen and Hayden were nominated. Enzo tells Hayden that Kristen was doing a thing when she was on the block, that she was telling everyone she should stay the house over Hayden. Enzo says damn she's throwing Hayden under the bus! Enzo wonders if Kristen has the 24 hour live feeds. Britney tells Hayden not to be mad at her over the Kristen face. Hayden says that he isn't and that he thinks it's funny. Enzo, Britney and Lane start making fun of Kristen for how she acted during the week she was on the block.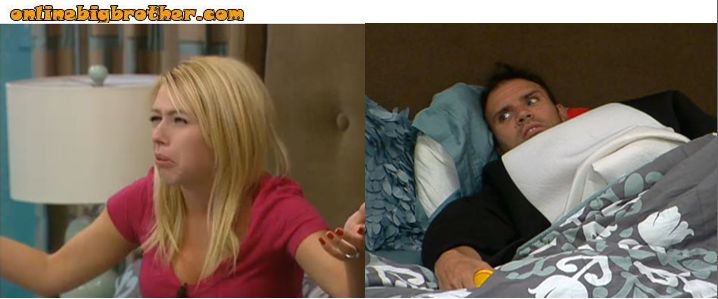 1:15am Britney, Lane, Enzo and Hayden are all up in the HOH room and now making fun of Kathy. They all laugh about how clueless and two faced she was. Lane says that all of her speeches were exactly the same. Britney says that she probably wrote that before even coming into the house. They all laugh that it was probably the only thing she memorized all summer. Enzo says that Kathy being evicted was the craziest backdoor ever on Big Brother. They all says how they can't wait to watch Kathy in the caramel competition. Enzo says that Kathy was a creeper, and how she would wash all their clothes and constantly eavesdrop on everyone. The conversation changes to talking about Pandora's Box. Britney tells them that the Pandora's Box was actually pretty of cramped. Enzo asks her how Pandora's Box worked. Britney tells them that there were two envelopes that are waiting outside the box. Lane wonders what if Britney would have decided to not to open Pandora's Box? Lane says she probably would have heard Jessie from within the box say SHIT! Britney says that Jessie had said that Russell is short. They remember from watching the season that Natalie was even taller than Russell. Lane thinks that Russell is probably Matt's height. They talk about how Jordan was taller than they thought. Hayden says that he thinks Jordan was about 5′ 7". They talk about how they think Jordan and Russell were probably about the same height. Hayden says he thinks Matt is 5′ 6". Britney wonders if he is really that tall? Hayden says yeah maybe he isn't that tall. Lane says that would suck being a short guy.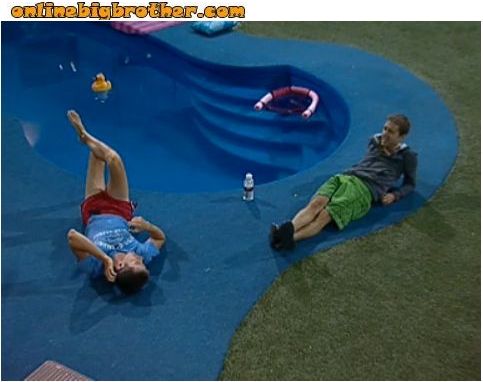 SEE what they CAN'T show you on TV! 3 Day FREE Trial
In the backyard Ragan and Matt are talking. Matt says that Hayden and Lane have been avoiding him ever sense he got put on the block and that he thinks it's weird. Ragan says that he thinks the biggest mistake everyone made in the game was not keeping Kristen. Matt sees Hayden, Enzo and Lane come down from the HOH room and called them the parade. Ragan says that it was weird. Matt says that he thinks Hayden, Enzo and Lane went to the HOH room to avoid him. Matt says that they are acting guilty because he thinks they are doing shady stuff.

1:30am Enzo talks about how good the luau food was. Enzo says that he was so thankful he got to eat even though he was a have not. Hayden agrees. Britney tells them that the diary room told her to go straight up to the HOH room and gave her 5 minutes to decide whether or not she would open the Pandora's Box. They start talking about Natalie's Pandora's Box. Enzo says it was awkward watching her boyfriend propose with a garbage twisty tie. Enzo says that they were so ghetto. They start talking about how much dirtier their season is compared to last. Hayden thinks the ratings are high from what he heard. Lane thinks this season has been the hardest Big Brother season yet. They talk about how having the saboteur in the game has made it so much more difficult.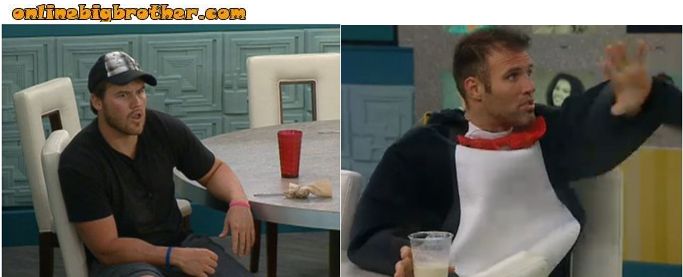 1:45am In the kitchen Hayden, Enzo and Lane are talking. Enzo asks them if they are going to hang out with Matty after all this is over? Hayden and Lane both says that they hope so. Enzo says it would be like the Beatles breaking up! Matt comes in and he heads to the bathroom. Matt comes back in and asks them what they were talking about up in the HOH room. They tell him that they were reminiscing. Matt leaves to go back outside. Enzo asks Lane what is up with Matty? Lane says he thinks Matty knows it is done and that he thinks he feels weird around them now. Lane says that Matt knows he is leaving. Enzo thinks that Ragan told Matt straight out that he didn't have a shot. Lane says that Ragan did tell him that. Lane says he doesn't want him to feel weird about talking to them. Enzo says he has to go, he's a liability. Enzo says that he thinks that being a have not every once in awhile isn't so bad, at least you don't eat crap, you eat nothing. They talk about working out. Enzo says that he and his brother complain the entire time they work out. Enzo says that they mostly check out chicks at the gym. Lane says that working out is the best part of his day. Enzo says that he is curious to see how Big Brother edited him during the first episode when they introduce all the house guests. Enzo says that he can't wait to see everyone's introduction videos. They start talking about when they first came into the house. Matt and Ragan join the conversation. Enzo says he entered the house right behind Andrew who yelled out Mazel Tov when he entered so the first thing Enzo said in the house was oh shit he just said mazel tov!! Ragan tells them about how Matt told him about how he spoons his wife while still being in his bat cave. Matt explains how he does it and uses some props to demonstrate. All the guys think the way he spoons his wife is weird. They say that maybe it is normal for a gremlin though… Matt says that doesn't like that they call it his cave, he says he calls it sleeping. Matt says he thinks the way he sleeps is normal and that he thinks there has to be other people out there that sleep like that. Matt says that he doesn't get why that makes him a gremlin.

TRY the Live Feeds for FREE!!
Superpass – 3 Day FREE Trial

2am In the bathroom Enzo and Hayden are getting ready for bed. Enzo looks at his penguin suit and says that he wants to check with the diary room to see if they can wash it. Ragan and Lane come into the bathroom to brush their teeth. Matt joins them and sits on the couch. Enzo, Matt and Ragan are talking in the bathroom about when the finale date is going to be. Ragan says that he remembers seeing Sept 15 as the finale. They talk about how on Thursday there will be three weeks left in the game… (Big Brother cuts the feeds to the we will be right back screen.) When they come back, Ragan asks Enzo if he is going to wear his penguin head on Thursday? Enzo says he isn't because he can't see with it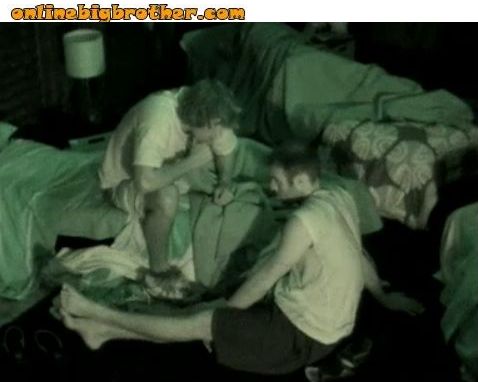 on. They all tell him that he has to wear it! Enzo puts the head on and pretends to give his speech. Enzo asks if he is the first penguin to be on Big Brother. Enzo says that he thinks this is the best costume, and then starts making fun of Casey's banana costume. They all leave the bathroom for their bedrooms.

2:20 – 3:35am Enzo and Hayden head into the have not room. Hayden gets into his cot and starts talking to Brendon and tells him that they were up with Britney in the HOH for awhile. Enzo comes into the have-not room. Enzo says to them that they better not let Ragan win HOH. They can hear Ragan laughing in the other bedroom. Enzo says oh my God, I don't know why he's laughing, his boyfriend (Matt) is going home. Hayden says shoot me now. Enzo says you know Ragan is going to try and hang out with us next week. Hayden says I know. Enzo says watch they're not going to be laughing Thursday night. Enzo looks over at laughs at Brendon's bed, he notices the extension Brendon made to the bottom of the cot so his feet don't hang off. Enzo laughs that he's got some extension on that thing… Hayden and Enzo start to study the events of the house …they go over the time line of events and the saboteur messages. Enzo and Hayden quiz each other. Hayden tells Enzo a way to remember that the Hawaiian party was on day 50, is to think of the movie 50 First Dates with Adam Sandler. Hayden says that it took place in Hawaii. Enzo says we can do this bro, we just need to focus. After studying for awhile, Enzo says that he thinks it is all coming together for him. Enzo says that it's crazy bro, we're getting good. Enzo says that he thinks they need to keep testing each other to get it down. Enzo says we're good!! Hayden says that he thinks they are too… Both of them decide to go to sleep…

Watch everything LIVE as it happens!!
Superpass – 3 Day FREE Trial

7:30am All the house guests are still sleeping…

9:30am They're still fast asleep..

10:10am All is still quiet…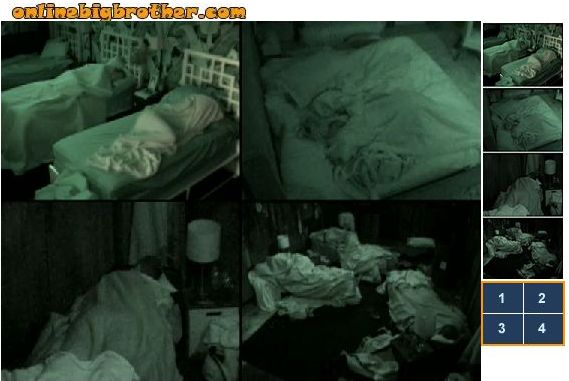 10:50am All of the house guests are still in bed. Enzo is laying in his cot with his eyes open …