SEE what they CAN'T show you on TV! 3 Days FREE No Commitments
5:59pm Kitchen, Hayden, LAne and Enzo Hayden thinks that Matt is making it all up that Ragan is gunning for them. Hayden suggests If Ragan was on to them then he would be in the DR all the time. Lane and Enzo agree, Lane says a lot that Matty is saying is just to cover his own ass. Lane: "How much damage could ragan do on his own". Enzo: "Ragan is going to put Brendon up we all know that… Lets not even think about Ragan lets just worry about winning HOH.. The power will shift Ragan got the power this week because BRit got it the power is going to
6:12pm Jumanji MAtt and Ragan Ragan tells him that Hayden, Enzo and MAtt have a deal going and Brit is part of it. Ragan guesses that brit was the one who figured it all out. Ragan tells Matt there is no way they are going to keep him the 'boys' are golden right now. Ragan mentions that Enzo, HAyden, and Lane are trying to get out the strong players and they are scared to death about Brit and Matt. Matt says he has to try theres always a chance. Ragan agrees but doesn't want Matt to get his hopes up. Ragan: "they are going to catch a snag.. I'm the only snag .. we'll me and Brendon and we're the sangs and it's funny that he doesn't even see it now". Ragan: "It's too bad I can't have a conversation with Brendon…Just so he knows whats coming up". Matt thinks Ragan should talk to Brendon. Ragan tells him the only chance he has in the house is to win win win all the comps becuase he's number one target. Ragan: "I'm sure they told Brit they will get rid of Ragan after BRendon.. that would of been one of her condition's… and they pitched it that she keeps MAtt in the game and that just adds one more person they have to send home". Ragan says that Lane is in a very good position more so than HAyden. Matt says he so wants to stay in this house he never thought it was going to be his endurance comps that would paint him as a threat. Matt briefly brings up the POV comp and how it was kinda weird that he didn't get one thing because he was hitting the button repeatedly, Matt: "Why don't we just draw straws for POV its all a crapshoot". Ragan starts studying like made counting everything around and using his candy to help with the math.
6:36pm Jumanji Enzo, Ragan and matt there talking about how BLANK it is to go to the jury house with Rachel and Kathy there. Enzo says when he's in the jury house he's sleeping all day and laying in the pool (so he' sdoing what he does here).
7:20pm HOH Hayden and Lane Hayden wants to know if its ok with lane if he puts Brit up on thrusday. Lane says sure whatever, he suggests they keep Brit until Final 4 then get her out. Lane is confident that he can control Brit. They starts to go through all the possible scenarios in there heads and are feeling very confident that they have it set. 90% of lanes and Hayden's conversations are about how they've won big brother 11. (man I hope something huge happens to these two and BLANK up all their plans.. all they talk about is how awesome they are)
7:38pm Matt and ragan in the Jumanji They're talking about the only thing that can save Matt right now is if Ragan has a power, Ragan asks him if they ever played 2 powers. MAtt: "No way that would be too much". Matt is wondering if Hayden and Lane care about Brendon, Ragan says they don't he thinks they are scared of him. Ragan continues on about how he's finished in the game if he doesn't win HOH or the POV. Matt tells him that Enzo is the most untrustworthy person int he house so his vote is hard to pin down. Ragan thinks Lane has some serious time invested in Brit so he's not going to piss that away. Matt disagrees, lane will drop brit because if he starts to make a fuss about brit he'll be the odd man out and he'll be sent home.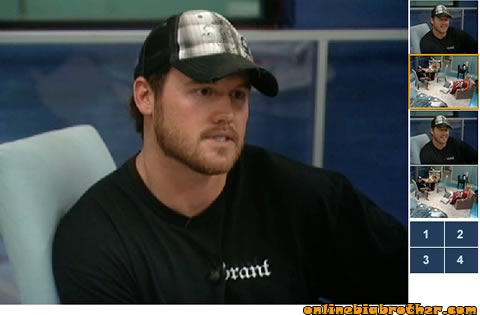 7:40pm HOH Brit and Lane
Brit: "do you know what happens in the house.. because right now your acting like you know BLANK"
Lane: "This is why you brought me up here?" (joking)
Lane: "Get out of my room"
Brit tells him she's serious, she really needs him to win HOH next week or she's gone.. she knows he like to play dumb but she hopes he know more then he's letting on. Brit in the worlds most winny voice "Lane you have to win I really really really don't want to leave".
They start going over long term plans.. Lane says that he wants Brendon gone first but if Ragan is there maybe they should go for it. BRit really wants Ragan gone she worried he'll dominate in the later comps.
Brit: "I really want Brendon and Ragan both gone I don't care which one goes first"
Brit: "I don't know as much as Ragan, Hayden doesn't, you certaintly don't"
Lane doesn't think Ragan is a problem in the quizzes becuase Ragan cracks under preasurre. He points out the last HOH comp they had and how Ragan was the first to go. Lane blames it on Ragan knowing too much and he over thinks things. Hayden joins them and they start to bash BRendon.. Brit brings out her play dough and starts to do some planning she wants the next 3 HOH to go.. Hayden, lane then her. She plans to throw the next HOH if Ragan is all ready out that way she can play in the following HOH. (there all very confident about there position in the game)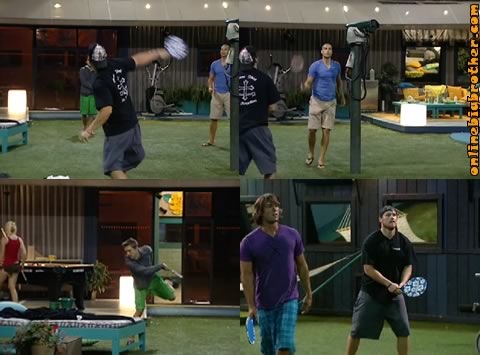 8:28pm Backyard Brendon, MAtt, LAne and HAyden playing badminton..