11am Ragan goes to the kitchen to eat breakfast and then goes back to the cabanna room. Ragan starts going over his speech again that he wants to give to Lane. Ragan keeps saying "The proof is in the pudding"

$5 off the BB12 Live Feeds – LIMITED Time OFFER! ONLY $9.99!
PLUS try it FREE for 3 Days!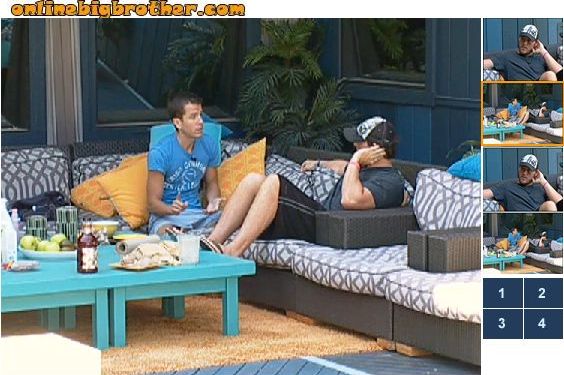 11:25pm Ragan asks Lane if he has time to talk to him. Ragan goes right into it and says that he is going to ask him a philosophical question that sounds like a straight forward answer. Ragan asks are you here to win a half an million dollars or are you here to give away a half million dollars. Lane says I'm here to win. Ragan says that the proof is in the pudding …actions speak louder than words. Ragan goes right into his whole speech that he has rehearsed all morning. Ragan explains how each member of the jury will vote. Ragan tells Lane that up until this point he hasn't made any big moves in the house yet… but that this is his week to make a big move.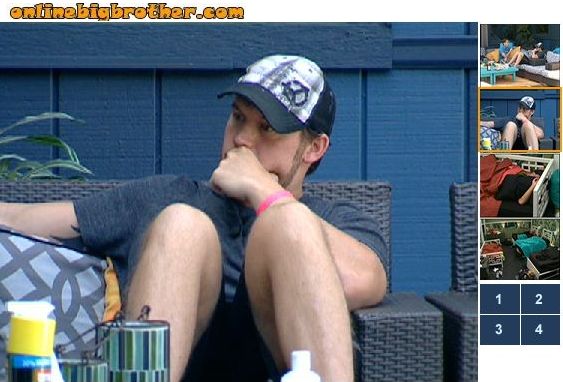 Ragan explains that both Enzo and Hayden are looking out for each other more than they are for Lane. Ragan says that Lane will beat Ragan and Britney in the end but that he wont beat Enzo or Hayden. Ragan says that everyone can agree that Enzo will win this if he makes it to the end. Ragan explains how Brendon will be voting for Enzo and Hayden in the end. Ragan explains that Brendon doesn't hate Hayden for getting him out of the house because it was the house that voted him out not Hayden. Ragan says that all Hayden has to say is that he thought Brendon was safe and that it was the house that switched. Ragan says that at the end of the day he will still get Ezno and Haydens vote because just think of it as if they voted you out …you wouldnt hate them you would be like hey you got me. Lane says that Ragan has some good arguments. Ragan says that they are already working me for votes. Ragan says that Hayden came up to him last night and said that it is really hard to be up against him. Ragan says that Lane is the one that is going to be cut out of the equation. Lane says that he keeps going back on … how Britney will beat him in the final two.
Lane says that Britney says he will beat her in the final two but that Lane keeps thinking back and knows how many competitions she has won. Ragan explains that in the end if you think of a fair jury member … friendship will be part of it … but that it will come down to who made the biggest moves. Ragan says that this will be the biggest move of the game. Ragan says that its a big move but it is an easy decision to make. Lane agrees is it could be a 500k move if everything fell into place. Ragan says he doesn't want to beat a dead horse but hinks he made his case and will let him marinate in it. Ragan starts talking again about this being the biggest decision in the game for Lane. Lane asks Ragan what he would do if it had been him, Matt, and Britney at the end. Ragan says he would take Britney. Lane asks Really? Just then someone outside of the house screams Ragan's name! Ragan says did you hear that I swear to god someone just screamed my name. Right then Big Brother cuts the feeds to the we will be right back screen …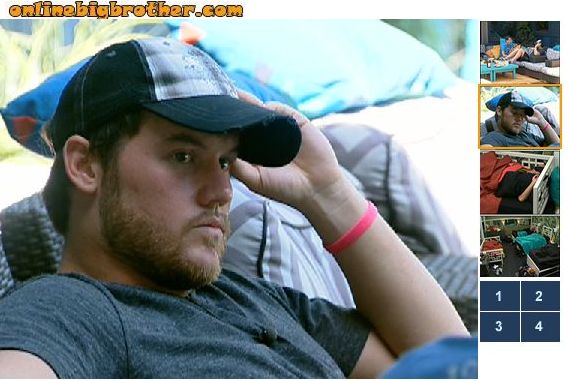 12pm – 12:10am When the feeds come back Lane is in the kitchen making something to eat. Ragan is in the Taj bedroom by himself studying and going over the time line for the events of the house.

Watch the last 2 weeks of BB12 for ONLY $9.99!!
FREE 3 Days TRIAL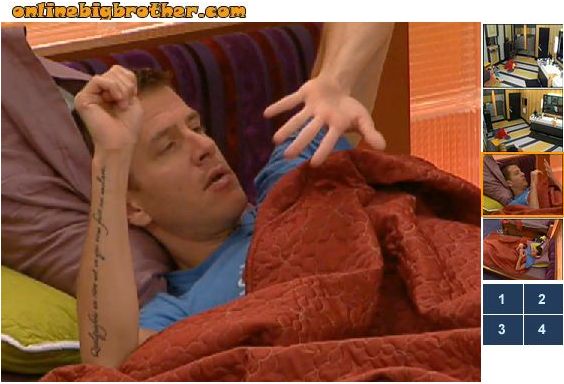 12:10pm Big Brother call for an outdoor lock down. All the house guests get up and head out into the backyard.