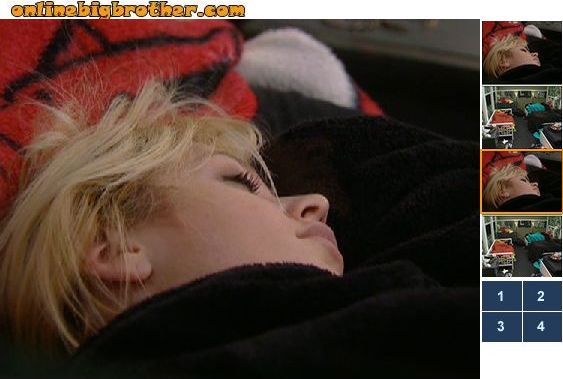 9:35am – 10am Big Brother wakes up the house guests. Hayden is in the diary room, when he comes out he comes back to the bedroom. Enzo says that wasn't so bad. Hayden says no. Enzo asks him if he told them he is the Cinderella Man. (One of Eminem's songs on his new cd is called Cinderella Man) Hayden gets back into bed. Big Brother calls Lane to the diary room. All the house guests are still trying to sleep. Ragan gets up from the bed in the Taj, grabs his sweat shirt from the jumanji room and heads out into the backyard to lay out in the hammock. Ragan talks to himself …he says this is stupid …I have no shot… this is humiliating. Ragan says that he is never ever going to turn his back on Hayden …and I look ridiculous doing it … its humiliating. Ragan says that if Britney was more on board she would be more enthusiastic …she would do more. I am not going to have a conversation with Lane. Big Brother calls Ragan to the diary room. Ragan says this SUCKS!! This is so embarrassing. Ragan gets up and goes to the bathroom were he washes his face and hair. He keeps saying that this is so embarrassing. Ragan is in the middle of putting gel in his hair and Big Brother cuts the feeds to the "We will be right back" screen.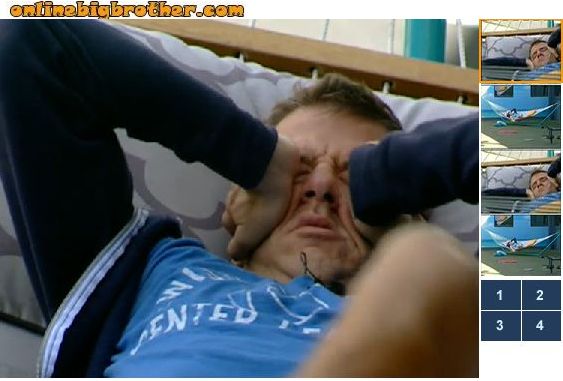 ** Updated **
10:12am The feeds come back. Enzo, Hayden, Britney and Lane are all in the jumanji bedroom sleeping. At 10:22am The feeds switch to the backyard where Ragan is talking to himself again about what he could tell Lane. Ragan is asking are you here for half a million dollars or are you here to give away a half million dollars. Ragan says that he is never going to beat any of the guys. Ragan says that Enzo will win against any one …he doesn't have a single drop of blood on his hands. Ragan says that Hayden is the same way he will get all the votes …not as many as Enzo though. Hayden says that he has Brendon, Rachels and Kathys vote. Ragan says that Britney will lose against any one she goes up against. Ragan say that the only way a girl will win in the end is if she is up against another girl. Ragan says that it is the same way if he is up against him… it would be a 6-1 vote for him (Lane). Ragan says that Lane wouldn't win in a landslide against Enzo or Hayden. Ragan goes over the possibilities of what would happen depending on who wins the HOH and the POV. Ragan goes on to say that Lane needs to picture himself in the big blue chair and think about who he wants next to him. Ragan says that Lane needs to think about what big move he made in the game… Ragan says that if he was in the jury house he would be hard press to think of a big move he made in the game. Ragan says that this is the time to make a big move. Ragan says again are you here to win a half a million dollars or are you here to give away a half a million dollars. The proof is in the pudding. Ragan says that both Enzo and Hayden will get Rachel and Brendon's votes in the end because they were the only ones that stuck by Brendon when everyone was against him. Ragan keeps going over the same thing rehearsing what he will say to Lane to convince him to save him.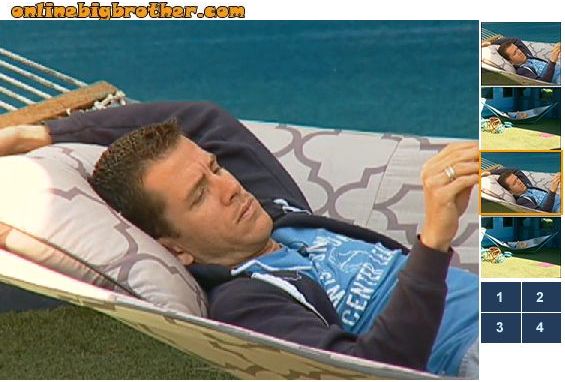 10:45am – 11am Britney comes out into the backyard and says good morning. Ragan asks Britney if she wants to hear what he is going to say to Lane. Ragan joins Britney on the lounge chair and goes over his rehearsed speech. Ragan explains the how all the jury votes will play out. Britney is agreeing saying MmmHHmm. …and right .. When Ragan tells Britney that Britney would lose to them. Britney says that she disagrees …and says that they 100% think that she would win against them in the end.




Ragan says that's just what the are telling Lane because they all want to go to the end with you. Britney says that its really hard to take Lane into things. Britney says that Lane doesn't get that he wont beat Hayden … she says that Lane doesn't realize that Enzo is with Hayden more than he is with Lane. Ragan says that he just really needs to find time to talk to Lane today. Britney says that he should … and that she thinks he is in the jumanji room sleeping right now. Ragan asks Britney if she talked to Lane last night. Britney says that she couldn't because Enzo and Hayden were up there all night and the only time alone she had …she listened to music while he took a shower. Ragan and Britney head inside. Ragan goes into the cabana room by himself… to sit and think …

$5 OFF – LIMITED Time OFFER! ONLY $9.99! PLUS try it FREE for 3 Days!